For those attending the first-ever Best of the Wurst Cook-off Festival on Saturday, here's your mission: Fill up on locally made bratwursts and crown a Quad-City business the best of the "wurst."
The festival is happening from noon to 3 p.m. Saturday in the parking lot of the German American Heritage Center, 712 W. 2nd St. in Davenport.
And the idea is to celebrate "everyone's favorite German staple," according to Kyle Dickson, assistant director of the center. 
He said the event was inspired by the popularity of the center's previous exhibit, called "Culinary Customs: A Taste of Germany" and other accompanying food-related events. Plus, the facility recently acquired a temporary liquor license, meaning four German beers, a cider and three wines will be available for purchase during Saturday's event. 
"We have found that people are really excited about the idea of food and beer events here," Dickson said. "We decided to do a sausage-tasting event, because what's more German than bratwursts?"
The cook-off, also featuring live music by the Guttenberg German Band, is happening during Alternating Currents, the music, comedy, film and arts festival bringing events to multiple venues throughout downtown Davenport. Admission costs $5 for adults and includes samples from each vendor. Admission is free for kids under 12. Proceeds will go toward programming and educational opportunities at the German American Heritage Center.  
Attendees can try a sample from each of the four competing vendors and vote for the winner to be named the Best of the Wurst. 
This may be a first-of-its-kind event, but the participating vendors — Jerry's Market, Bierstube, Scherer Custom Meats and Katy's Import Foods — are not new to the art of bratwursts.
And, because of that, the "friendly competition," as Dickson called it, could prove to be heated.
As Dale Scherer, owner of Scherer Custom Meats, said, "If a brat beats us, it's going to be a pretty good brat. Everyone participating in this will tell you the same thing."
So, before it's time to vote, how about some background research? Read on to find out more about each vendor and what makes their bratwursts special. 
Jerry's Market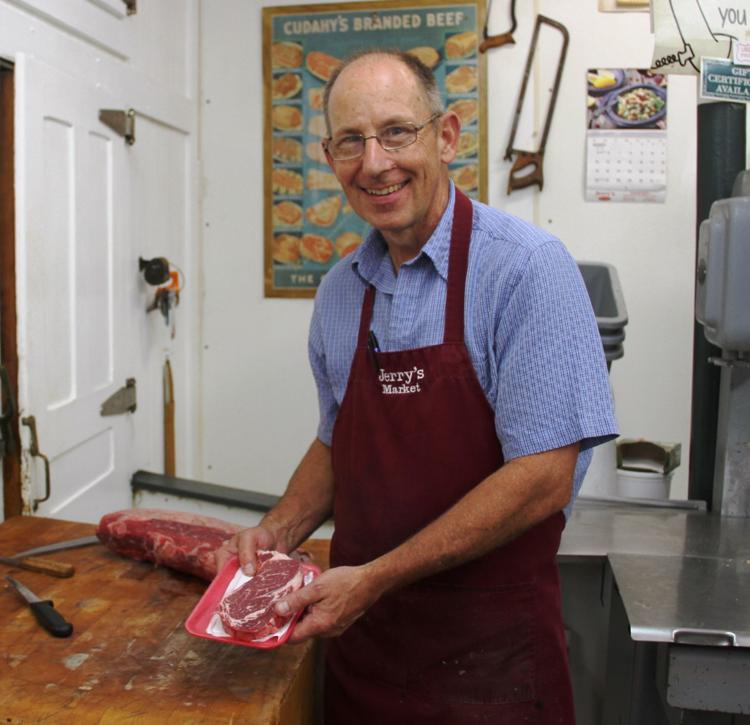 In the middle of a Moline neighborhood near Willard Elementary School, the 600-square-foot Jerry's Market appears seemingly out of nowhere.
A step inside the 1906 building offers a peek into the past, complete with signs, fixtures and bottles collected from six decades spent in the grocery store business.
The aesthetic matches the atmosphere, according to Tony Ceurvorst, who has owned the market, named after his father, since 1980.
"We run it as an old-fashioned grocery store," Ceurvorst said. "When you walk in, you're going to get greeted by someone and have a one-on-one conversation."
Its unique feel and products, such as top-quality USDA prime cuts of beef, has helped keep the store alive since Ceurvorst's father opened the doors in 1952, following his time working at the Rock Island Arsenal during World War II.
It has been a family-run business since then, employing, at one time or another, Ceurvorst and his 12 siblings, and later, all of his six children.
On Saturday, Jerry's Market will present a Nuremberg-style brat, which Ceurvorst calls "one of our more traditional and popular bratwursts."
Is he getting competitive?
"Of course," he said. "You hope to win."
The event, Ceurvorst said, also is a way to get the word that an old-fashioned store like Jerry's is still around in the Quad-Cities.
"When people come in for the first time, they say, 'Wow, I had no idea a store like this existed," he said. "People will remember coming in here. It's not like a supermarket where everything looks the same."
Jerry's Market, 4048, 1609 17th St, Moline, is open from 8 a.m. to 6 p.m. Monday-Friday, 8 a.m. to 4 p.m. Saturday and closed Sunday. For more info, call 309-764-0612
Bierstube Bar & Grill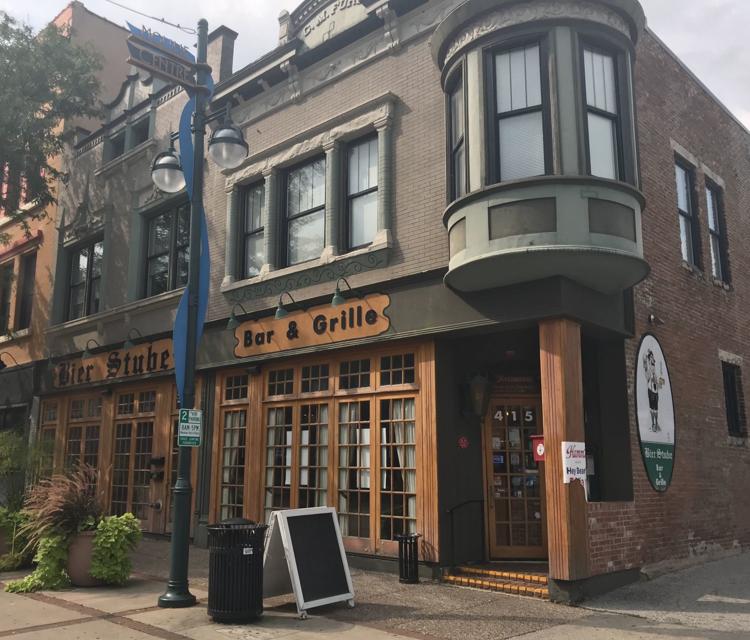 You have free articles remaining.
Stepping inside Bierstube Bar & Grill is akin to being transported to a German bar.
The Moline location, which hosts weekly karaoke, trivia and board game nights and live music, is a popular hangout spot, especially since its open until 3 a.m. Monday-Saturday.
With a wide selection of German beers and a menu with items such as a sausage sampler, German nachos, several types of Reuben sandwiches and seven types of entree sausages, Bierstube is a fitting choice to compete in Saturday's Best of the Wurst cook-off.
Scherer Custom Meats
Dale Scherer remembers walking through the Freight House Farmers Market several years ago and thinking, "What could I sell here?"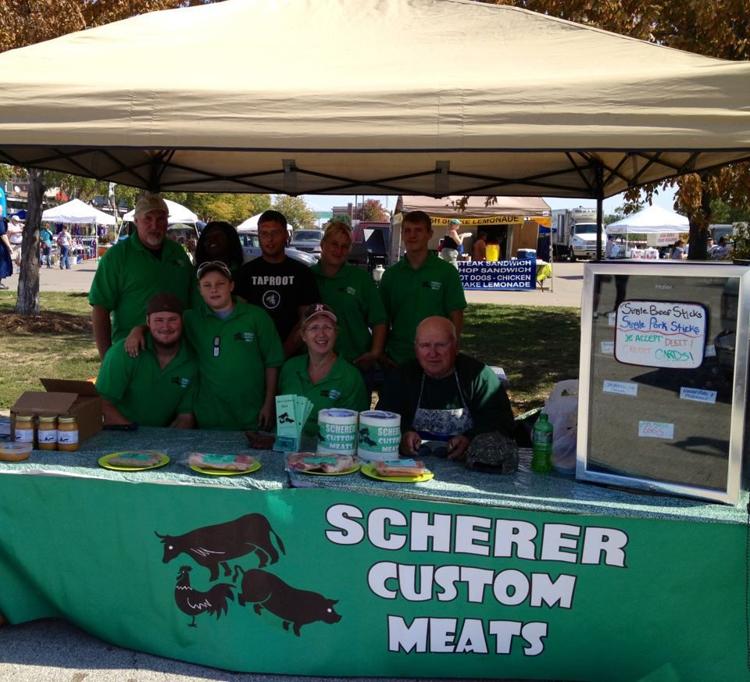 The longtime farmer and hay producer settled on something he thought "everyone could enjoy": pre-cooked bratwursts.
For the last eight years, Scherer Custom Meats, recognizable by its large green tent, has been a staple at the farmers market.
Scherer's business includes a variety of 34 brat flavors, from blueberry maple to brats that taste like a Philly Cheese Steak or a taco, as well as beef sticks and other meat.
"We give away a lot of samples," he said. "That's sort of our secret to getting so many loyal customers."
Scherer operates a 900-acre farm just north of Bettendorf that has been in his family since 1868. His grandsons, who help out on the farm and at the farmers market, are the seventh generation. Scherer raises his own beef and sources animals from around the Quad-Cities and nearby cities.
"That's the basis of what we do," he said. "It's all local. People like to know where their food is coming from and we have that on a high level."
Based on what customers tell him at the farmers market, Scherer, who is 56, says he has a good feeling about Saturday's contest, during which he'll offer samples of a cheesy hash brown brat and have other types of bratwursts available for purchase.
"We have hundreds of people tell us we have the best brats, so, why not enter a contest?"
Katy's Import Foods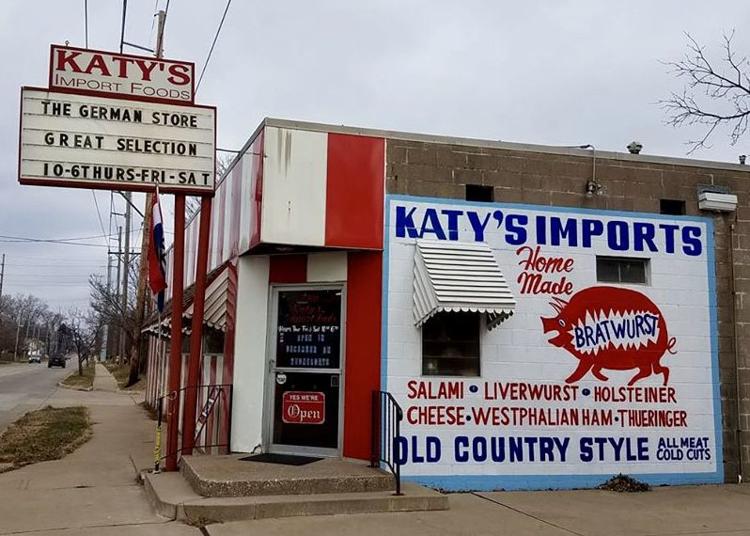 If you're wondering what Katy's Import Foods is all about, look no further than the side of the Moline building, where a red-colored cartoon pig is painted along with the words, "Homemade Bratwurst."
Owner Art Bodenbender, who is 79, grew up working at the store that his German-immigrant parents opened on 7th Street in 1938, the same year he was born.
"In the 1950s, supermarkets put a squeeze on the neighborhood grocery store, which is what we started as," he said. "Over the years, we slowly stopped selling normal grocery store items and became more specialty."
Forty years ago, when it was time for his parents to retire, Bodenbender and his wife, Louann, took the store over.
"I was the one out of my siblings who enjoyed it enough to keep it going," he said. "The business has been my life and my love."
Bodenbender said his rare selection of meats, noodles, European cookies and chocolates and other items has helped Katy's survive. That, and "very loyal repeat customers who love their German food."
"We also get new customers every day," he said. ""Most people are amazed at the variety I carry. They walk in and say, 'Oh, I saw that when I was in Germany.'"
Bodenbender called the Best of the Wurst cook-off "an interesting way to get the word out and get people exposed to great German food."
"I'm excited about it," he said, adding that his 12-year-old granddaughter will be handing out samples with him. 
"We love our German food," Bodenbender said. "It's going to be fun for us."
Katy's Import Foods, 2700 7th Street, Moline, is open from 10 a.m. to 6 p.m. Thursday, Friday and Saturday. For more info, call 309-764-8662.