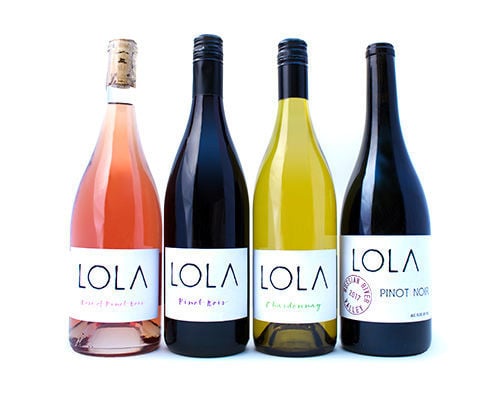 Fall is definitely here, the crisp chill each morning as I drive to work, the smell of bonfires and roasted marshmallows toast the start of the season. What's more are the conversations, food, and yes, great wines yet to be enjoyed this fall. What makes these reasons for fall celebrations all the more enticing is when you have the opportunity to meet the creator and visionary of the wines that you are enjoying around the fire. I always find that when enjoying wines, when you're able to hear the passion of the winemaker as they describe their winemaking process, love of the land, and how that translates to the wine, it makes it impossible not to fall in love with the wines that much more.
On Thursday, Oct. 17, Faithful Pilot will be hosting an exciting wine dinner, and another great opportunity to meet with a California-based wine maker, Seth Cripe of LOLA wines of Napa Valley, California.
For those who haven't had a chance to attend a wine dinner, this is definitely not to be missed. Thriving on sourcing wines that are unfamiliar to the Quad-Cities' wine community, Faithful Pilot's wine dinners are great opportunities to try something new and undiscovered by local retail outfits.
In case you missed it, Faithful Pilot has been known to host many great wine events hosting winemakers from Smith Madrone, Raptor Ridge, Peter Franus, and several others in 2019 alone! What makes this top of the "do not miss" list is the event will be held at Liberty Farm, in Stockton Iowa allowing guests to walk about, enjoy the roaring campfire, listen to the music of local musician, Lewis Knudsen, and enjoy a multi-course tasting event.
Seth Cripe, founder and winemaker at LOLA, established the winery in 2008 after moving out to California to follow his passion for wine-making in 1997. After working under renowned winemakers from Swanson and Caymus to name a few, Seth moved on to create the wines that LOLA would become today.
Focused on creating wines that pay homage to old-world wine-making, Seth creates wines that offer high quality affordability for wine enthusiasts to enjoy. LOLA wines produces about 20,000 cases of wine a year with favorites such as California Pinot Noir, Cabernet Sauvignon, and Chardonnay to their artisanal selections of Malvasia Bianca, Riesling, and Chenin Blanc. While at the event, wine lovers will have a chance to hear first-hand to hear about the mouth-watering selections that will be served throughout the course of the evening.
To start, guests will enjoy assorted small bite crostinis, paired with the LOLA Artisanal Series Zinfandel hailing from the St. Helena region in Napa, and Faithful Pilot selections of sparkling wine.
As with any wine event, great wines can only be paired with a great menu. During this event guest will enjoy a smattering array of locally-sourced fare all artfully constructed by Robert Day, head chef at the Faithful Pilot.
Butternut & Pumpkin Bisque, with assorted nuts, cheese, breads, jams, and butter.
Wine Pairing: LOLA Estate Chardonnay
Pan Seared Salmon
Wine Pairings: LOLA Artisanal Series Dry Riesling and LOLA North Coast Pinot Noir
Terres major beef with polenta, mushrooms, and a sweet pepper puree.
Wine Pairings: LOLA Russian River Valley Estate and Artisanal Series Anniversary Reserve Pinot Noir
Creme Caramel with poached plum and oat crumble
Wine Pairing: LOLA Estate Chardonnay
If this wasn't enough stick around and enjoy mini chocolate tortes, s'mores, and caramel corn as you enjoy the fire and fall outdoor fresh air. If you're looking for an event to experience great wines while enjoying feeling a little festive with the change in seasons this is an event to grab your friends, pack the plaid flannel, and come ready to taste some delicious wines.
Reservations can be made by calling the Faithful Pilot at 563-289-4156 as well as for directions and additional information. The cost is $75 per person.
Carson Bodnarek, a self-proclaimed "cork dork", is a certificate recipient from the Court of Master Sommeliers and is currently studying for his certified CMS exam. Always on the hunt for his next great bottle of wine for his collection, he is an avid jetsetter and devout foodie. After moving to Quad-Cities from Iowa City in 2013, Carson now resides in Bettendorf.
Contact Carson Bodnarek at 563-383-2299 or cbodnarek@qctimes.com.
Stay up-to-date on what's happening
Receive the latest in local entertainment news in your inbox weekly!