Recent posts from Austin Vesely's Instagram include a Cubs-game selfie, a photo of a march against gun violence and a home video of his 6-year-old self quietly announcing, "I have some movies of my own that I haven't made yet. I hope to (make them) soon."
Well, soon has finally arrived.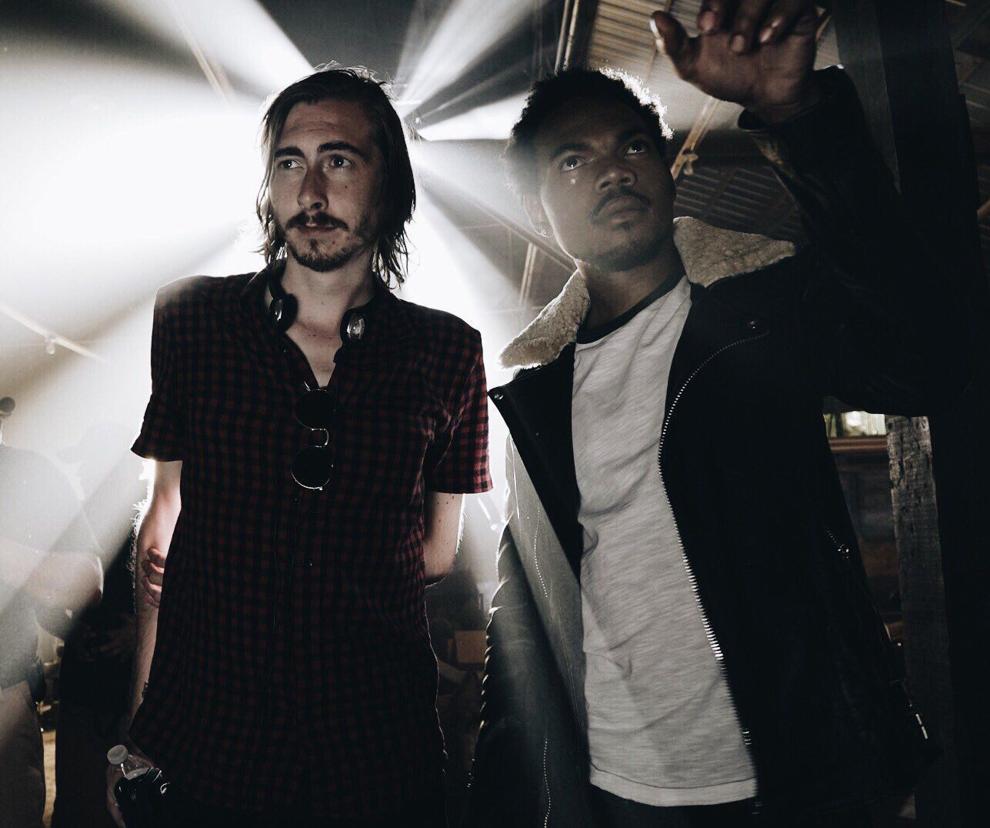 In recent months, the 28-year-old's Instagram profile has been predominantly filled with news about his feature film he wrote and directed, called "Slice," which stars, among other well-known names, hip-hop artist Chance the Rapper.
The trailer for "Slice," which Vesely describes as a "horror/comedy movie about pizza delivery and ghosts," dropped last week and is due out within the next few months via A24, the entertainment company behind the Oscar-winning movie "Moonlight."
Both Vesely and the movie have ties to the Quad-Cities.
Before Vesely was an award-winning director and before he was in a group chat with Chance the Rapper, he was a student at Pleasant Valley High School, where he loved making short movies for class projects and just for something fun to do with friends, he said in a phone interview earlier this week.
"As the new kid in school, it was a way to express myself and to relate to other people," he said.
Vesely was born in northwest Illinois near Galena and his family lived in several places before landing in the Quad-Cities in time for Vesely to spend his junior and senior years at Pleasant Valley High School, where he graduated from in 2008. His parents still live here and work at the Rock Island Arsenal.
Vesely then attended University of Iowa and, in 2010, transferred to Columbia College in Chicago to study film. He stumbled upon opportunities outside of Columbia, though, in the underground Chicago hip-hop scene.
He began making music videos for rising Chicago rappers, which soon included Chance the Rapper, who Vesely met on a music video set.
"We got along right away," Vesely said. "We related on an artistic level and found the same things funny."
As Chance the Rapper's popularity grew, especially following the artist's 2013 break-out album, "Acid Rap," their bond "flourished," Vesely said.
"We just understood each other," he said. "We both wanted to take risks. Hip-hop music videos kind of followed a formula and he was willing to push that, which is what I wanted to do too."
In 2015 and 2016, Vesely directed videos for Chance's hits, "Sunday Candy," "Angels" and "No Problem."
That work won Vesely an MTV Music Video Woodie Award; he was also nominated for an MTV Video Music Award for best hip-hop video.
Chance and Vesely have also remained close friends.
"It was pretty amazing to ride shotgun while someone else was becoming a superstar," Vesely said. "It's been fun to have evolved together. There are ups and downs that come with that. It was a learning experience for him. But it was inspiring to see and be a part of."
When Vesely began writing the script for "Slice," he included a "supernatural role" inspired by his friend called "Dax Lycander."
Vesely also said he had the Quad-Cities in mind when picturing the setting of the movie, which is set in the fictional town of Kingfisher and was shot entirely in Joliet, Illinois, in the fall of 2016.
"I was thinking about the Quad-Cities when I wrote it," he said. "Just the idea of putting ghosts and werewolves in somewhere like Bettendorf or Rock Island seemed really interesting to me. It's middle America and not quite a bit city but not quite a small town."
Other recognizable faces in the movie are Zazie Beetz, known for appearing in the TV series "Atlanta" and the movie "Deadpool 2" and Chris Parnell, a member of the "Saturday Night Live" cast from 1998 to 2006 as well as Joe Keery, known for playing Steve Harrington in the Netflix series "Stranger Things."
A specific release date for "Slice" is under wraps, as Vesely said they're going for, promotionally, a secretive "Beyoncé-style roll out."
He did hint that "is coming out quite soon."
And he's excited for people to see what he's been working on for so long and the realization of a dream he voiced as a little kid.
"It's really amazing and gratifying," Vesely said. "To see something that you've been invested in so long from start to finish is quite surreal."
Another big moment for Vesely's career — and Instagram — happened earlier this week. The series premiere of "The Shop," which Vesely worked as a creative consultant on, aired Tuesday on HBO.
A few hours before it aired, Vesely took to Instagram to share a photo of him with one the show's stars, LeBron James.