If you're checking to see if downtown Davenport's newest bar and restaurant is hoppin', don't just look for cars in the parking lot.
At Ruby's Beers, Bikes & Brats, which opened on Sept. 1 at 429 E. 3rd St., you can bet plenty of diners arrived on two wheels.
Along with sizzling gourmet brats and 32 craft beers -- including local favorites -- on tap, Ruby's houses a full-scale bicycle shop, where bikes are available for perusing or purchase.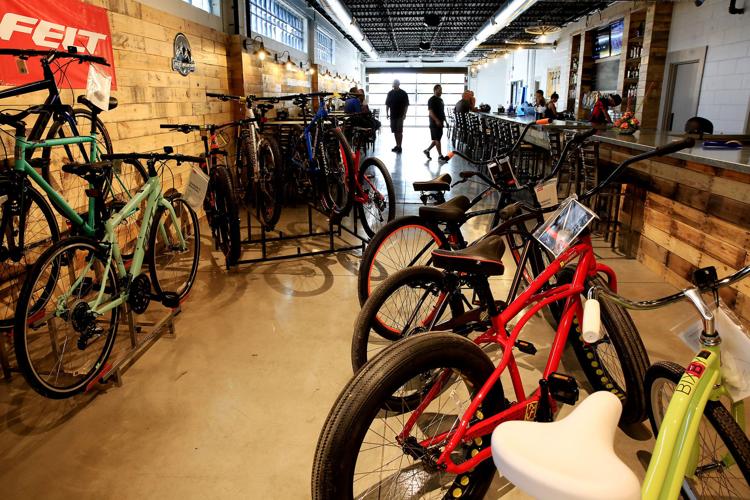 Co-owners Ruben Garcia and Sidney Rognoni borrowed the hipster-ish bicycle bar concept from establishments such as the Denver Bicycle Cafe in Colorado's capital and The Wheel in Austin, Texas.
Located near the Mississippi River Trail, Ruby's also aims to be the go-to meeting spot for cyclists.
"I know a lot of friends who like to have excuses to go drink a beer," Ryan O'Leary, Ruby's full-time bike mechanic, said. "They say, 'Let's go do a bike ride and go to a bar afterward.' I think we'll be a stop for people."
As Garcia, a native of southern California, said, the restaurant model fits the bill for a growing downtown area.
"Davenport is building up and we want to be part of making it a better place," Garcia, 46, said. We really think we're giving the people of Quad-Cities something that is needed and something they'll like."
High-end comfort food
To get a grip on Ruby's menu, just make a list of what you might crave after a 30-mile bike ride. Then, add only fresh ingredients.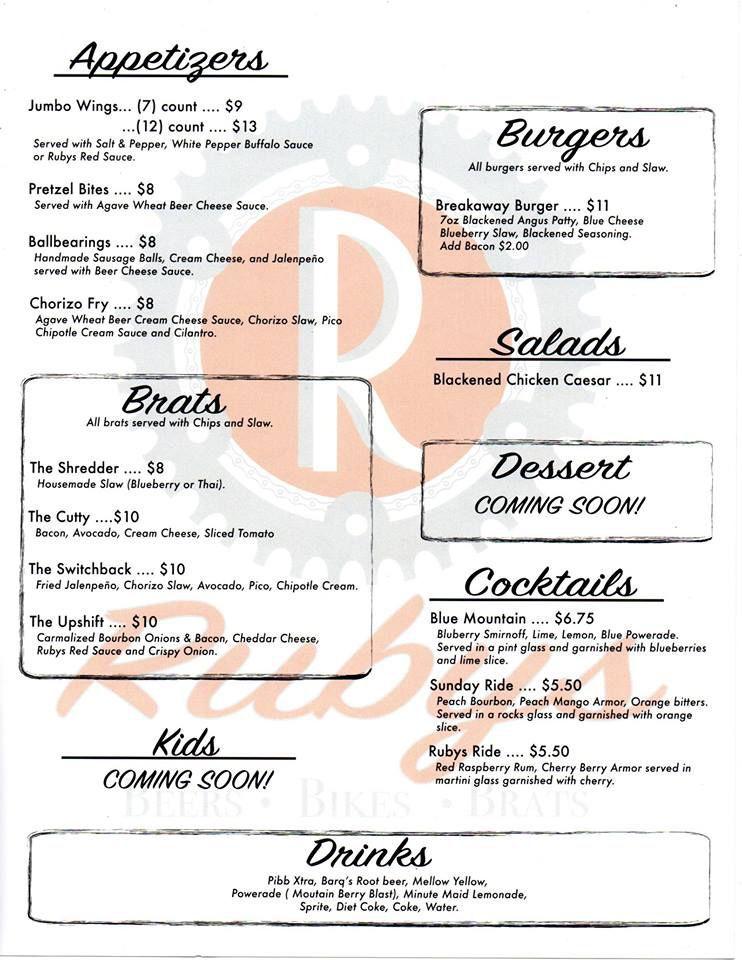 Along with burgers, sandwiches and salads, expect a variety of "not your typical brats," Rognoni, who is curating Ruby's food and cocktail options, said.
"Brats are really mobile, so that fit well with the idea," Rognoni said. "We then wanted to elevate that from your regular old brat."
Rognoni's recipes calls for brats made in-house with fresh ingredients and piles of flavor.
One brat is topped with blueberry or Thai slaw and another is topped with cream cheese, tomato, avocado and applewood smoked bacon that's the "closest to pork belly" you can get, he said. A spicier offering comes with chorizo slaw, house made pico de gallo, avocado, chipotle cream sauce and lightly fried jalapeño.
"We're going to hold the line on freshly made items; no pre-packaged cheese or brats from the store," Rognoni said. "We're not going to compromise on it."
Ruby's is the latest in a string of establishments in downtown Davenport opened by Rognoni. He owns Bowls Urban Eats, which opened in June 2011, with his business partner Chris Odendahl. Just one block away on 3rd Street, Rognoni and his wife, Nicole, opened RAW, a bar specializing in high-end cocktails and appetizers, in November.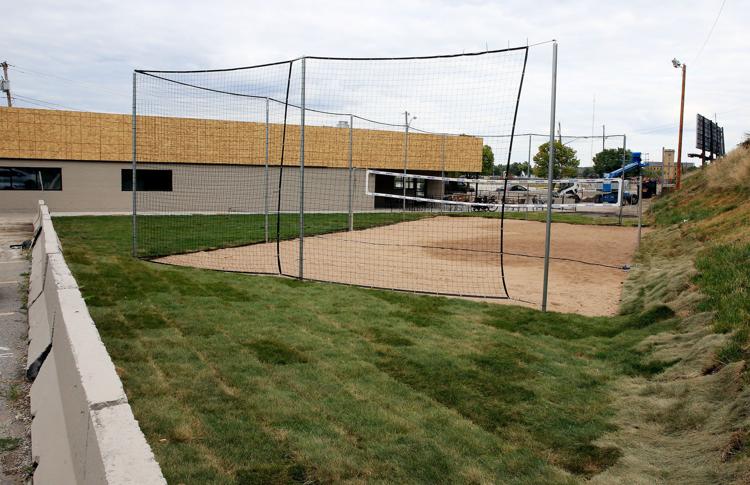 "I love Davenport," the restaurateur said. "It's growing and culture-wise, it's going through this renaissance period and it's really nice to see that."
To add to that growth, Rognoni wanted to craft a concept unlike anything else in the area.
You have free articles remaining.
"With this being so close to the bike trail and with the market not having an outdoor activity place, we combined all those thoughts," Rognoni said. "It's the convenience factor."
The restaurant is currently in its soft opening phase, so its menu is limited to four brats, a few appetizers such as wings and pretzel bites. a, burger and a salad. Its offerings could expand to as many as 20 types of gourmet brats, Rognoni said. He's just waiting for feedback from hungry bicyclists (and other patrons).
"The community is more important than anything with this," he said. "They drive the menu and the atmosphere. They help us drive what it ultimately becomes and they will finish the vision."
A dream fulfilled
When Garcia initially told friends about Ruby's, which is a nod to his nickname, it took some explaining.
"The hardest part is for people to see the vision," he said. "No one has done it before here, so there are going to be some questions."
"Everyone who knows me knows I've always wanted to open a bar," Garcia said. "They know it's my dream."
As Ruby's opened, that dream came true for the first-time restaurant owner, who has a background as a commercial woodworker and cabinet maker.
"We've put our hearts into this," he said. "It's been a labor of love."
It's also a dream job for O'Leary, who was hired as Ruby's full-time bike mechanic and salesperson.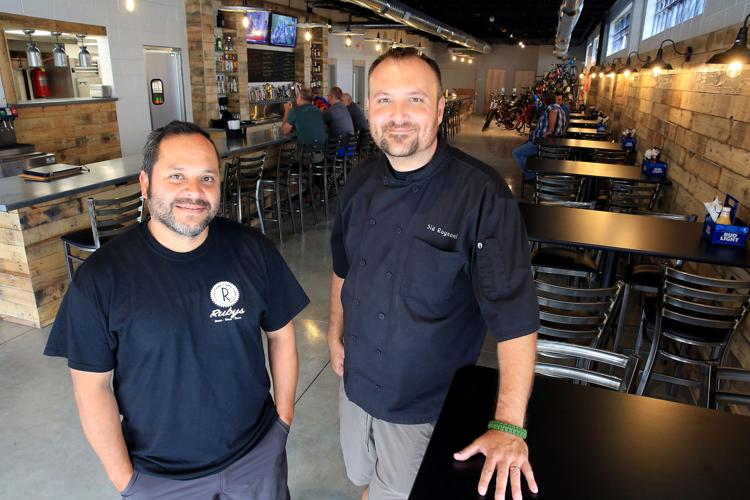 A portion of the 4,500-square-foot building is dedicated to a supply of Rocky Mountain Bikes and Felt bicycles, which range in price from $300 to $3,500.
"It's going to do the same thing as a regular bike shop," he said. "As a bicyclist, I see it as a bonus that there's just another bike shop in town."
O'Leary, 37, who has been working on bikes since he was 6, said he hopes to take the edge off of the bicycle repair process. 
"When you need to get your bike looked at, you probably come in and you're flustered over it," he said. "You can sit and have a beer or sandwich and let me worry about the bike."
O'Leary plans to set up weekly bike rides from Ruby's and hopes the restaurant will be incorporated in annual events such as the Tour de Brew QC.
"I see biking becoming even more popular because of places like Ruby's," he said. "You're going to see a lot of bikes in town."
Ruby's activity offerings go beyond bikes.
Outside, a sand volleyball court is available with ample patio seating. A small pump track for BMX bikes, a barbecue pit and an outdoor movie area is also planned.
"I wanted to make it a place where I would want to hang out," Garcia said. "It's not just a bar and it's not just about making money. It's for the whole community."