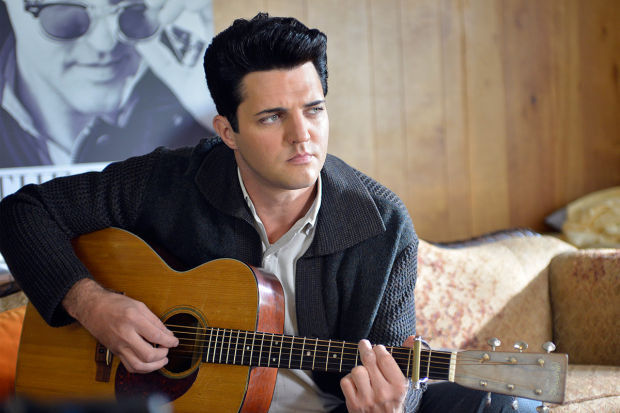 Fans of bad movies, please note: This is a must-see. This is so bad it must be seen to be believed — "Showgirls" bad, a vision that slowly goes wrong, then terribly wrong, then hits disaster levels. In a sense, it's an Ed Wood-ian exercise in wrong.
"The Identical" is a showcase for a former Elvis impersonator with a great voice, a fellow who, unfortunately, cannot act a single lip curl. It's a kinda/sorta reimagining of the life of Elvis Presley, had his stillborn twin survived. But only kinda.
Set at first in the 1930s, the show opens with William (Brian Geraghty) and Helen (Amanda Crew) Hemsley, a poverty-stricken couple living in Alabama with their infant twin sons.
William attends a tent revival and hears the message of the Rev. Reece Wade (Ray Liotta), telling how he and his wife (Ashley Judd) were not meant to have children. William decides that they should give one of the babies to the Wades to raise as their own (in the meantime, they fake the child's death with a phony burial). They ask the Wades not to tell the boy about his real origins until the birth parents' deaths.
The Wades name their baby Ryan, whose minister father wants Ryan to be a preacher, too. But Ryan (Blake Rayne as an adult) would rather visit roadhouse bars — not to drink, but to hear the music that he feels called to perform. Meanwhile, Drexel Hemsley (also Rayne) becomes a rock 'n' roll star.
Ryan doesn't seem a bit surprised to see record albums by a guy who looks exactly like him and sounds exactly like him … and that's only a minor flaw in this movie with endless clichés, the most contrived situations you ever saw and laughable dialogue.
And poor Rayne, whose beautiful voice earned this movie its half-star rating, is the most wooden of all leading men, certainly blessed with a great voice but unable to convincingly portray the slightest emotion. Watch, for example, when he's onscreen with Liotta, who gives it his all — it's as though you're watching actors in two different movies.
At first, I thought this might be a "Prince and the Pauper"-type story, wherein the two brothers switch roles. Such was not to be. Every scene is ridiculous and many are bewildering. There's a bar scene that left me slack-jawed with its irrelevance.
Students in film classes everywhere, and even people simply interested in filmmaking, need to see this so they know what not to do.