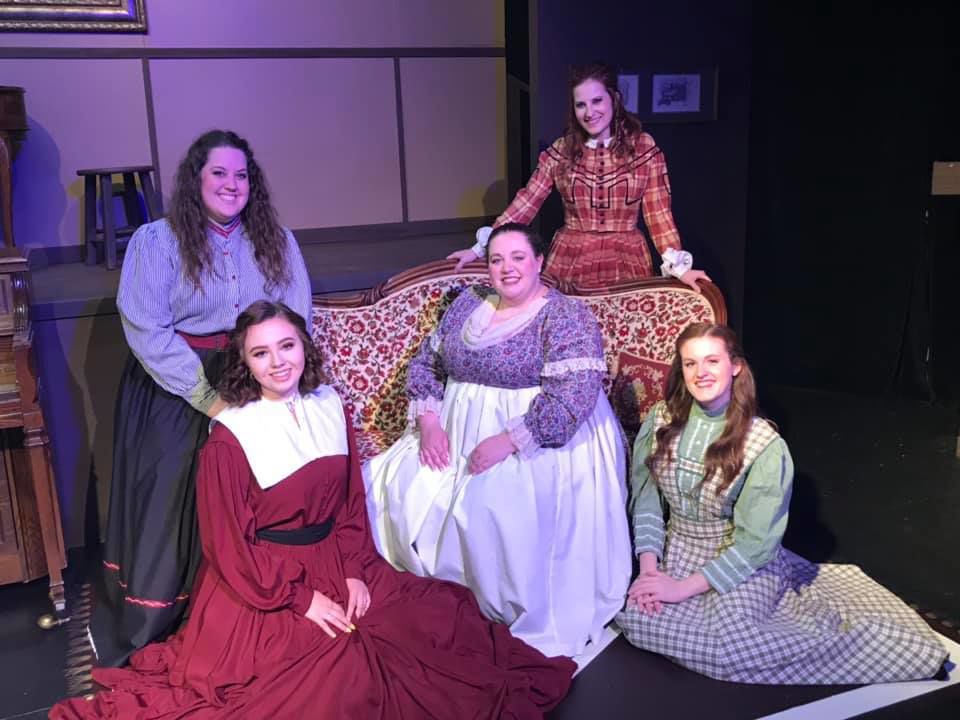 The Black Box Theatre in Moline will present the musical beginning Thursday, and everyone involved agrees the story is just as relevant today as it was when first published 150 years ago.
"The book has maintained its timeless appeal because it's all about family and how families interact and deal with tragedy, and how they love each other and get annoyed with each other," director Georgia Brown Jecklin said recently.
Based on the Louisa May Alcott novel, "Little Women" follows the adventures of sisters, Jo, Meg, Beth and Amy March. Jo is trying to sell her stories for publication, but publishers are not interested — her friend, Professor Bhaer, tells her that she has to do better and write more from herself. Begrudgingly taking this advice, Jo weaves the story of herself and her sisters and their experience growing up in Civil War America.
"Little Women" embodies a complete theatrical experience, "guaranteeing a night filled with laughter, tears and a lifting of the spirit," according to a Black Box release. "The powerful score soars with the sounds of personal discovery, heartache and hope — the sounds of a young America finding its voice."
The 2005 Broadway production (music by Jason Howland and lyrics by Mindi Dickstein), directed by Susan Schulman, closed after 137 performances. It was performed at Music Guild in Moline in 2008.
"There are all of these elements that are still so relevant now," Katherine Zerull, who plays Marmee at the Black Box, said. "Like family, and what that looks like. War, and how that affects people. Grief and loss, and how you move on after being completely devastated. All of these things are absolutely, 100% relatable today."
"I've known this story forever — I watch the movie every year — but I didn't expect to relate so much to a character that was written in the 1860s," said Kailey Ackermann, who plays Jo. "It's amazing that people can relate to them so readily now."
You have free articles remaining.
Jecklin believes one reason the story endures is because it was well ahead of its time.
"Back when it was written, Jo March was an incredibly forward-thinking woman for that time, and that was a reflection of Louisa May Alcott herself," she said. "The book shows a little bit of the struggle of women back in the 1800s, when a woman's place was very much in the home, and that carries through to today. The relevance is still there, what happens to women and how they respond."
"This is definitely a show about female empowerment," Zerull said. "Jo is like the ultimate feminist, and she challenges and pushes boundaries."
Jecklin noted that what some might consider a drawback to the stage at the Black Box provides an unexpected benefit.
"The staging was really challenging because of the space, but it's also created a great intimacy," she said. "I think people will be surprised at how connected they feel to the characters."
"I honestly didn't expect to connect with my character quite as much as I have," Ackermann said. "I find myself being Jo both on and off stage. I'm a lot more like her than I realized.
"I've never connected more with a character than I have with this show," she said. "I think that helps a lot with our chemistry — we connect so strongly with our characters that we relate to each other the way they would."
Zerull believes this applies to the audience as well.
"People can connect to the characters at every point in this show," she said. "I think that makes it pretty important and impactful even now."
The Black Box cast includes Molly Seybert as Amy, Abby Bastian as Beth, Kirsten Sindelar as Meg, Tommy Ratkiewicz-Stierwalt as Laurie, Ethan Bettis as Mr. Brook, John Erb as Professor Bhaer, Yvonne Siddique as Aunt March, Steve Trainor as Mr. Laurence and Jill Cirivello as Mrs. Kirk.