I need more movies with the realism and grit of "Bull."
Like so many other good works of literature, so to speak, "Bull" offers up a lot of truth in this fictional tale of people living in an impoverished area near Houston.
This is the first feature film for screenwriter/director Annie Silverstein. She never paints a pretty picture of her characters' struggles, seen in all their futility and, often, hopelessness.
Kris (newcomer Amber Havard) is 14. She and her little sister find, in their yard, a dead chicken their pit bull has killed.
The chicken belonged to their neighbor Abe (Rob Morgan, "Mudbound" and television's "Stranger Things,") who says he will shoot the dog it if enters his property again.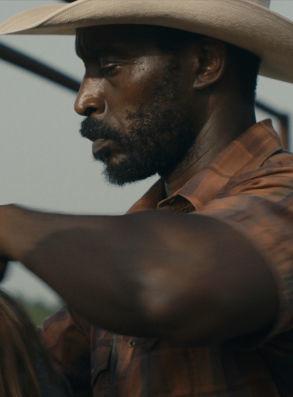 Kris, who takes care of her little sister, lives with their exhausted, ailing grandmother while the sisters' mother serves time in prison. Sometimes, all three go to see the tough-as-nails mother, who promises to not to do anything to lengthen her stay while her mother remains skeptical.
Kris, who wants to impress a group of young people, takes advantage of Abe's absence one night to invite them all into his house, which they trash while they abuse the pills and liquor they find.
Abe is a rodeo clown whose body is wearing out. He is understandably furious when he returns home, and makes Kris clean up the mess instead of going to juvie.
She does as she is asked, and they begin to form a tentative friendship. He tells Kris he once rode the bulls, but now knows the art of distracting bulls so the riders can get out of the arena safely.
Abe continues to take the physical punishment of his craft. What else could he do? Morgan quietly lets the audience in on his understanding of the losing hand Kris has been dealt, and he begins to tell her about his life while he provides a safe haven for her.
One day, Kris participates in a bull-riding practice. She seems to take to the challenge. At the same time, she desperately tries her hand and what she sees as a possible way out of poverty.
The friendship between Kris and Abe is believable, and it allows each character room to develop. Each grapples with loneliness, and each finds companionship and some understanding in the other — a miracle in the harsh world they both inhabit.
Silverstein's direction is terrific. She doesn't flinch from the blows, usually emotional, her characters are dealt. The performances are terrific.
I hope to see more of this extraordinary young actress, as well as Morgan and Silverstein, in upcoming films. These rising stories, and the lives they depict, are well worth the rough ride.
Stay up-to-date on what's happening
Receive the latest in local entertainment news in your inbox weekly!