Action aficionados take note: You may have seen this trio in action before on the big screen.
One of the latest Netflix releases, the hyper-violent "Extraction" has a terrific pedigree: First, it stars Chris Hemsworth, whom we're used to seeing as Thor in the Marvel Cinematic Universe.
That includes "Avengers: Infinity War" and "Endgame," both of which were directed by the Russo brothers.
Joe Russo wrote the screenplay for "Extraction," which is based on the graphic novel "Ciudad" by Andre Parks. Parks, Joe Russo and Anthony Russo are given credit for the story here.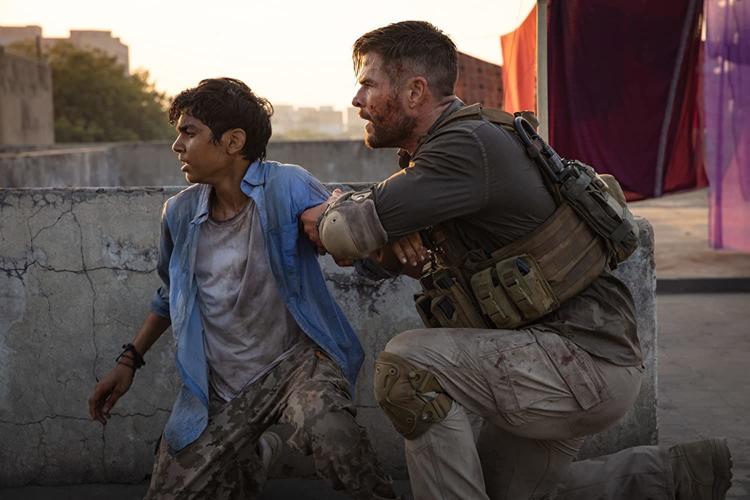 Hemsworth stars as Tyler Rake, an Australian gun-for-hire who has a sad secret in his past. Tyler is dispatched to Bangladesh to save Ovi (the marvelous Rudhraksh Jaiswal), a teenaged-son of a powerful criminal who is imprisoned.
Another criminal, the bloodthirsty Amir Asif (Priyanshu Painyuli,) enemy of Ovi's father, is involved in the kidnaping.
Ovi is being held in Dhaka. A lock-down of the entire city ensues, and so, with everyone wanting to punch, stab or shoot him, Tyler must get Ovi safely home while seemingly everyone on both sides of the law is tracking down the two.
"The kid is a walking corpse," one character remarks.
Sam Hargrave, action, fight and fight coordinator, deftly directs this thriller, which, to its credit, sometimes feels like a video game as it moves in and out of stairwells, buildings and streets. There's also a little of Gareth Evans' "The Raid" going on here, with incredibly well-choreographed fight scenes that are ballet of bloodshed.
I like the chemistry between the troubled mercenary and the boy, who finds in Tyler a kind of father figure.
One of the coolest-ever Easter Eggs for movie buffs is in the dialogue. Ovi tells Tyler he doesn't look like a Tyler — he looks like a Brad. Brad Pitt's character in "Fight Club" was Tyler Darden.
Another kind/sorta Easter Egg is a good but smaller role for "Stranger Things" David Harbour, also a part of the MCU, as Tyler's old friend.
I realize, with the performers from beloved franchises with lots of older-kids viewers, you might think this is a good movie for family time. It's not. Its violence is gory and pervasive, and this is not for little folks or audiences who want to remain in the PG-13 arena.
Speaking of franchises: a sequel is in the making, even as you read this. I can barely wait to see it — whether it's on the small or the big screen, it'll be huge on action.
Stay up-to-date on what's happening
Receive the latest in local entertainment news in your inbox weekly!