The worst that can happen after you watch this wonderful documentary is you might develop an ear worm.
I did. It was "Stand By Me."
It stayed with me for a couple of days. Really, I didn't mind a bit.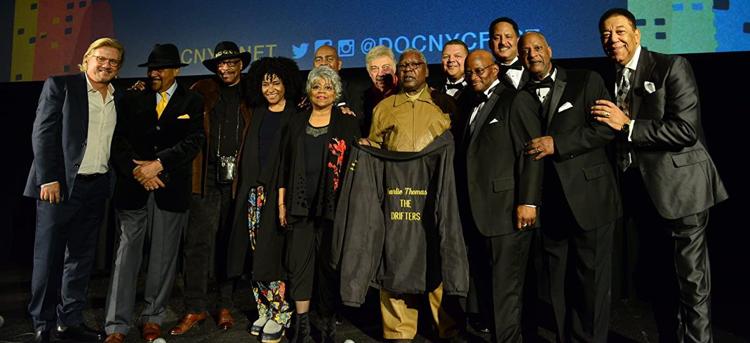 In this up-tempo documentary, you'll hear from the artists themselves about singing under streetlights – often trying to better other groups also gathered around the neighborhood to sing. And you'll see some great footage of performers, too.
"Harmony, harmony, harmony," says Charlie Thomas, of The Drifters. "No band, no nothing."
Among those interviewed are Brian Wilson, of The Beach Boys and Lance Bass of *NSYNC.
One of my favorite interviewees is singer Jerome "Little Anthony" Gourdine, of Little Anthony and the Imperials. He talks about the birth of doo-wop, and what it was like to be a child star. Many of the doo-wop stars started their careers as kids.
Doo-wop arguably was the foundation for rhythm and blues, hip-hop and rock 'n' roll. "We paved the way Rihanna, Beyonce, Destiny's Child," Dolores "La La" Brooks says.
Its importance also had a major impact on society, because it crossed color barriers and brought people of all races together to listen to music on jukeboxes, at concerts and on records.
Many of the performers were African Americans who faced segregation while they went on tour, especially, as several remember, in the deep south. Some studios even tried to hide the race of the musicians. For example, one album cover by The Flamingos ("I Only Have Eyes for You") purposefully didn't include a photo of the group. Instead, it had a photo of flamingos.
Time and again, record companies took advantage of the young, naïve groups. "We sold 70 million records," says Gourdine. "Somebody got the money. It sure wasn't me."
"Our parents didn't anything about copyright," says Jimmy Merchant, of Frankie Lymon & the Teenagers. "They didn't know about royalties."
"The pay was horrible," Brooks remembers. "We, as artists, were struggling."
Along the way, the music began to lay the foundation for the civil rights movement. "Music always had a way of being the great common denominator that brought people together," says musician Brian McKnight.
It wouldn't be fair to tell you much about the final scene except to say it it's just beautiful.
Treat yourself to this terrific documentary. You'll be singing long after it's over.
Stay up-to-date on what's happening
Receive the latest in local entertainment news in your inbox weekly!