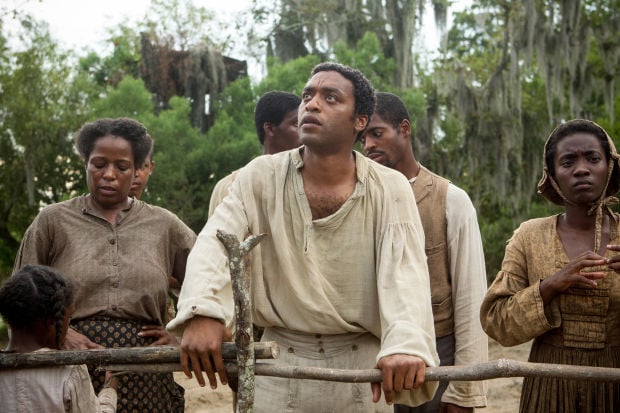 Some movies are "must-see," but "12 Years a Slave" goes beyond that to "deserves to be seen" status.
The film, which tells a true story, is a rarity that pulls no punches about the hellishness of slavery and the suffering depicted in the memoirs of Solomon Northup, on whose writings this screenplay is based.
To say it is compelling is an understatement. It will enrage you, make you cringe, force you to tears and make you think. It is not easy to watch because the scenes of abominations — and they are abominations — depicted here are not for the squeamish, nor are they for children. This is pretty close to "NC-17" territory, so proceed with caution.
Chiwetel Ejiofor ("Children of Men," "Salt") portrays Solomon, a free man living in New York with his wife and children in 1841. Among his skills is playing the fiddle. At one point he is wined and dined by two men who offer him a job. After he goes to bed, he awakens to find himself in chains and is thereupon sold into slavery. For 12 years, Solomon, now called "Platt," is enslaved by different owners in the South.
You have free articles remaining.
He works first for slave owner Ford, played by Benedict Cumberbatch ("Star Trek Into Darkness," "The Fifth Estate"). To regard Ford as kind is inaccurate, although it is safe to say he was not as cruel as other plantation owners. During his labors, Platt runs afoul of Tibeats (Paul Dano, "Prisoners"), another plantation worker, who develops such a hatred for Platt that it's obvious he wants to kill him. 
Platt is then sold to the unstable, vicious Epps (Michael Fassbender, "The Counselor"), who considers his slaves nothing more than property and spouts passages from the Bible during his brutal treatment of them. Platt is forced to watch, and even participate in, nearly unbelievable cruelty in order to survive.
Ejiofor owns this movie, but there are smaller parts played by well-known performers, including Alfre Woodard, Paul Giamatti and Brad Pitt, that are wonderfully rendered. There is no question that Ejiofor will receive an Oscar nod for this performance that requires him to demonstrate nearly every human emotion within two hours' time.
Famed composer Hans Zimmer creates a score that elevates the feeling of dread. The look of the movie is true-to-life because director Steve McQueen was meticulous in re-creating the sets.
Although Northup's story, which was published, has been told on television before, it has never been depicted as raw and horrific as it is here. Like films such as "Schindler's List" and last year's "Lincoln," "12 Years a Slave" is a movie that is sure to be widely watched by generations to come.