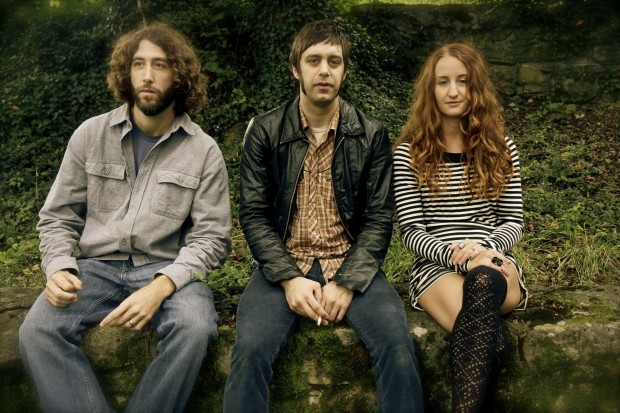 You never know what you're going to get with Buffalo Clover, a band fronted by Aledo, Ill., native Margo Price.
At the core is a three-piece group, with Price on rhythm guitar, vocals, drums and kazoo, her husband, Jeremy Ivey, on electric guitar, bass and vocals, and former Bettendorf resident Matt Gardner on bass, banjo, guitar and vocals.
For dates such as this weekend at the River Music Experience's Redstone Room in downtown Davenport, they add a drummer and a bass player.
And when the band is really ambitious, it's able to add a horn section.
Each configuration brings with it a different sound, Price said in a telephone interview from her home in Nashville.
The three-piece group is reminiscent of Karen Dalton, Neil Young or Bob Dylan, she said. As a five-piece, it's an expanded sound, making way for bluesier rock. With the horns, it's more garage soul and rock 'n' roll.
"We really pride ourselves in being eclectic, so we do different things in our band," she said. "We're really hard to nail down in that category."
Price, 27, went to Northern Illinois University for a few years after graduating from Aledo High School in 2001. A friend talked her into coming to Nashville for a visit, and Price stayed.
"I ended up really liking it here and have been focusing on playing music ever since," she said.
There, she met her husband and eventually Gardner, not knowing he was from the Quad-Cities until he was in the band.
The band has released two albums as well as a compilation called "Pick Your Poison," which is given free to up to 100 people attending their shows.
By mid-April, a 10-song album will be released on websites and on vinyl, the latter with a digital download card.
The sound on the albums runs the gamut from 1960s girl groups to Tom Petty-esque blues to straight-up country, complete with pedal steel guitar.
"We try to really not limit ourselves, but it does get hard. We're kind of all over the board," Price said.
The band is looking forward to its first European and United Kingdom tour in July; BBC radio is already playing their songs, Price said.
Before that, they may try to replicate a 10,000-mile road trip they accomplished a few years ago, which took them from the Quad-Cities to DeKalb, Ill., to Nashville to North Carolina to the West Coast and back.
"That was really good for us. It helped spread the name and get the word out there," added Price, whose band will be returning for the second straight year to River Roots Live in Davenport this summer.