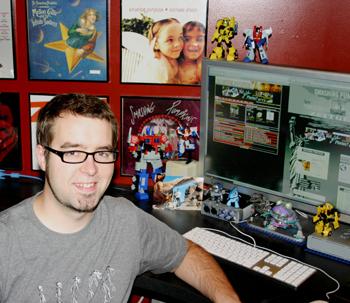 As members of the Smashing Pumpkins start a nine-city tour at the Adler Theatre in Davenport on Friday, they'll have a Bettendorf native at the controls of their Internet presence.
Paul Friemel is new media coordinator for the rock band, running its Web site and communicating with band members on a daily basis.
"I ended up making the grade, I guess," Friemel said in a telephone interview from Chicago, where the band is based.
The Smashing Pumpkins, celebrating 20 years of music, are back together, with lead singer Billy Corgan and drummer Jimmy Chamberlin remaining from the band's 1990s heyday.
"When the Pumpkins got back together, they were looking for a new media coordinator and called our record label," said Friemel, who was working at Chicago-based independent label Victory Records at the time. "They were looking for somebody in Chicago."
Friemel was ready to leave the record label when he was hired in May 2007, so the timing was perfect, he said.
The 26-year-old said he saw the band's performance at the former Mark of the Quad-Cities in 1996 and considered himself a fan — just not a huge one.
"I never really told them I was a fan, but I hinted at it," he said. "They know I'm knowledgeable — just the right amount of history with the band to work well in this position."
Friemel was worried he might not be enough of a Pumpkins devotee to get the job, especially with innumerable fan sites for the band already in place.
"There's a big online community in existence, and that was one of the questions I asked was, 'Why not choose one of these people who is already well-versed in the community?' " he recalled. "They said they were trying to rebuild the band and didn't want someone who was stuck with the old — a band that hadn't existed for seven years."
Friemel keeps track of the band's official Web site and its MySpace page. He does all the technical work of a webmaster, but he also contributes videos and artwork as well as moderating the site.
"I have to moderate the chatter across the Internet and bring what's relevant to the forefront on SmashingPumpkins.com," he said.
Friemel said will put in extra work this week when the band has rehearsals before the Friday show. He'll get to stay with his family all week long while working for the band.
"I'm excited because they're playing the Quad-Cities and I actually get to go to the show," he said.
The intensity of his work on the site varies, he said.
"It's ebb and flow," he said. "Some months are crazy, especially when they're on tour and things kind of heat up."
Although this tour is in secondary markets around the Midwest, South and Southeastern United States, he said a tour of major market venues is in the works.
Friemel credits Photoshop classes with former Pleasant Valley High School art teacher Cindy McClanahan for nurturing his interest in graphic design. That's what he majored in at Iowa State University.
While in the Quad-Cities, he was bass player and singer for the pop-punk band 2nd Best, and he said the experience of marketing a band helps with his current job.
"Having a band in the Quad-Cities, I know about all the crazy things you have to do to get people to pay attention," he said. "I always did this kind of stuff for 2nd Best, and now I've applied things I've learned doing that to a much larger scale."
Although Friemel had no hand in the current design of the band's Web site, he is at work on a new version of it, which is likely to debut later this year.
Friemel came to the band's defense recently after a blog on qctimes.com caused some irate fans to write in, complaining about ticket prices for the tour and about avoiding a Chicago date (the closest is a new casino showroom in Hammond, Ind.).
"I would describe the community as volatile," he said. "But overall they love the band. Sometimes they have weird ways of showing it. I don't know if other bands' fan communities are like this, but I don't think so."
When: 8 p.m. Friday, Aug. 8
Where: Adler Theatre, Davenport