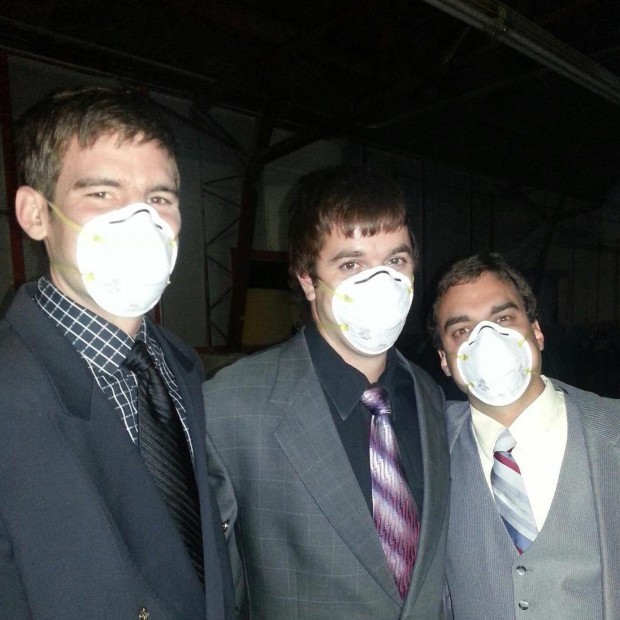 Burnie Eckardt and John Taylor were high school buds in Kewanee, Ill., but they didn't see much of each other after their 1999 graduation.
Taylor went off to the U.S. Army while Eckardt got degrees from Black Hawk College and Western Illinois University in addition to playing with the rock band August Symbol for about five years.
They bumped into each other during the 2008 Smashing Pumpkins concert at the Adler Theatre in Davenport, began hanging out together and got the band Dynoride started a few months later.
After a few acoustic shows as a duo, they added a drummer and moved forward as a rock trio.
But Dynoride took a reverse trip not long thereafter. Tracks for an album they were working on at a local studio came up missing.
"We just kind of called it quits" after that accident, Taylor said.
"The only thing we really wanted to do was record the album," he added, and the two had a musical split for about a year-and-a-half.
Eckardt and Taylor reunited earlier this year, though, and added Steve Maule on drums for the re-recording of that album, "What You Wanted," which was released in June. They're calling it an album four years in the making. The tracks were recorded at the same studio by the same producer as before.
"It's nice that it's finally all out, from scratch," Eckardt said. "We haven't really been a band until the past few months."
Jake Laird, who had never been in a band before, took over on drums by July.
"What You Wanted," Eckardt and Taylor say, is a modern grunge-hard rock hybrid with songs that are admittedly back to basics.
"We're looking for songs that are really, really simple," Taylor said.
"We move around a lot," Eckardt added. "John doesn't have too many vocal obligations, so he's free to roll around, literally, on the floor."
Taylor chimed in, saying, "We have to really stretch before we play."
The reason, they said, is that audiences enjoy showmanship over technique.
"It's not really that important to be focused on how perfect you can play," Eckardt said. "You already have your album for someone to listen to. It's more of your stage performance and what people are looking at."
They bring that style to two performances this weekend, first at the River Music Experience Performance Hall on Friday night and then a benefit Saturday for area rock performer Dayne Burton, who has been diagnosed with colon cancer, at the Rock Island Brewing Company.
A Dynoride EP is in the works for the first half of next year, and the trio is contributing to the second volume of the "Hello, Quad-Cities" compilation due out this spring.