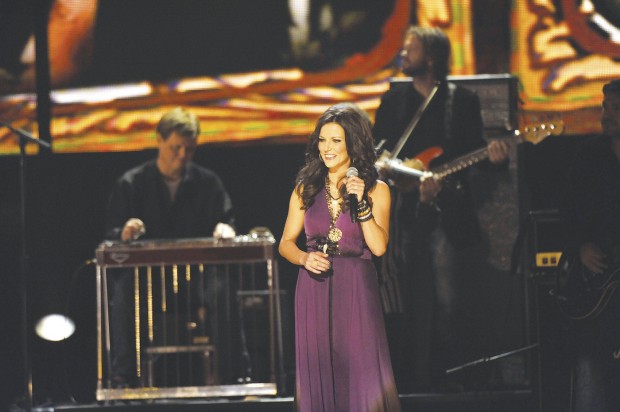 She concluded her "Waking Up Laughing" tour at the i wireless Center in Moline two years ago — a concert that was taped for both a PBS television special as well as her "Live" CD and DVD — and now Martina McBride returns to the Quad-Cities on Friday night to kick off her "Shine All Night" tour.
Here are excerpts from an e-mail interview with the country singer.
Q: Did "Shine," your ninth album, released in March, do what you wanted it to — creatively, critically, commercially?
A: I am really proud of this album, and I think it's one of the best I've made. It has a fresh sound and feels like a huge step forward song-wise and production-wise from my last album.
Q: The album's second single, "I Just Call You Mine," was released in May and has still to peak, currently at No. 19 on Billboard. Do you see more positives or negatives in a long climb like that and why?
A: Unfortunately, there is no way to predict how a song will react on the charts. In some ways, a slow climb is good. "I Just Call You Mine" is getting positive research and people seem to love it. We also had extra national (TV) exposure on it with "The Bachelorette" and the "Today" show wedding.
Q: How do you survive and thrive in a world where so much attention is being paid to singers such as Taylor Swift and Carrie Underwood?
A: That is what makes country music and its fans so special. Country music fans are dedicated and in it for the duration. I have fans who have supported me from day one, and it means so much to me. Some of the newer acts bring with them fans who may not have been fans of country before, and that helps build the format for all of us. I'm very thankful for my fans, and each year I continue to see my tour building and new faces coming out. It's a great time to be in country music.
Q: How has your career adjusted in the age where downloading is surpassing buying an album?
A: We try to find new ways to connect with the fans and let them know about my music. In some ways, with the Internet, we can connect better than ever. I think it's still yet to be seen what the future of the CD actually is. This business seems to be changing every day right before our eyes.
Q: This is the only date on your "Shine On" tour in which Trace Adkins is not a co-headliner. The two of you seem like an unusual combination; how did this come to be?
A: On first glance, it might seem unusual, but our music isn't all that different. Our live shows will definitely demonstrate how our music and fans complement each other. We have very similar themes in the songs we record. ... We both like to have fun. I have songs like "God-Fearin' Women" and "This One's for the Girls," and he has "Swing," "Badonkadonk." He's inspired people with hits like "Songs About Me" and "You're Gonna Miss This," and I have "In My Daughter's Eyes, "Ride" or "Anyway."... I could give you even more examples, but the bottom line is it will be an incredible night of fun, romance, inspiration and high-energy entertainment. Personally, we have a lot in common. We both have a house full of girls!
Q: What's your tour going to be like, compared with what fans here saw two years ago?
A: Well, it's a totally new stage design, with new video, new lighting. I am pulling more songs in from the new album than I usually do with a new album just because I think they will really translate live. It's a bigger show in all ways. I am doing costume changes for the first time in many years. We have some surprises up our sleeve! Basically, it will be a feast for the senses. We want to make it a party and a night that the fans will never forget!