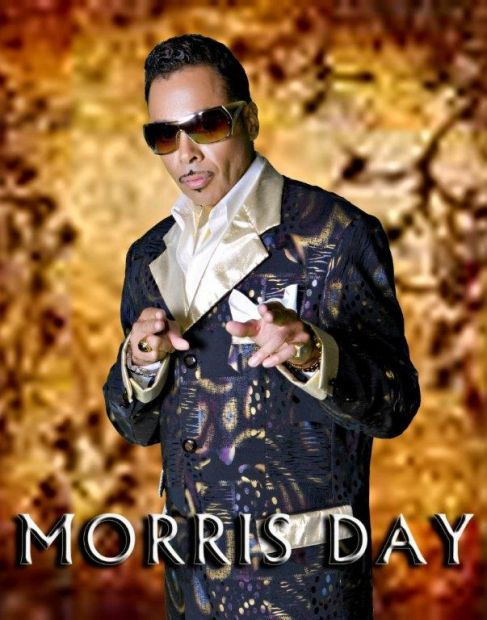 Morris Day doesn't have the time for drum loops or computerized sampling.
"It's all about the music first. Our music was made to be re-created because it was put down with all the real instruments. That's our forte, being able to re-create the music," the leader of Morris Day and The Time said. "The grooves are going to be there — live, no samples — and me and the fellas are gonna be in the pimp suits, so it'll look good and sound good."
Likewise, he said, there aren't any covers of other artists' music.
"We basically play our stuff. We've never been able to venture into other peoples'," he said. "Other people have been able to do covers in their concerts, but I just don't really care to do so."
Day, Monte Moir and Jellybean Johnson are the three original members of The Time represented on the seven-man band's concerts, including a Saturday night show at the Quad-Cities Waterfront Convention Center in Bettendorf.
Morris Day was one of the staples of the Minneapolis music scene, which reached its zenith in 1984 with the release of the Prince movie "Purple Rain," featuring Day as a co-star and notching one of The Time's biggest hits, "Jungle Love."
"My stock went up. It quadrupled," the 55-year-old said from his home in Las Vegas.
Day said he realized the movie's impact when he took his family to Disneyland and the crowds that followed him forced them to leave.
Getting screen time — Day also appeared in the Prince film "Graffiti Bridge" — made him think he could jump full-force into movies.
"The results, in a perfect world, could have been better. They were good. Hollywood came right after me, but it was never pulled off," he said. "I tried to do the acting thing, but I learned pretty quickly that I'm really a musician. I'm not good at working and taking orders. You think the Hollywood life means you're your own boss, but never have you been told to do so much."
Prince and Day go back to their hometown of Minneapolis, where they were students at rival high schools and introduced by mutual friend Andre Cymone.
"We hung out, and I found out (Cymone) was in a band and I went to watch them. The band was just crazy. These guys were 13, 14 years old — Andre on bass, Prince on guitar and sometimes keyboard. The band was playing Santana, and Prince was doing these solos like he was 20 years old," he recalled. "It was just crazy."
After hearing Day play the drums, Cymone thought he'd found a replacement for the band's percussionist.
"Back then he was quiet, he really didn't talk much," Day recalled. "So after he heard me play a little bit, he just stared at me like I was crazy."
Being asked to join the band was encouraging, Day said.
"That's when I got serious about music. I was casual about it, but these guys were so serious and all they talked about was 'making it,' " Day said. "I kind of got on that bandwagon and that's what I started talking about, thinking about and dreaming about."
Day said he tried to echo his friends' confidence.
"I kind of always walked around with this feeling like something special was going to happen, like I had something going on," he said. "But I wasn't sure. I was confident that something good was going to come my way."
Prince is still counted as a close friend, Day said.
"We're all good when we see each other, but it's not like back in the day where we hang out and keep up with each other on a day-to-day basis," Day said. "Life has a way of changing on you, and you grow separate from people just because of circumstance. Just different things that happen, you know?"
Stay up-to-date on what's happening
Receive the latest in local entertainment news in your inbox weekly!