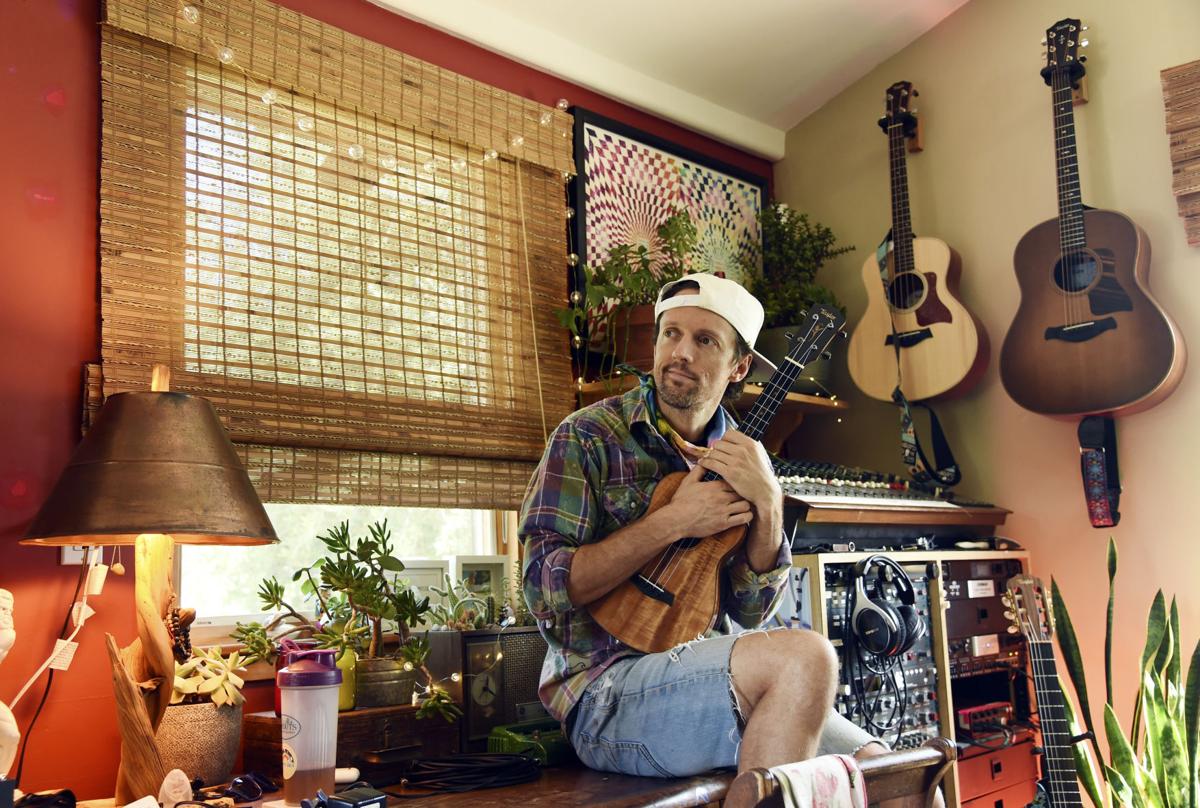 Acoustic star Jason Mraz started his career playing in coffee shops, intimate shows for small audiences. Now, 20 years after the release of his independent album "Live & Acoustic," Mraz is headed to the Quad-Cities as part of an anniversary tour. 
Mraz will perform with fellow artists Toca Rivera, Gregory Page and Choska Potter at 8 p.m. Tuesday at the Adler Theatre, 136 E. 3rd St., Davenport. For information and to purchase tickets, visit the Adler Theatre website. 
The Quad-City Times spoke with Mraz about how he — and his music — have changed over the years, and how he feels about performing his first album for a new generation. 
Q: It's been 20 years since your first album came out. How have your performances of those songs, the first ones that you ever put out, changed over the years for you?
A: We're out there playing songs that we recorded 20 years ago, probably even wrote them even longer ago. I've been through phases with the songs where I'm like, I don't like these songs anymore. I don't understand these songs. And then I go into a phase where I'm like, wow, I really love these songs. These are how I'm feeling right now. I'm like, wow, these are really interesting songs for a kid that I was back in those days, and I just go in and out of loving old songs and wanting to move on to new songs as a songwriter. Honestly, my head is always in the newest stuff that I'm working on. So then when I go out on stage, it's more of a recital. I want to go back and perform these old songs and these old songs, new songs, and then we can all [perform] together with some improvisation so that it's still a creative moment. It's not just a rehearsal moment. And through the years, I have some songs I've given up on, I'll never play them again because I just truly don't connect with them or the language. I wrote them maybe when I was more of a 20-something-year-old kid trying to get attention for something. And as I grew, I kind of grew out of those songs. Some songs like "Geek in the Pink," for example, I just can't get myself to play anymore. I just don't connect with it. But there are a lot of songs in this 20th Anniversary Collection that we're on tour with right now that I'm thrilled about, they're long, poetic story songs. That, had I not written them and performed them 20 years ago, I wouldn't be where I am today. So I'm happy to be diving back into that material.
Q: How has the material you've written over the years changed?
A: I went through a period where I tried to make my writing the most succinct it could be, where it sounded like a real conversation. I've also been through phases where, even on my last album, the "Look for the Good" album, I tried to get back into the internal rhymes and the alliteration of the rap style and tried to do a lot more rapping because I love that. That whole album, I was really writing around a reggae feel. My writing changes through the years because I'm just always trying to have new experiences. And more recently, as I'm in my mid-40s, now I've just been starting to write things that sound a little more mature, singer-songwriter, coming of age or getting older and recognizing life in a new way. That's new for me; the youthful balances kind of set aside for more acoustic strum — I don't know how to describe it. But writing does change through the years and is based on the energy of the world, the energy in my body, the experiences I want to have. But there's no set way, I don't think I'm final, and I haven't arrived at anything that I'm going to stay put at. Like I always keep trying to do new and weird stuff.
Q: For people coming to your show, what should they expect to see?
A: Two or three or four acoustic pickers, stringed instruments, guitar, mandolin, guitar, bass, four-part harmonies at times. You know, just a really fun sing-songy show that's lighthearted, with some jokes. We do try to bring back that old intimate acoustic coffee shop feeling that started us off. We're still very much the same people we were back then. So yeah, it's my buddy Toca Rivera and I doing our old songs, plus a special guest, Gregory Page, with help from our friend Choska Potter from Raining Jane. So the four of us create a real nice sound and a nice four-part harmony. It's just a night of acoustic music.
Q: Looking back to know who you were when you wrote your first album, is there anything that you would go back and say to them with the experiences you have now?
A: Yeah, I would just say "take it easy, kid." Don't worry about the pressure and the expectations and your identity, just make great songs and that's all you need to do. Just have fun, make your songs; I feel like I probably put a couple of years in this whole journey that were stressful or confusing or that felt busy or competitive. And none of that was required. That's just our own minds making it harder for ourselves. I think I would just tell my younger self, hey, take it easy. It's only rock and roll.
Q: Does it make you feel any sort of way that people who maybe listened to your first album when they were a kid are fully grown adults now with whole lives and grew up with your music?
A: So that's weird to me because I forget sometimes that time has passed. There's a good chance there's going to be 20-year-old kids in the audience whose parents played this album when they were born or something. An entire young life has now passed, but I still feel the same. I still feel like the same guy, the same kid in a way. So it's hard to believe that much time has passed. I'm thrilled; if there are fans that are 20 years old, I'm thrilled to give them a night out to come and hear their old songs with new life breathed into them. Maybe it will make for a great date night after all these many years.