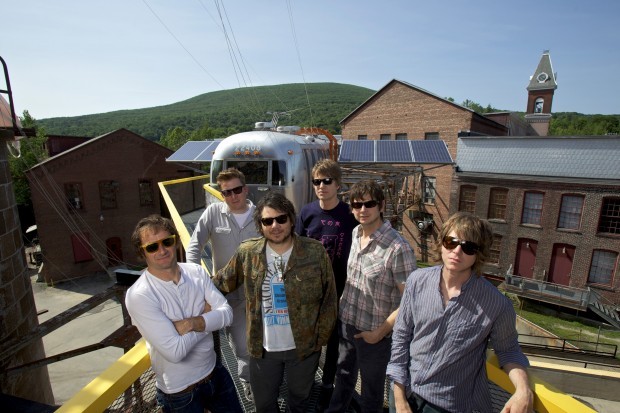 With eight studio albums, dozens of festival appearances, two Grammys and their own record label under their belt, members of the Chicago-based six-piece band Wilco have made a living out of making their unique brand of music, something frontman Jeff Tweedy simply calls "Wilco music."
"It's rooted in things that maybe older people or people my age remember as being rock music," the 44-year-old said. "But at the same time, I don't think we're stuck in the past or retro.
"I think we've tried to push ourselves and experiment with what we can call Wilco music," he added.
The band's latest album, 2011's "The Whole Love," is definitely Wilco music.
The funky drums and electronic flourishes that kick off the record show that experimental side, and you could pin later tracks as rock, Americana and pop, but Tweedy really doesn't care how you label it.
"That for me is what rock music used to be and should be and ideally is," he said in a telephone interview from Portugal. "It's all about freedom. I don't think it's about narrowing things into genres or subgenres. I loathe that as a creative person."
The band was in Portugal to perform at a music festival, the last stop on a short tour before returning home. Tweedy admitted he had to learn to appreciate the music festival over the years because they weren't something he experienced growing up.
"I never visualized myself playing at a festival the way I visualized myself playing on a stage at a rock club," he said.
Tweedy calls himself a Midwest boy and figures he played his first show in Iowa about 23 years ago. Since forming in 1994 and going through several lineup changes, the band has worked its way up from playing dimly lit clubs to minor league ballparks. Yet playing in Europe affords the band a chance to play for a crowd that's less jaded than American audiences.
"A lot of American audiences come at the show like, 'You really need to show us something and entertain us' and 'You're there for us,' " Tweedy said.
"A lot of European audiences come at the show like, 'We're in this together, let's make this awesome,' " he added.
Wilco fans already have an added opportunity to collaborate with the band. Wilco's website allows people to request any song in the band's catalog for each concert. Tweedy said it's used as a suggestion box more than anything, but it does help mix up the setlists.
"I came up with the idea because, after many, many years of playing and playing a city for the eighth time, I just wanted a little help coming up with what we should play."
You have free articles remaining.
You'll also see a mix of ages at Wilco's shows. Many fans have simply grown older with the band, but the group is still picking up new recruits. Tweedy said he's proud of that phenomenon, even though he doesn't quite understand it. He thinks it all comes down to being rooted in rock music — Wilco music.
But he doesn't think music needs to be divided that way, either. At home, he shares just about all of his music with his two sons, and vice versa. He said it's a thrill for him to be with them when they hear a classic album for the first time.
"That's a whole different time in history, when there was some kind of manufactured rebellion between the generations. I don't think it's necessary," he said. "I think there's plenty of stuff to disagree with your parents about."
Wilco set off on another creative venture last year: the formation of its own record label, dBpm Records. Tweedy said he's not in a hurry to sign other bands, although it might happen in the future. Rather, the record label offers the band more creative control and communication with their audience.
"Having our own label actually gives us more freedom to make a little bit more money selling a little bit less records," he said, which is the trend for record sales in this day and age.
Tweedy joked that the downside of the label is not having someone outside the group to yell at and blame for things that go wrong. But day to day, running a label is something that comes as naturally to the band as Wilco music.
"We've been doing a lot of the stuff that a label would do for a long time — doing our own marketing and publicity," he said. "It's just built into the way we do things."
When: 7:30 p.m. Tuesday, July 3
Where: Adler Theatre, 136 E. 3rd St., Davenport