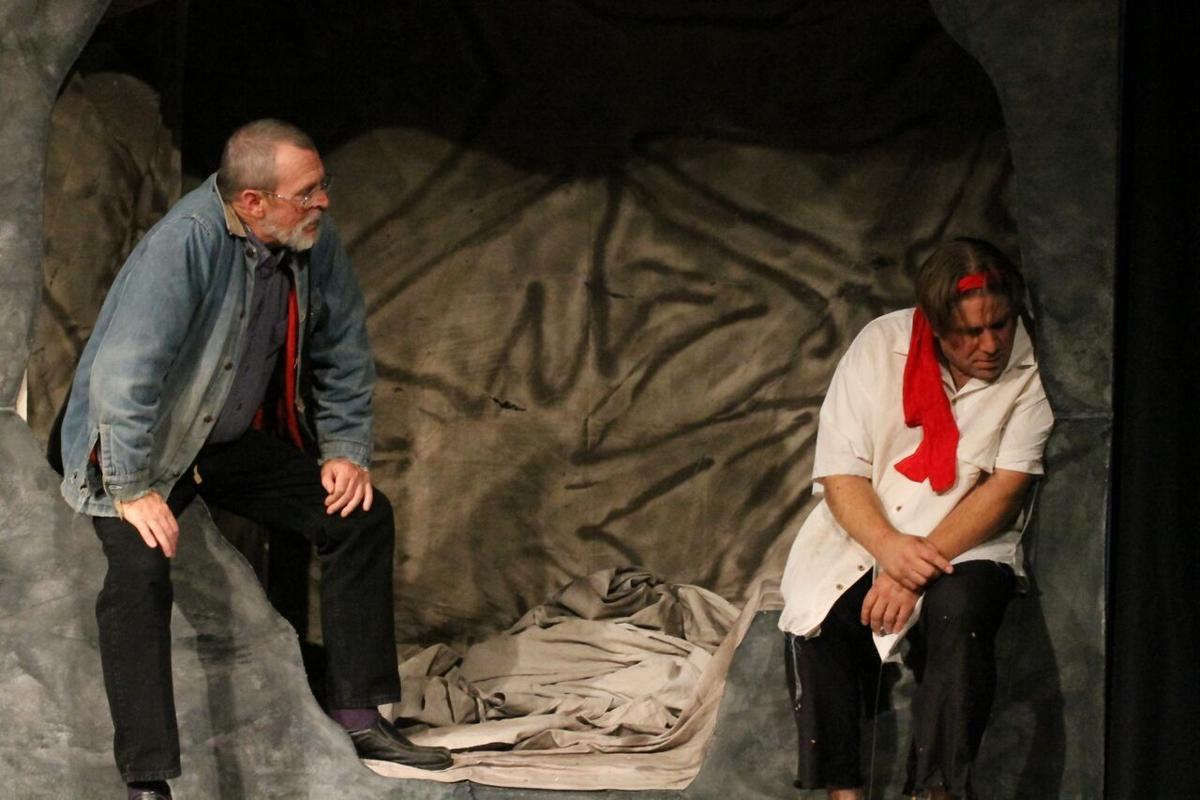 Prenzie Players' latest production may be the most macho Shakespeare you'll ever see.
"Timon of Athens" includes bachelor party-esque debauchery (with two very friendly female visitors), gunfire, a reconstruction of a tank (hastily, and in the dark to boot) — and an end-of-the-first-act visual that is as effective and shocking as it is funny.
No frilly delivery, no complicated storyline, no flowery soliloquies.
Director Jake Walker and his cast surround the audience (seated in two sections of tiered rows) with the action, where even the most genteel of scenes moves at a rapid-fire pace.
Matt Moody is uniformly excellent in the title role, a well-to-do gent all too eager to share any of his fortune with friends and hangers-on when they're in even the slightest bit in need.
But after being overwhelmed by bills and bill collectors, it's Timon's turn to be the one in need — and no one's inclined to pay him back.
Moody shows every grain of Timon's disintegration, from a well-dressed, machismo glad-hander to what he's become in the second act, a hermit living in a cave on a beach, scrambling for foodstuffs and rejecting any of the attempts by his former friends to assist him.
There are a number of laugh-out-loud moments in the two-hour, 10-minute "Timon," particularly from newcomer (and ComedySportz regular) Jesse Mohr as Timon's servant, visiting those his master endowed to try and get something in return. (Although some gags, including one with the vapor smoke from an e-cigarette, are repeated too often.)
Other excellent performances include Michael Carron, as a cranky-skeptical philosopher; Andy Koski, as a military captain and crony of Timon; Mischa Hooker, as Timon's steward; and Daniel Logan and Luke Vermeire as a slightly frilly poet and painter, respectively.
Aaron Sullivan's set design in the first act is a simple, white backdrop, but at the beginning of the second act, once the audience is in place, crew members dismantle a panel to reveal Timon's effectively portrayed cave.
Beginning its mission to finish the Shakespeare canon in time for Prenzie's 20th anniversary, "Timon of Athens" leads a charge for the rest to live up to. Thanks to Walker and his cast, the accessibility is high and, despite not being top of mind for even Bard scholars, still comes out as a roaring success.