The late musician Tupac Shakur used the phrase "The Hate U Give Little Infants" (T.H.U.G.L.I.F.E.) with a couple of words after it that I won't use here.
The gist of it is that the racism directed toward kids ruins their lives and the lives of those around them.
Based on the novel by Angie Thomas, it's the theme of "The Hate U Give," a film that is an Oscar contender.  
The movie is narrated by Starr Carter (Amandla Stenberg, "The Hunger Games") a 16-year-old African-American girl who attends Williamson Prep, where most students are Caucasian.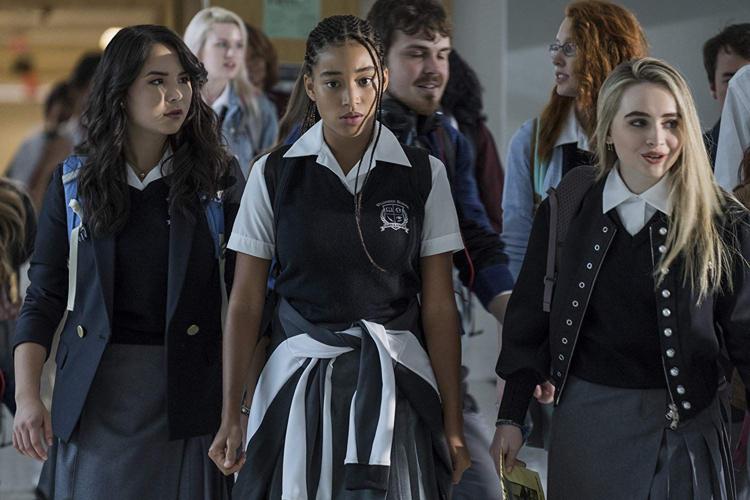 The movie starts with a compelling scene: A much younger Starr and her half-brother Seven (Lamar Johnson) are instructed by their father Maverick (Russell Hornsby, "Fences") what to do when – not if, but when – they are pulled over by a police officer.
Maverick and his wife Lisa (Regina Hall) live in the mostly black community of Garden Heights, where Maverick runs a small grocery store. So when Starr attends school, where she has a white boyfriend Chris (K. J. Apa, "A Dog's Purpose") and a white best friend named Hailey (Sabrina Carpenter, television's "Girl Meets World") she feels she lives a double life.
She realizes it more than ever after a catastrophe. She attends a neighborhood party where she runs into an old childhood friend Khalil (Algee Smith, "Detroit") who gives her a ride home. He pulls over and they talk, sharing a mildly intimate moment.
That's when a young white police officer appears. Starr remembers to keep her hands in sight  and stays in the car. But Khalil, outside of the vehicle, reaches into the car and comes back out with a hairbrush the officer mistakes for a gun.
When tragedy ensues, Starr and the officer are the only people who know what really happened. Should Starr come forward? How will that affect each of the communities in which she lives?
Suddenly she finds herself threatened by her father's former associate King (Anthony Mackie) who is volatile and vengeful.
Stenberg is a terrific performer, and makes Starr entirely believable and engaging. Hall is always wonderful to watch, and Hornsby gives his character several dimensions. Common also is a memorable character as a police officer who understands both sides of the situation Starr faces.
It is thought-provoking, chilling, and offers no easy answers. It would be a great conversation starter for classes, church groups and families. This film may be fiction, but its message carries a lot of truths.