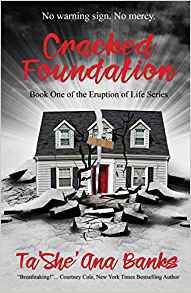 Talisa is only 11 years old when she finds her mother lying on the kitchen floor fighting for her life.
"Within a matter of minutes, Talisa's life changes," according to the book, "Cracked Foundation," by Rock Island native Ta'She'Ana Banks. She will have a book signing Saturday in Moline.
"It is a young adult fiction based on real events," said Banks, 41, of Chicago.
It is her life story. Talisa is her.
"It was a very trying time," she said.
In real life, Banks said it started in 1989 when she was 11. Her mother, Diana Banks, was unexpectedly struck by lupus.
"It first was diagnosed as HIV and the second time diagnosed as cancer," Ta'She'Ana Banks said. It took time before doctors knew exactly what it was.
Banks said lupus is a chronic autoimmune disease where the immune system attacks its own tissues, healthy tissues. This can lead to the damaging of any part of the body (skin, bones, organs). She called it an internal endless battle with no cure.
She said her mom spent large periods of time in the hospital and suffered various physical ailments, including memory loss at times.
When she was 15, Banks said her mother became pregnant and eventually had a baby boy, who the younger Banks helped to care for.
"I felt like I had to grow up pretty fast," she said. "I wrote this story to open the hearts and minds of those who are not aware of the battles many go through behind closed doors when life unexpectedly hits home. My overall goal is to inspire others, to encourage them to find perseverance when standing eye-to-eye in the face of adversity."
After volunteering for the Lupus Society of Illinois, Banks became inspired by the stories of many individuals diagnosed with numerous forms of lupus and decided to write her first novel.
After high school, she joined the U.S. Air Force, where she served for six years. Today, she works as an accountant for Medicaid and Medicare services for the federal government. She lives in Chicago.
Stay up-to-date on what's happening
Receive the latest in local entertainment news in your inbox weekly!