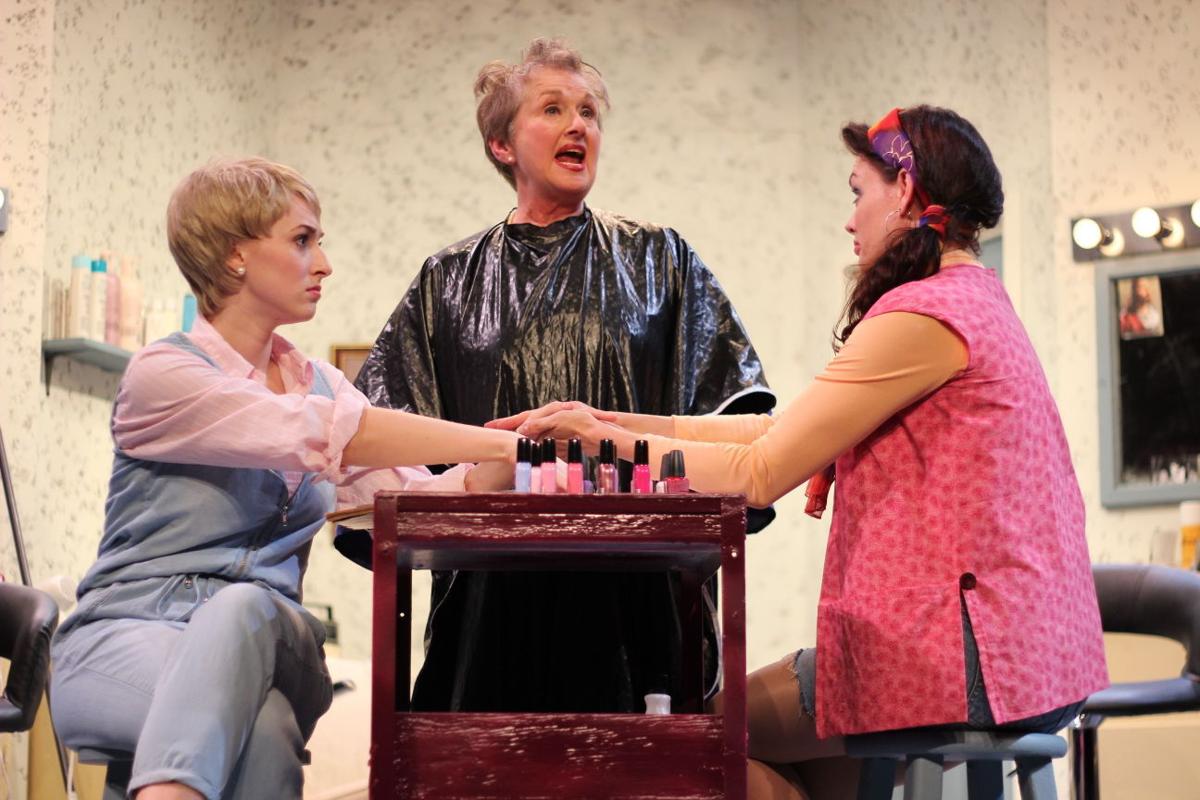 After seeing a stage version of a play multiple times — not to mention umpteen viewings of its subsequent movie — and still walking away entertained, I have to consider the production a success.
And such is the case with Clinton Area Showboat Theatre's "Steel Magnolias."
A combination of college interns, area actresses and a professional performer make playwright Robert Harling's 1987 comedy-drama about the lives of six women who gravitate around a Louisiana beauty shop irresistible.
Directed by Kristy Cates — whose resume includes the Broadway, Chicago and touring productions of "Wicked" — the interplay and pacing of the actresses is dynamic and fresh.
South Carolina actress Miranda Barnett is delightful as beauty shop owner Truvy, with more of a take-no-guff attitude and passive-aggressive manner toward her good-fer-nuthin' husband (hilariously illustrated in the middle of one of her monologues) than normally is seen in the role. She also is the beneficiary of some of the best choices by costume designer Emily Mae Billington, dressing her in short skirts and wild blouses.
The two young actresses who have most captivated Showboat audiences this summer continue to do so here. Livvy Marcus shows tremendous transformation in her role as beauty shop newbie Annelle, from a meek and mousy woman who left her husband to a born-again and overeager Christian whom we see erupt in several choice line readings. Bailey Jordan Reeves is energetic and melancholy as Shelby, the bride-to-be whose Type I diabetes provides the dramatic punch. Even if you didn't know her character wasn't going to make it to the final scene, there's still a sad timbre in her declaration of "I love you all" to the women at the shop.
Area acting veteran Jalayne Riewerts, absent from the Showboat stage for the past five years, has stinging comic timing as Clairee, the recently widowed wife of the town mayor. And Clinton actress Dorothy Farach is powered by nervous energy as Ouiser, the town grouch.
In the least showy but most elegantly painted role, Rebecca Bean (wife of this summer's music director, Matt Bean) makes you want to hug Shelby's mother M'Lynn, whose vacant stare in the final scene after losing her daughter is heartbreaking.
Cates and set designer Amanda Warriner provide a lot of nice little touches, from a working shampoo sink and bonnet hair dryer to a unique topper for the beauty shop's Christmas tree.
Giving renewed life to a tried-and-true title, Cates and the Clinton Showboat cast produce a "Steel Magnolias" that's a cut above.
Stay up-to-date on what's happening
Receive the latest in local entertainment news in your inbox weekly!