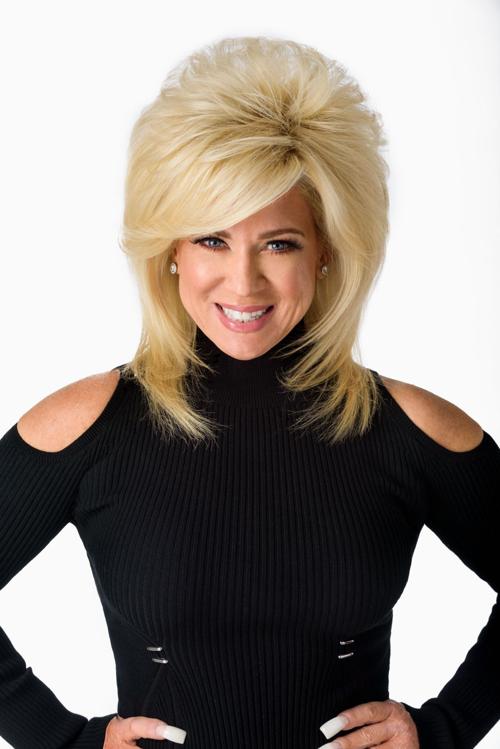 Theresa Caputo, medium and host of reality show "Long Island Medium," will head back to the Quad-Cities this Thursday at the Adler Theatre, 136 E 3rd St., Davenport, for a live show.
The Quad-City Times spoke with Caputo about her live show and how her work has changed during the COVID-19 pandemic. 
Q: Have you ever been to the Quad-Cities before?
A: I have spent some time here. There are only two states that I really haven't been to are Arkansas and Alaska so it's pretty crazy and wild, like I wake up in a different city every day. But I have been to the area before.
Q: Your work is pretty personal, it's very one on one, so how does that translate to a live show?
A: So it's like any other reading. I try to explain to people what I do, whether there's five people or 5,000 people. It is an experience, it's Spirit giving us the gift of knowing that they are still with us just in a different way. There might be a lot of common things that spirit might talk about or refer to, maybe the way that they died or a common burden that they carried, but the unique thing is that I have Spirit validated to the person that they're speaking to. It's something completely unique to that person. So it's something that they would never expect their loved one to bring up or talk about. It could be something that happened years ago. They might talk about things that have happened since they died, and then they will also make reference to things that they haven't shared with anyone else here in the physical world, maybe things that they said to their loved ones in their own personal thoughts or prayers. Maybe it was a conversation that they had on the way over to the show. It is so personal and so detailed to only that individual, and whether someone believes — I don't like to use the word belief, I choose the word understand — what I do, there's no way that I could find out these things, and it truly validates that there is more to life than just time in the physical world.
Q: During the height of the COVID-19 pandemic, how did your work change?
A: The only way that it changed is that I was doing readings over Zoom. I found the silver lining during the pandemic of realizing that Zoom was the new phone reading, and I started my podcast called "Hey Spirit," where not only people in my tri-state area, not even people in the United States but people all over the world, I was able to connect with and be able to deliver the gift of healing.
Q: And was that really different for you from doing it in person?
A: The only difference was for me, because I couldn't reach through the computer and hug them. I just love having that physical connection with people, but if you listen to any episode on "Hey Spirit" you can you feel the emotion, even the last season of "Long Island Medium," which streams on Discovery+, the majority of those readings we had filmed during the pandemic, and they were done over Zoom. It was incredible with how intimate and how powerful it still was ... There's nothing like in-person, but Zoom is just as good.
Q: How has it felt being able to get back and do live shows again?
A: It was amazing. The first time that I stepped back out on that stage was extremely emotional … We had no idea when we would be able to get back to doing live entertainment again. But I'm so proud of my team and my crew on how we are so diligent on really exceeding the CDC guidelines, and we've been out touring since February very successfully. I'm very proud that that we're back to work and being able to give people hope. Because that's what the experience is also, it's not just me channeling people that have died. It gives us that hope and faith that I think all of us over these past 18, 19 months, we could use a little bit more of that.