Amazon is bringing subscribers plenty of good fare to binge on this May as the streamer unveils its upcoming additions for the month.
Below, see the full roundup of shows and films making their way to Amazon Prime Video this May.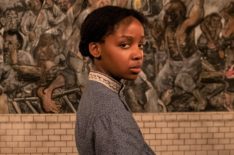 See Also
Brad Pitt is an executive producer of the 10-episode drama based on the Pulitzer Prize-winning book.
Available for Streaming on Prime Video:
Alien: Resurrection (1997)
Deuce Bigalow: Male Gigolo (1999)
How Stella Got Her Groove Back (1998)
Nanny McPhee Returns (2010)
Resident Evil: Apocalypse (2004)
See No Evil, Hear No Evil (1989)
The Age of Adaline (2015)
The French Connection (1971)
The Haunting in Connecticut 2: Ghosts of Georgia (2013)
The Indian in the Cupboard (1995)
The Men Who Stare At Goats (2009)
The Secret Life Of Bees (2008)
The Sweetest Thing (2002)
The Towering Inferno (1974)
*The Boy From Medellín – Amazon Original Movie (2020)
*The Underground Railroad – Amazon Original Series: Season 1