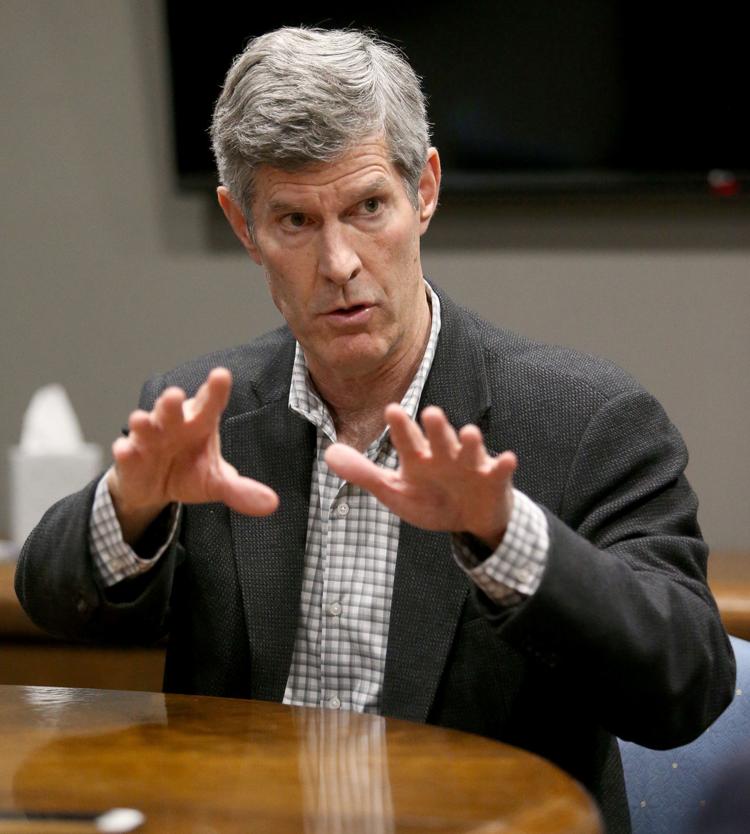 In the last two years, Iowans have seen their state government take a hard turn to the right.
Finally freed from the constraints of split control, Republicans in Des Moines acted swiftly to enact a raft of changes that, for many Iowans, left their heads spinning.
A lightning strike to scuttle a 40-year-old collective bargaining law.
Approval of perhaps the most restrictive abortion law in the country.
Reversing local attempts to raise wages. And just this last session, the GOP imposed a massive tax cut that, despite claims to the contrary, delivers most of its benefits to the wealthy.
They undercut energy efficiency programs and imposed new voting restrictions.
They've also shortchanged public education. Then, there's the three-year old privatization of Medicaid.
To many Iowans, this isn't the state where they grew up, where people like Bob Ray and Tom Vilsack represented a sensible middle ground.
It's time to get back to those roots. We believe Fred Hubbell can take us there.
We believe if Hubbell is successful on Nov. 6, we could again have collaborative government in Des Moines that is not ideological but practical.
Hubbell is a businessman, the former leader of Equitable of Iowa Cos. He's not a typical politician. His less-than-polished debate performance demonstrate that. But in the months we have listened and watched him, he has offered a reasoned approach to solving complex problems.
He steered clear of the excesses of some in his party during the primary, refusing to be goaded into throwing his support behind a single-payer health care system.
Despite getting criticized for it, he also made clear he would appeal to Republicans and independents – and not just for votes, but also as a governing principle. Again, this was during the primary.
Hubbell's main complaint about Reynolds is the privatization of the Medicaid program. He has been somewhat vague on precisely how he would fix it, but his approach is to judiciously move it away from the control of private insurance companies that are cutting services and not paying providers.
That said, Hubbell also has recognized the state needs to slow spending growth in the program. The governor has rightly identified that as an issue.
Hubbell also clearly recognizes this state needs to invest more money in its education system. He and running mate, Sen. Rita Hart, have made it a top priority.
It used to be we talked about three or four percent growth in basic state aid for K-12.
Now, it's 1 percent, 2 percent at best.
That doesn't even keep up with inflation. And over a period of years, this is a recipe for disaster. No wonder Davenport is contemplating closing schools.
We have to say that Hubbell has disappointed us with his refusal to release more of his tax returns. But we do not believe this is disqualifying.
As for the governor, we respect her focus on the state's workforce, and we believe on her watch Iowa took positive steps forward by requiring regional governments to provide more mental health services to Iowans.
She also has taken steps to create a children's mental health system. We believe that, too, is the right move.
However, we believe the governor's economic strategy relies too heavily on tax cuts, like the one passed last session.
We have seen no evidence that the previous historic tax cut enacted by Des Moines – the 2013 commercial property tax reform law signed into law by Reynolds' predecessor, Terry Branstad -- incentivized job growth. Frankly, this area already compared favorably to our neighbors in this category.
Meanwhile, the income tax cut approved earlier this year will constrain the state's ability to make investments in education, the true engine of our economic growth.
Hubbell has said he would seek to pay for these by taking a hard look at the suite of tax credits the state offers to corporations.
It won't be easy to roll those back, though. Constituencies exist for each of them.
So, we harbor no illusions about the challenges. But we worry about what will continue to happen with full Republican control of state government.
The excesses of the last two years are not in keeping with the sensible Iowa of our roots.
Our heritage is to invest in our schools, our people and our lands and water.
We work together, raise each other up, all of us, and find a way to do what's best for the common good.
We solve problems with common sense.
There is a way to get back to doing that again.
We endorse Fred Hubbell for governor.