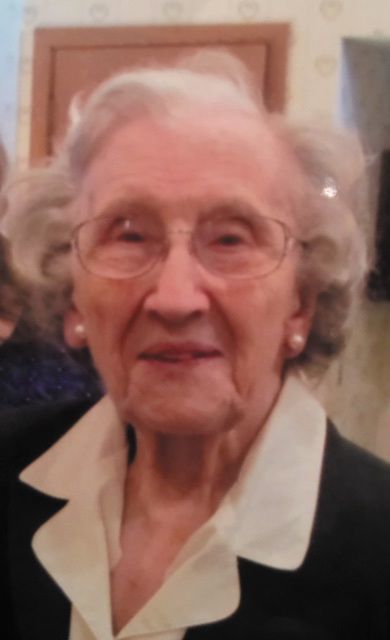 May 4, 1918-August 7, 2019
DAVENPORT - Kathlene Lenore Bowling Fesenmeyer passed away Wednesday at Crest Health Center, Davenport, Iowa.
Kathlene, known to her friends and family as Kay, was born May 4, 1918, in Lancaster, Missouri, the only child of Amos P. Bowling and Nancy Moorhead Bowling Andrews. Her childhood was spent in Centerville, Iowa, where she graduated from Centerville High School and Centerville Junior College. She continued her education at the University of Iowa, completing her course of study as a Graduate Nurse.
While a student at the University of Iowa, Kay met her husband of 67 years, Charles Richard Fesenmeyer. Dick and Kay married April 28, 1944, not long before he shipped overseas to serve as a Captain in the Army Medical Corps during World War II. She remained in Iowa City, working at the University Hospitals, while he was stationed in the Philippines.
You have free articles remaining.
Upon his return, they relocated to Detroit, Michigan, where he completed his surgical training, before moving to Davenport in 1950, where they remained for the rest of their long lives.
Kay was a strong and capable woman who raised four children while supporting her husband throughout his 56 years of demanding medical practice. She was an active volunteer in the kids' activities, a master gardener, a whiz at bridge, and a caring friend to many. She was a member of First Presbyterian Church and the National TTT Society.
Kay is survived by three of her children:Nancy, of Coralville, Iowa, Kathlene (Dr. William Edwards), of Rockford, Ill., andThomas (Dr. Ann Connors), of Iowa City, Iowa; six grandchildren: Elizabeth Edwards (Nicolas Vroman), of Chicago, Ill., Mark (Dr. Evonne) Edwards, of Hudsonville, Mich., Jennifer (William) DiCaro, of Rockford, Ill., Eric Edwards, of New Berlin, Wis., and Victor and Maureen Fesenmeyer, of Iowa City, Iowa; and eight great-grandchildren.
Kay was preceded in death by her husband, Charles R. Fesenmeyer, her son, Charles R. Fesenmeyer Jr., and her mother, Nancy Andrews.
The family wishes to thank Kay's caregivers at Ridgecrest Village for their patience and kindness in caring for our mother in her final years. The family is especially grateful for her neighbor and "favorite son", Mike Thomas, whose daily support allowed Kay several independent years in her home.
A private service for the family was held Tuesday, August 13, 2019. Cunnick-Collins Mortuary of Davenport assisted the family with arrangements. Memorial gifts may be made to the Fesenmeyer Family Fund at US Bank locations for a planned scholarship to the University of Iowa College of Nursing. Online memories and condolences may be left for the family at cunnick-collins.com.