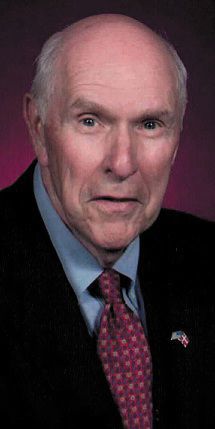 November 29, 1937-October 6, 2019
MOLINE - Lawrence (Larry) W. Lorensen, 81, of Moline, passed away Sunday, October 6, 2019, at Unity Point Trinity, Rock Island surrounded by his loving family after a brief hospitalization.
A Mass of Christian Burial will be 9:30 a.m. Saturday, October 12, 2019, at Sacred Heart Church, Moline. Visitation will be 4-7 p.m. Friday at Rafferty Funeral Home, 2111-1st St. A, Moline with a family led rosary at 3:30 p.m. Burial will be at Calvary Cemetery, Rock Island.
Larry was born November 29, 1937, in Rock Island, the son of Laurence and Ann (McLeod) Lorensen. He was a 1955 graduate of Alleman High School, 1959 graduate of St. Ambrose College and received his Master of Arts in International Relations at George Washington University in 1964. While in graduate school, he served on the U.S. Capitol Police Force and on the staff of U.S. Senator Paul Douglas.
Larry married Mary Katherine Fleischman on August 26, 1961, at St. Mary's Church, Moline.
Larry taught Western Civilization at Alleman High School from 1964-1966. From 1966 until his retirement in 2001, he was a Professor of Political Science at Black Hawk College and prior to his retirement served as Chairman of the Department of Social and Behavioral Sciences.
You have free articles remaining.
Larry was a strong believer in service to his church and his community. He served the City of Moline first as an Alderman from 1969-1977, and then as Mayor from 1977-1981. In addition to his service to the City of Moline, he also served as a Member and Chairman of the Black Hawk College QC Campus Foundation. He was a Board Member and Chairman of the Rock Island County Metropolitan Mass Transit District from 1987 until his death, and was a 40-year volunteer at the John Deere Classic.
Larry was a member of Sacred Heart Church where he served as Lector, funeral acolyte, and was presently serving on the Parish Council. He was a member of Knights of Columbus Leo Council, East Moline.
Larry enjoyed golfing, traveling, was a model railroad enthusiast and avid reader.
Survivors include his loving wife of 58 years, Mary Katherine; children, Jean (Bryan) Chumbley, Jane Morrissey, and Julie (Steve) Brewer; grandchildren, Nicholas (Anna) Chumbley, Katlin (Phillip) Reardon, Zachary (Joanna) Morrissey, Ethan (Erin) Morrissey, Spenser (Michelle) Morrissey, Delaney Brewer and Arden Brewer; four great-grandchildren; Nora, Owen and Levi Lawrence Reardon and Ezra Morrissey, Sisters Susan and Delia Lorensen; and sister-in-law and brother-in-law Therese and Paul St. Ledger.
Larry was preceded in death by his parents and nephew Antaeus.
In lieu of flowers memorials can be made to Systemic Juvenile Idiopathic Arthritis (SJIA) "Nora's Warriors" or Sacred Heart Church.