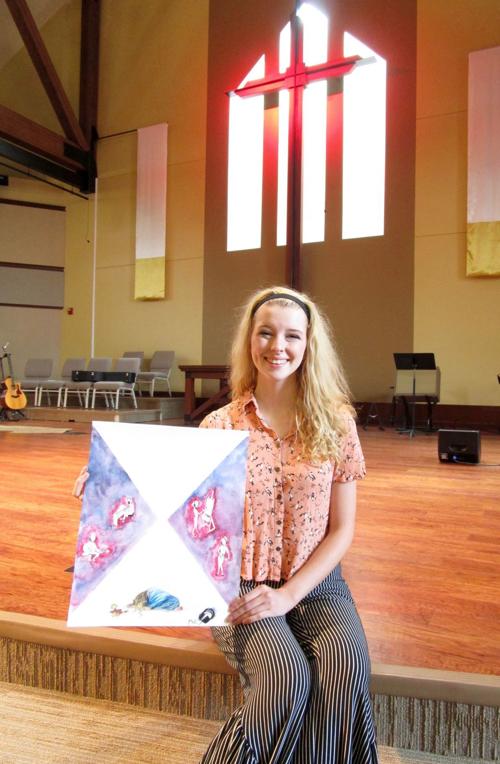 GENESEO — Audrey Neal has spent the past year focusing on what God has called her to do. She will share what she believes to be His answer at the upcoming "CD Release Concert & Night of Worship" at First United Methodist Church, 302 North State St., Geneseo.
The free event begins at 6 p.m. Saturday, July 20, and will combine music — original songs — with worship and an extended time of spirit-led contemporary worship music.
Neal will sing selections from her new CD, "Free and Undeserved," which includes "Heart of a Dreamer," "Mom's Song," "Is This Love?" and "Son in the Rain." The music and lyrics were written by Neal and recorded with Erik Wilson, former director of worship at First United Methodist in Geneseo.
Copies of Neal's CD will be available to purchase at $10 each on the night of the concert. Anyone interested in buying a CD, but not able to attend the concert, can purchase the CD online at https://www.paypal.me/audreymarie5057 and it will be mailed to their address. Shipping costs will be added.
In addition to her music at the concert, Neal will share how the Lord has walked with her as she continues to battle a rare form of cancer.
Tim Brinkman, director of worship at First United Methodist, said: "Our whole church has been blessed by Audrey's leadership in worship and music. She grew up in our church, and we're proud of how she continues to develop as a singer, songwriter, guitarist and pianist. I love how our church responds when she leads to worship; she has a unique gift."
"We can't wait to celebrate the release of her CD on July 20," he said. "Everyone is already buzzing about this concert."
Neal planned to become a worship leader and was to begin college studies in January of 2019.
Those plans changed when in March of 2018 when she began having what she refers to as "unusual stomach pain."
The unusual pain recently was diagnosed at Mayo Clinic in Rochester, Minn., as Clear Cell Sarcoma-Like of the GI Tract.
After experiencing the stomach pain last year, Neal assumed it was some sort of infection or "stomach bug," and she lived with the pain for about three months and went through graduation ceremonies with the Class of 2018 at Geneseo High School.
She experienced the stomach pain for about three more months and said it was while on a family vacation her dad took her to the local clinic, where she was told to take probiotics.
"At first I thought it would help, but the pain continued," she said. "On the weekend of Father's Day last year, I no longer could keep food down and I was throwing up."
You have free articles remaining.
Neal was taken to the emergency room and underwent a CT scan.
"After the test was done, the doctor came back with the results and the first thing she said was, 'I wish this was all in your head, but it's not.' At that point, I didn't think my stomach pain could get any worse, but the doctor kept talking, and my stomach sank even more. She went on to say they found a black fatty mass in my small intestine and that they were going to perform surgery the next day."
Also at that time, doctors discovered Neal was anemic.
"My instinctive reaction to this whole thing was to let everyone know on Instagram and to ask for prayers from as many people as possible," she said.
The surgery removed a tumor/mass and 8 inches of Neal's small intestine.
"My hospital experience was the best it could be," she said. "I had so much love, prayers, flowers and support to keep me going, especially from my church and my family. I also learned a lot through this experience. The hardest part of recovering at the hospital was to start walking again, which taught me to 'say yes and choose to walk,' even though it hurt, and all I wanted to do was sleep, but getting up was the best thing for me and for my health. The more I said, 'yes,' the easier it became to walk. God showed me how to apply this to my everyday life that even though this wasn't on the menu of my life, I shouldn't give up and go 'back to sleep' because that was easier."
Going home was somewhat uncomfortable and frightening for Neal. She admitted she realized she would not have nurses checking to make sure she was OK.
"Returning home was an overwhelming moment of emotion," she said. "I was weak and tired, and I wasn't allowed to do anything by myself, and my diet was restricted."
The remainder of her summer last year was spent primarily in doctors' appointments, numerous scans and "lots of needles," she said.
Last fall, Neal's parents, Lance and Jill Neal, met a couple from Charleston, S.C., whose daughter has the same illness. They met the couple to learn more about the treatment their daughter was receiving.
"I now have scheduled appointments every three months at Memorial Sloan Kettering Cancer Center in New York City where I undergo exams and scans," Neal said. "At this time there has been no return of the disease."
The decision of having to put college on hold was not welcome news to Neal, but she said she has come to terms with the decision.
"I've learned to look at the bright side," she said. "Being home has given me the freedom to pursue my music and art career like writing songs, learning to play new instruments, play at other churches, sell my art and record my original music, deepen my relationship with God and earn some money before I am able to go off to college."
Neal has some part-time jobs and also works as a nanny for a Geneseo family.
"I have devoted my time and priorities to what God has called me to do, not allowing stress or worry to be my focus," she said. "Proverbs 3:5-6 ("Trust in the Lord with all your heart and lean not on your own understanding; in all your ways submit to Him, and He will make your paths straight") was my senior quote in high school, and is still challenging me to put my full trust in the Lord, and to let Him guide my paths."