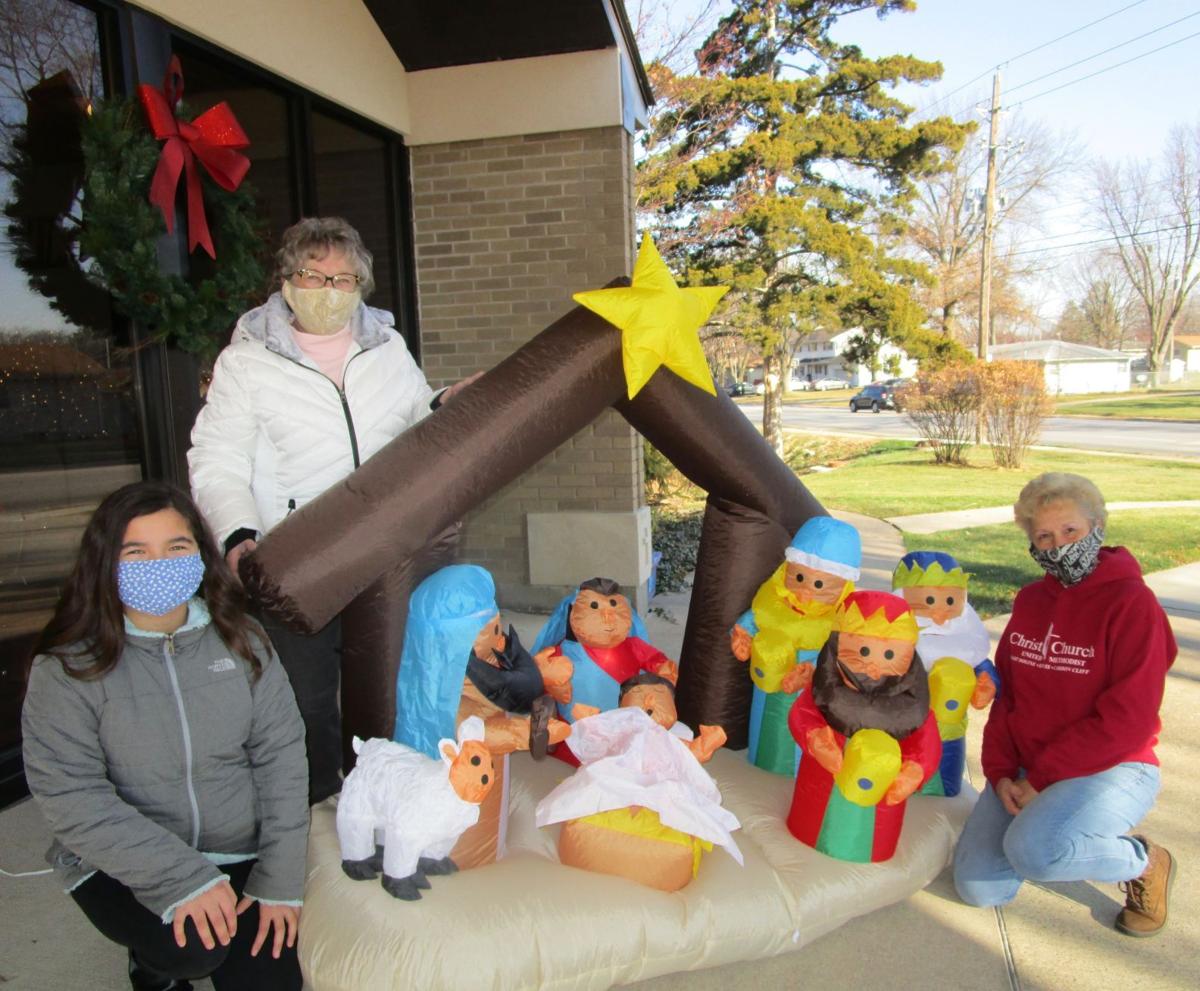 EAST MOLINE – The idea of a "drive-thru" Christmas came through prayer to the Rev. Joye Perry, associate pastor at Christ United Methodist Church in East Moline.
She had grown weary of hearing the phrase "it is what it is," in the midst of the current pandemic and Perry said, "I refuse to stay in that frame of mind. I don't think God calls us to 'stay put' and 'stay in.' He calls us to continue to reach out, but in different ways, new ways, creative ways, and safe ways."
When she began to pray and think about what would be a fun, safe way to share the love and hope of the Christmas season with the QC community, the idea of a "drive-thru" Christmas began to take shape.
"This year, we want to reach out in a new and different way to the kiddos and their families in our community with a time of Christmas lights and Christmas fun," Perry said.
The drive-thru Christmas display will take place from 5 to 8 p.m. each night from Saturday, Dec. 19, through Wednesday, Dec. 23, on the church property at 3801 7th St., East Moline.
Perry said, "We invite the community to drive through our church parking lot with their vehicles and enjoy the scenes of the Christmas Story in addition to Christmas lights, Christmas music they can tune in and listen to on their car radios, the caroling puppets, celebrate the birthday of Jesus, and right before they leave our property, they can stop and see Santa and Mrs. Claus through the church windows at the front entrance area. Santa will be listening to the kids when they call his cell phone, and they will be able to see him quite clearly sitting in his decorated living room, as they stay in their cars."
Santa's cell number will be posted on the church window outside of where he is sitting inside.
Visiting children will be offered a Christmas goodie bag to take with them as a special treat to enjoy at home, Perry said.
In childhood, Sunday school teacher taught her the acrostic or JOY – "J is for Jesus first; O is for others second and Y is for yourself last," she said. "My prayer is that our 'drive-by' display brings the 'JOY' of Christmas to many as we strive to honor Jesus, serve others, and consider ourselves privileged to be serving the community through this event."
"We'd love to have people offer to let us borrow their outdoor decorations for the week so we can have a large display, and they can call the church at 309-755-2508, and leave a voice mail," she said.
In addition to the "drive-thru" Christmas Family Fun event, the church also offers a Kids' Saturday Night Worship at 5 p.m. every Saturday in the church parking lot, which includes kid-friendly songs which Perry said always includes horn honking opportunities, games the entire family can enjoy such as "texting" to answer guessing-game questions, and a kid-friendly devotional message.
"As another way to support families, we have started to offer Zoom Bible classes for kids online," she said. "Jenny John, a member of our church, is coordinating and teaching our Zoom classes for kids and she and the kids are having a great time online."
Three worship services are offered at 8:30, 9:30 and 10:30 a.m. on Sundays in the church parking lot. The services are 30 minutes in length and include worship music, prayer time, scripture reading and a Christian message. This year's Advent worship services are themed around the classic Christmas story, "A Christmas Carol," written by Charles Dickens. Daily online Bible studies using the same theme are also available on the church Facebook page in December.
Christ United Methodist also offers an online Saturday night bluegrass worship experience that can be viewed on YouTube or on the church face book page. Sunday morning worship services are recorded and can be viewed online at the church website or on Facebook on Sunday afternoons.