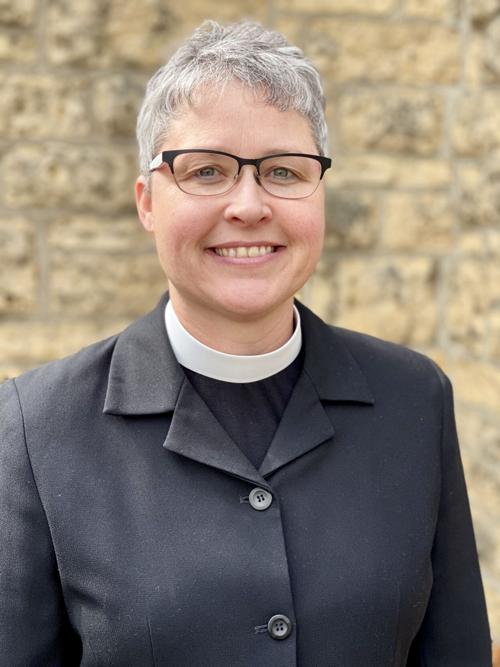 The Rev. Amy Current has made history as the first woman to be elected Bishop of the Southeastern Iowa Synod (ELCA) at the annual Synod Assembly held earlier this month via Zoom.
"It is an honor to be the first woman elected to the office of Bishop in the Southeastern Iowa Synod. I join many other female bishops who are already leading across the church. This is poignant in that this as 2020 marks the 50th Anniversary of the Ordination of Women in our denomination," Current said in an interview by email. 
"I am also the first bishop elected in this Synod at a digital synod assembly and the second this year due to the pandemic," she said, adding, "I participated in the election process via Zoom from my home. I was so impressed with the Southeastern Synod Council, election committee, and technology team for their preparation and leadership. The wonders of technology — to connect us in this time are marvelous."
She was elected on the fifth ballot, with 178 votes. The Rev. Erika Uthe received 173 votes.
Bishop-Elect Current was born and raised in Fargo, N.D.; graduated from Concordia College, Moorhead, Minn.; received a Master of Divinity Degree from Wartburg Theological Seminary, Dubuque, Iowa; and was ordained on July 13, 1997.
Current is in her 15th year at Wartburg Seminary in Dubuque, where she is vice president for admissions and student services. From 2006-2010, she served as director for financial aid and stewardship formation, director for public communications, and interim director of the Center for Youth Ministries.
She was a parish pastor of Maple Sheyenne Lutheran Church in Haywood, N.D., from 2003 to 2006 and served as pastor of Golden Ridge Lutheran Church, Fargo, N.D., and Congregational Lutheran United Church in Gardner, N.D., from 1997 to 2001.
Current will be installed as bishop of the Southeastern Iowa Synod on Oct. 10. She replaces Bishop Michael Burk, who has served since 2008.
"I pray that as bishop, I am able to lead, inspire, accompany and empower the congregations, ministries and people of Southeastern Iowa Synod to remain focused on the mission of Jesus Christ," Current said. "How are we called to proclaim the good news of Jesus Christ in the midst of a pandemic, polarization, and now, as a large portion of the synod and state reel from the destructive impact of the derecho storm? I look forward to listening deeply to the stories of the congregations, ministries, and leaders as we discern how God continues to transform the aching world with love and mercy."
Micah Louwagie, a student at Wartburg Seminary, and a vicar at St. John's Lutheran Church in Rock Island supported Current being selected as bishop. 
"Amy is a strong and she is compassionate. She is intentional and she interacts with other people with a lot of grace and a lot of integrity…I am excited to see a woman bishop I the Synod and I think it will open doors for a lot of other people," he said. 
The Rev. Travis Fisher-King, pastor at St. Mark Lutheran Church in Davenport, explained the voting is an ecclesiastical balloting process. "The first ballot is a nominating ballot in which the name of any ordained pastor in the ELCA can be submitted," he said. "At that point any nominee can withdraw their name and that is the only time in the process that it can be withdrawn. The second ballot narrows to seven individuals and the top seven were able to speak at the Assembly. Then the top three were asked questions; then the top two were asked to respond and then the fifth ballot is the deciding ballot with 50 percent of the vote needed to elect the person."