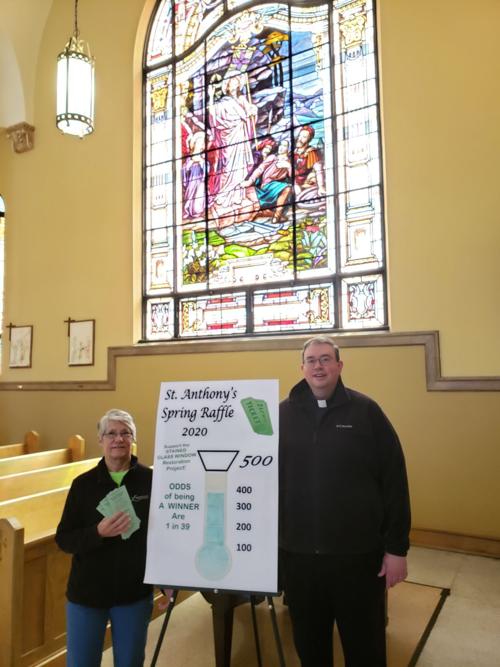 ATKINSON, Ill. — An upcoming annual spring raffle is expected to raise the remainder of the funds needed to pay for the restoration of the original stained glass windows at St. Anthony's Church in Atkinson.
The 11th annual raffle drawing will be held a 12:30 p.m. Sunday, June 7, at the Parish Hall, across from the church at 204 West Main St. The brunch that is included with the drawing each year will be held at a later date.
Nick Simon, chairman of the raffle and a deacon at the church, said more than $20,000 in prizes will be awarded, including a grand cash prize of $10,000.
"Only 500 tickets will be sold and the odds of winning a cash prize are one in 39," Simon said.
The price of a raffle ticket is $100 which includes two tickets for the brunch when it is held at a later date. Tickets are available from church members, at businesses in Atkinson, and from the church office by calling 309-936-7900 and leaving a message.
Proceeds from the raffle will be applied to the Stained Glass Window Restoration and Protection project for the 103-year-old windows at the parish.
Simon said the proceeds from the spring raffle should complete paying for the project which is estimated to cost $200,000 and includes restoration of the 26 stained glass windows and the protection system, which was done to all windows in the building. He said there are 68 stained glass windows in the church.
The remaining debt for the complete project is about $20,000, Simon said.
"The 26 church windows were removed to be cleaned, re-leaded and reframed at the Studios of Glass Heritage in Davenport before they were re-installed," he said.
All 68 church windows have now been cleaned, re-grouted, waterproofed and polished from the outside before the new quarter-inch clear plate glass protection was installed to replace the 50-year-old Plexiglas coverings.
"The new protection system is designed to remove condensation and dissipate any heat buildup," Simon said. "Both the Restoration and Protection projects were done by Glass Heritage.
"The Protection system should extend the life of all of the windows," he said.
The stained glass windows were made by the J.J. Kinsella Co. of Chicago and were installed in 1917 when the present St. Anthony's Church was constructed, replacing the church building destroyed by fire in 1916 at the same site.
Scenes in the windows include the Resurrection, Jesus with the little children and Jesus in the Garden of Gethsemane.
For more information, call Simon at 309-945-2436.
Concerned about COVID-19?
Sign up now to get the most recent coronavirus headlines and other important local and national news sent to your email inbox daily.