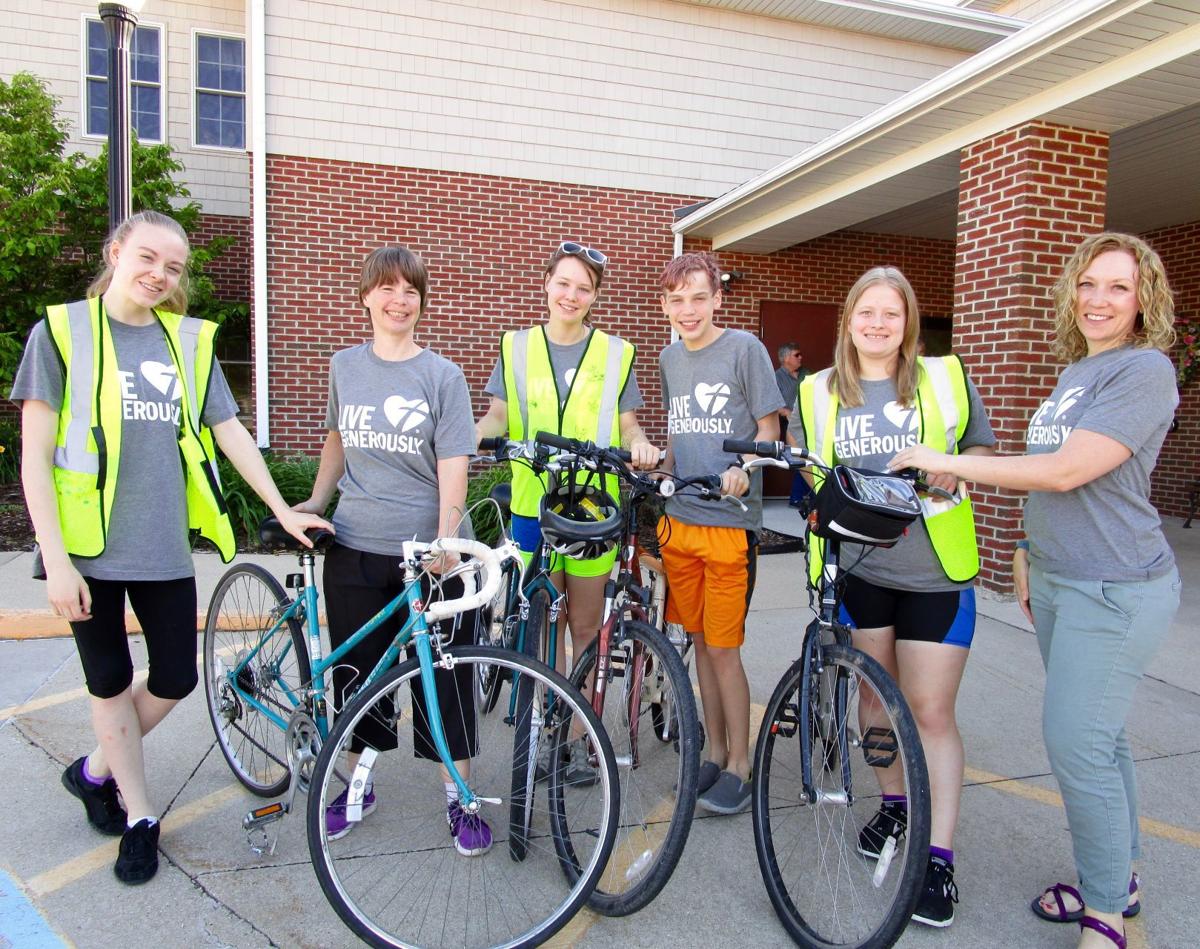 GENESEO — A group of cyclists rode 120 miles to the Northern Illinois Synod Assembly at Augustana College in Rock Island, and their mission was to raise funds and awareness to help end world hunger.
The group, ranging in age from 13 to 45, represents the Northern Illinois Synod of the Evangelical Lutheran Church in America.
Amy Hoening, executive director of Rockford Area Lutheran Ministries, organized the effort for the first time last year and explained the riders collect pledges before, during and after their visit to the Assembly.
"Every year the Northern Illinois Synod hold their Synod Assembly at Augustana College, attended by pastors, church professionals and lay people," she said. "Our trip concluded at First Lutheran Church in Rock Island, just down from Augustana College. We went into Assembly in Centennial Hall and were acknowledged by those in attendance, and we then loaded our bikes into vehicles for our trip home."
"Some of our group stayed for the Assembly sessions and others left for home that day," Hoening said.
Hoening is the executive director of RALM (Rockford Area Lutheran Ministries).
"We are 21 Lutheran congregations in the greater Rockford area celebrating being one church together doing a collaborative ministry," she said. "We are a recognized ministry of the Synod, and we work strongly with the Synod."
"Last year we raised $2,000 on our 'Cycle to Synod,' and all the money is sent to ELCA World Hunger," she said, adding that this year the group received about $4,000.
"We also had a 72-year-old man with us last year, but he was not able to join us this year," Hoening said.
You have free articles remaining.
In addition to the six cyclists on this year's trip, there were five vehicles.
"We always have a lead car and a trail car," Hoening said.
"Our hosts along the way are members of the different churches where we stop, and all of our food is provided by the different congregations," she said.
The "Cycle to Synod" pilgrimage began at St. Matthew's in Princeton and continued to the Hennepin Canal Parkway State Park, finishing the first day at Zion Lutheran Church in Kewanee. The second day, riders left Kewanee and pedaled to Cambridge Lutheran Church and then on to First Lutheran Church in Geneseo. Day Three featured a ride from Geneseo to Andover to see the historic Jenny Lind Chapel, with lunch at Augustana Lutheran Church in Andover, before concluding the ride at First Lutheran Church in Rock Island.
During the opening session of the Synod Assembly, the cyclists walked their bikes into Centennial Hall to be recognized for their accomplishment. They were introduced and then packed up for the trip home, which was made in vehicles.
Each of the participants in "Cycle to Synod" has a card that they give to all the people they meet. It explains "why I ride."
When Hoening was asked why she does the ride, she said to raise awareness and funds for World Hunger.
"I ride because more than 820 million people suffer from hunger," she said. "When God created the world, God created enough food to feed everyone. To live as God intended, hunger must be ended. I also ride because I enjoy meeting the cycling team, the drivers and support staff, and the many people from the congregations and communities and sharing the many things ELCA World Hunger is doing to end hunger.
"The trip was about 120 miles for us, and when I first told people we were doing this ride, I received comments such as 'you'll never be able to do that,' so I wanted to show them that I could."
The cyclists plan to repeat the journey next year, and Hoening said each year the riders take a different route.
"There are blessings every year and we want to continue to build more relationships with the people and the churches in the Synod," she said.
Be the first to know
Get local news delivered to your inbox!