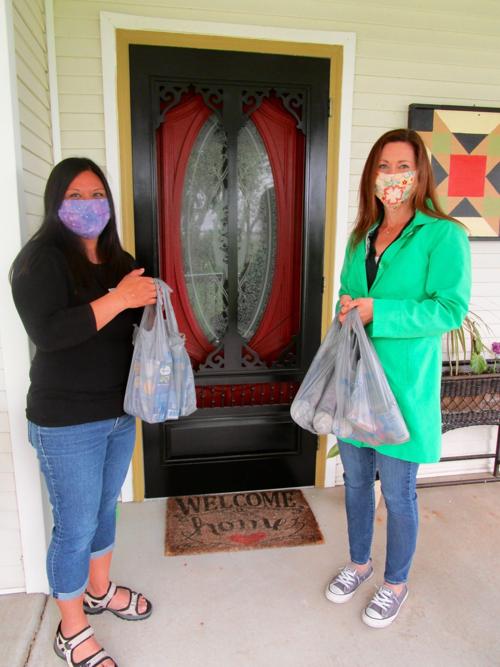 GENESEO, Ill. — They may not have wings, but they are "angels" in what they are doing in helping others.
The Porch Angels are volunteers who are willing to meet the needs of others during the current shelter-in-place orders resulting from the COVID-19 pandemic.
The ministry began when Merriam Jolly, a member of First United Methodist Church in Geneseo shared the idea with church staff of reaching out to help others.
Yvette Biddle, director of discipleship at First United Methodist, said Jolly referenced Galatians 5:13, which tells us to "serve one another in love."
Jolly shared this quote, "My heart has always advocated for the elderly, most vulnerable, underprivileged and high-risk groups, and the shelter-in-place order was an opportunity to serve these populations, especially during this time of uncertainty."
A logo and guidelines were developed for Porch Angels and a team of 25 volunteers was built.
"I felt the need to find a way to show Jesus' love to our community," Biddle said. "Our Lord has been faithful to provide many servants for this ministry. We are delighted to be able to serve our church family and share the love of Christ in a very practical way."
Porch Angels from First United Methodist serve the elderly and at-risk from within the congregation by running errands such as getting groceries, household goods or prescriptions. Deliveries are made to the door of the resident with volunteers wearing masks and practicing social distancing guidelines.
Conversations and orders are completed by phone and members of First United Methodist Church can call the church office, 309-944-2793, to request help.
Other area churches learned about the Porch Angels ministry at First Methodist and also implemented similar ministries at their churches.
The Rev. Steve Palm, pastor at Geneseo Evangelical Free Church, shared the idea of the Porch Angels with the Geneseo Ministerial Association which led to other churches becoming involved. In addition to First Methodist and Geneseo Evangelical Free, other churches involved are Grace United Methodist Church, (309-944-4208); First Baptist Church, (309-944-3735); First Lutheran (309-944-3196); and First Congregational United Church of Christ, (309-944-3389), all in Geneseo; and Son Rise Bible Church in Atkinson, (309-936-7672).
The Rev. Ryan Shannon, associate pastor at Geneseo Evangelical Free, said, "After the COVID-19 outbreak, pastors who are involved in the Geneseo Ministerial Association wanted a way to serve those in their churches and community who were considered 'at risk' and unable to leave their homes to shop and meet their basic needs."
He said, "As a close-knit community of Christians, we keep in touch with our people on a regular basis."
Church staff reaches out to those people by phone calls and emails during the current shelter-in-place to see if their needs are being met, Shannon said.
"If there are any needs, we have a committed group of volunteers who are willing to help at a moment's notice," he said. "However, our fellowship and care does not stop at the four walls of our church, it extends to our community as well. We want to come alongside of and care for those in our community during their time of need."
Anyone in need of a Porch Angel can visit the website at www.gefc.org and on the homepage there is a page for Porch Angels that describes the ministry guidelines, including an application. When the application is complete, a volunteer from the church will contact the person for additional information.
When the Porch Angels began at First United Methodist, the Rev. Dr. Chris Ritter, directing pastor, said, "You have heard of 'Porch Pirates' that take from people. It is nice to think about an army of Porch Angels giving to others during this time of national crisis. There is an element of faith involved with launching something new. Unexpected issues will arise. The only way to avoid problems is to do nothing. But I think this is a moment for the church to be the church. We have decided to spread our wings and see what we can do."
Be the first to know
Get local news delivered to your inbox!