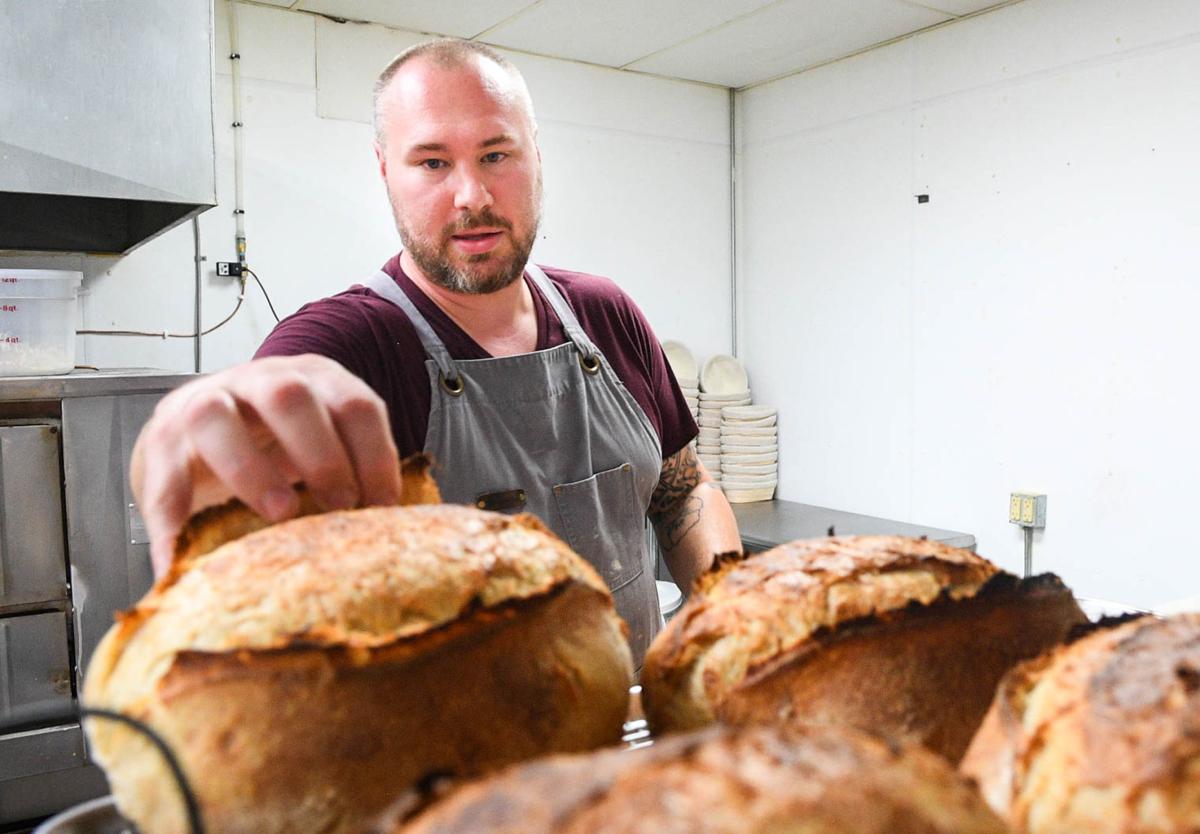 Brandon Carleton's favorite bread to make only takes six ingredients: water, salt, sourdough starter and three kinds of flour. 
Despite its simplicity, the whole process from dough to loaf — the country brown loaf — takes around 30 hours. To teach me, he sped up the process a bit. 
Carleton opened Blue Spruce Bakery in June 2020, offering 10 breads for individual orders or by subscription. He worked from home until May when he moved into a building in Moline. 
Before he got the larger space, Carleton was baking bread from his kitchen at home. 
"Just every surface, the dining table, whatever, was just covered in bread," he said. 
Customers pick up their bread on Fridays and weekends. Delivery is an option for those in the Quad-Cities, East Moline, Silvis, LeClaire, Geneseo and Colona.
Bags of bread lined the counter, and though no bread was in the oven at that moment, then space smelled like something delicious was baking. Carleton was surprised when I pointed out the scent — he doesn't notice it anymore.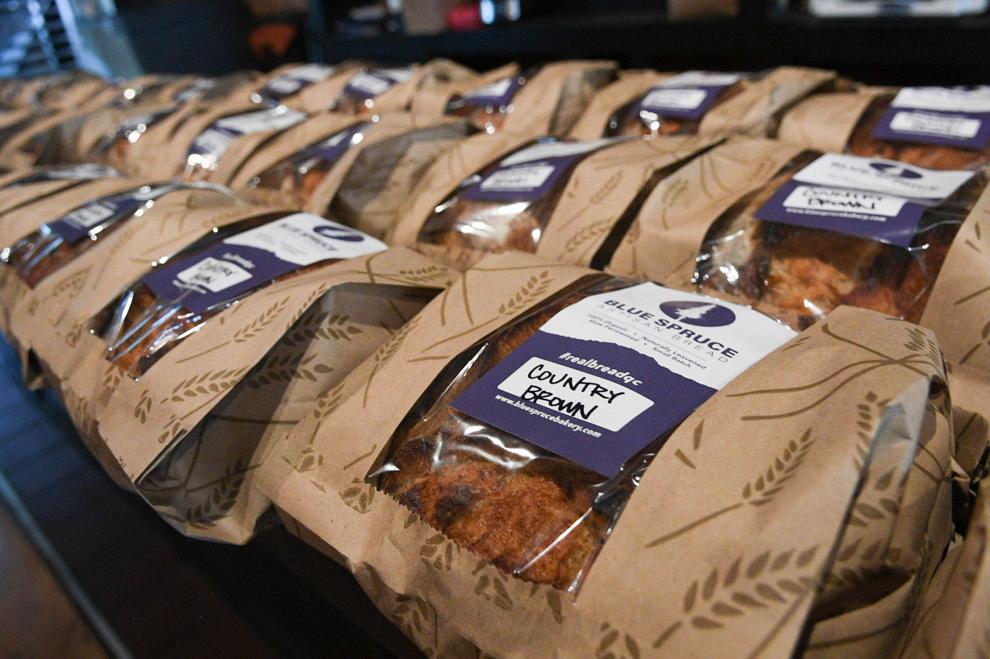 Carleton and a part-time employee churn out around 150 loaves a week. Business has grown through social media and word of mouth, he hasn't done any official marketing for the bakery. 
"I keep expecting there to be a point when I've found all the people in the Quad-Cities who want really good bread," Carleton said. "Obviously that hasn't happened yet, I haven't hit the ceiling." 
I confess my knowledge of bread-making comes from "The Great British Baking Show." Carleton guessed that after I pronounced proofing as proving, the British way, as he handed me an apron. 
There isn't much to the actual process of baking bread beyond mixing and waiting. It's what's happening under the surface during these steps that make them so important. Working with the dough for only short periods before letting it sit for an hour or more allows the natural flavors to develop and the gluten strands to create the bread's structure. 
The baker spoke about the science and math behind baking as we measured ingredients and mixed them, mostly with our hands. It was 90 degrees in the kitchen, mild compared to other days, when it could top 100 degrees. 
After combining everything the dough quickly went from watery to lumpy to sticky, and then it was time to let it sit. If this loaf was actually being prepared to bake instead of a demonstration, its temperature would have been monitored as it proofed in the fridge and eventually prepared to bake.
Carleton didn't start his baking career with naturally leavened, slow fermented, organic bread. He started baking in high school, making cinnamon bread as gifts for friends and family during the holidays. 
The first brown country loaf — which he said is unique to every baker — Carleton had was from Hewn bakery in Evanston, Illinois.
"That was first time I had what I consider to be real bread," he said. 
Stephanie Sellers started her Cookies & Dreams business in Davenport during the coronavirus pandemic. Sellers is now opening up five new locations before the end of 2021. 
He came back to the Quad-Cities wanting to buy bread like Hewn's, but the closest place he could find was Iowa City, he said. A friend had told him the same thing -- they drive to Iowa City to get their bread. 
To teach himself, Carleton started baking brown country loaves at home and eventually made enough extras to start giving them to people. Demand grew, and when the pandemic caused him to work from home, he started selling his bread.
Since so much of the process is leaving the bread alone, Carleton found it easy to balance baking and working. He now works from 4 a.m.-10 a.m. at the bakery then switches to his other job. A storefront may someday in the cards, but Carleton isn't sure when, or if, that will happen. 
"I'm just very slow, steady growth," he said. "I'm okay with that." 
"I keep expecting there to be a point when I've found all the people in the Quad-Cities who want really good bread."

Brandon Carleton