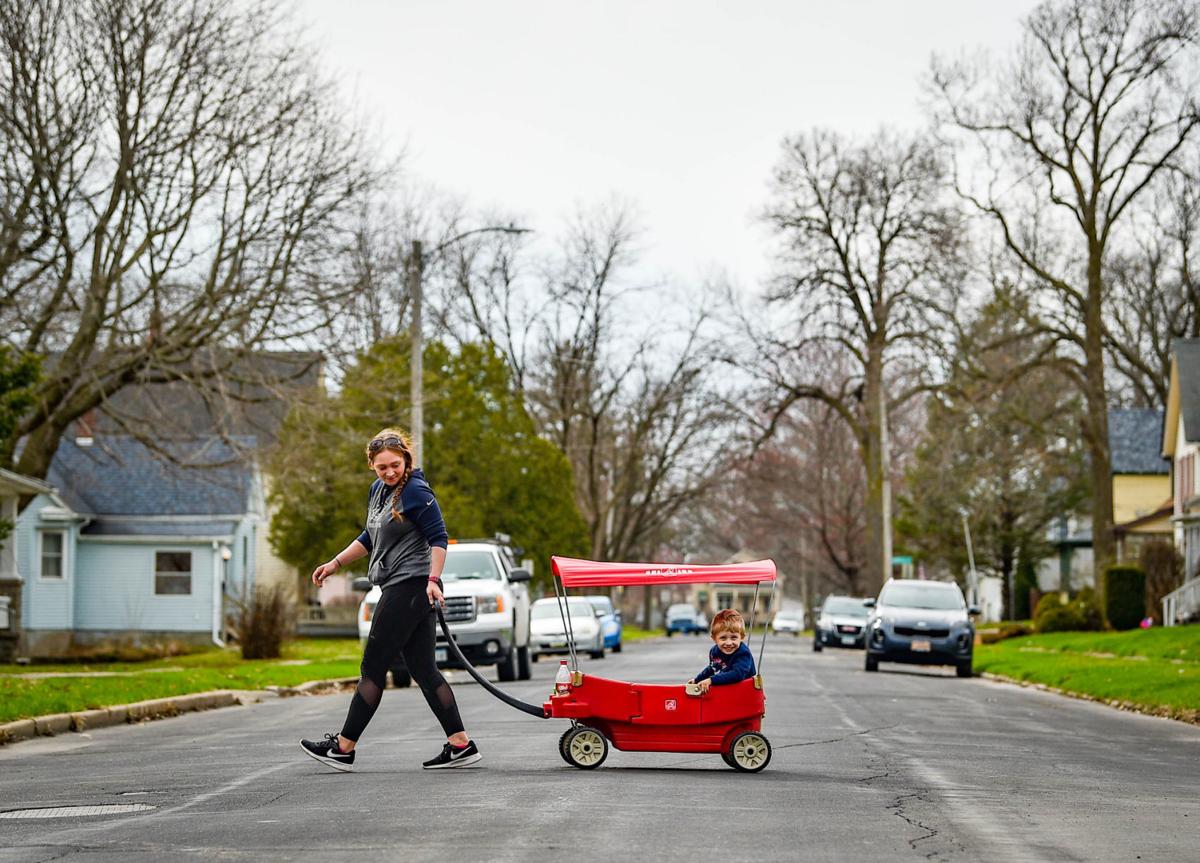 It's been two weeks since the coronavirus pandemic radically changed everyday life in the Quad Cities.
Schools are empty. Bars are shut down. Traffic is lighter. Streets are quiet.
But are Quad-Citians effectively "flattening the curve" to slow the spread of COVID-19?
That depends on social distancing. Local health and other public officials say they're generally pleased with how seriously Quad-Citians are taking social distancing measures.
But new data show mixed results on whether or not Quad-Citians are effectively reducing travel. The data should be taken with a grain of salt, as measuring distance traveled is neither a perfect science nor a perfect proxy of social distancing.
On Friday, the interactive "Social Distancing Scorecard" from Unacast, which analyzes phone GPS location data, gave Scott County a grade of "F" (for its "less than 25% decrease in average mobility based on distance traveled") and Rock Island County a grade of D- (for its "25-40% decrease in average mobility based on distance traveled").
That's a regression from the "C" in average mobility Scott and Rock Island counties received the day earlier. 
Scott and Rock Island counties both received grades of "F" for and "less than 55% decrease in non-essential visits."
But another data set shows marginally better social distancing from Quad-Citians.
The location analysis company Cuebiq has created a "Mobility Index Analysis," which uses aggregated cell phone data to show social distancing efforts.
The index is a measure of median distance traveled by devices. Data from the week of March 30 shows a 30% reduction in mobility in Rock Island County from the previous week, and a 31% reduction in Scott County.
An analysis of the cellphone data by The New York Times showed that average distance traveled first fell below two miles in both counties on March 24.
Data on distance traveled are useful but imperfect in measuring social distancing. For one, distance traveled does not indicate whether or not people are abiding by recommendations to remain six-feet apart.
Moreover, not everyone has the opportunity to remain at home, either because of work requirements or to take care of loved ones. Although Illinois has a shelter-at-home order, Iowa does not.
Distance traveled also can be misleading about rural areas, where essential businesses and services — such as grocery stores or hospitals — require longer travel than in urban areas.
Health officials in the Quad-Cities have said they're mostly pleased with how locals are socially distancing. But reports of large groups of people — often young people — in parks and other outdoor areas have frustrated some leaders.
Experts also advise that the more people limit their social contacts, the less the virus will spread and the faster society can resume its normal business.
And there's growing pressure on Iowa Gov. Kim Reynolds to order a shelter-at-home order. Iowa is one of just five states without any such orders in place as of Friday.
In saying the governor's policies "aren't working," Eli Perencevich, a professor of epidemiology and director of the CADRE Center of Innovation in the Iowa City Veterans Affairs Health Care System, tweeted Friday that several Iowa counties "aren't really staying home" and linked to the New York Times analysis of Cuebiq data. 
Graham Ambrose is the Iowa politics reporter for the Quad-City Times. 
Concerned about COVID-19?
Sign up now to get the most recent coronavirus headlines and other important local and national news sent to your email inbox daily.