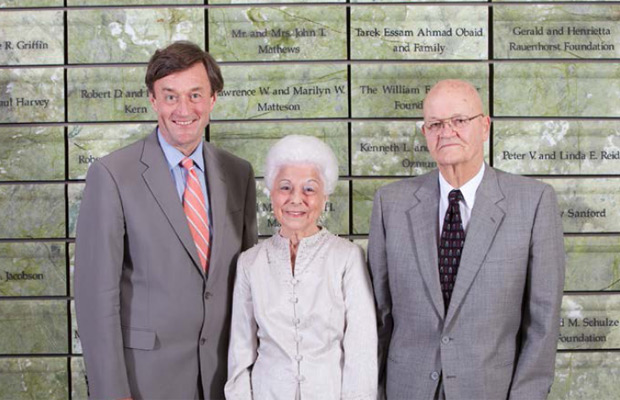 Lawrence W. and Marilyn W. Matteson of Moline have given $10 million to help launch the Mayo Clinic Proton Beam Therapy Program, the clinic announced this afternoon.
Along with the gift, the Mayo Clinic will use matching gift funds to establish the Lawrence W. and Marilyn W. Matteson Fund in Cancer Research.
"Mr. Matteson is a grateful patient who has been very impressed with the care he received at Mayo Clinic," said Dr. Robert Foote, the chairman of the Mayo Clinic Department of Radiation Oncology in Rochester. "Mr. and Mrs. Matteson wanted a way to show their gratitude and chose to donate funds that will help us ease the burden cancer has on patients, especially young children."
"This gift is going to benefit children who are going through terrible cancers to not have the residual effects they would have with regular treatment," Mrs. Matteson said. "The side effects won't be something that follows them for the rest of their lives."
The Mattesons generously supported The Campaign for Mayo Clinic, a successful $1.3 billion fundraising initiative that concluded in 2009. Lawrence Matteson and his son, Larry, of Burlington, Iowa, are the founders of L.W. Matteson Inc., a marine construction and dredging company in Burlington. The company maintained one of the largest fleets of dredging and marine construction equipment on the Mississippi River. The company was sold in 2010. Lawrence Matteson and his son maintain ownership of Matteson Marine, which operates switch boats on the Mississippi River. Mrs. Matteson is retired from Deere & Co.
Mayo's Proton Beam Therapy Program will use the most advanced intensity-modulated technology known as pencil beam scanning, which few centers now use. Construction of the proton beam facilities in Rochester, Minn., and Phoenix is under way, and one of four gantries in the proton therapy facility being built in Rochester will be named in the couple's honor. The first treatment rooms will be available for patients in 2015 in Rochester, Minn., and in 2016 in Phoenix.