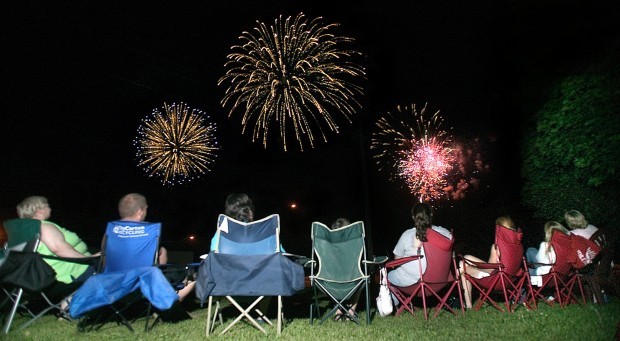 What's Jeff Yerkey's best advice in terms of fireworks safety? Watch a pyrotechnics display put on by professionals.
Top picnic food safety tips? Use a meat thermometer, and make sure to keep hot foods hot and cold foods cold, Nikki Putnam says.
What's the most important thing to remember for families who are going swimming? Parental supervision trumps all forms of safety suggestions, according to Betsy Tubbs.
The advice from that trio of Quad-City experts is offered with the approach of the Fourth of July holiday, and along with it the prime time for summer picnics and family outdoor activities.
Fireworks accidents can have devastating results, said Yerkey, who is an assistant chief with the Rock Island Fire Department. When he was a paramedic several years ago, he responded to a call in which one young boy lost some fingers and a second youngster had a piece of the fireworks embedded in his hip.
"That incident really sticks out," he said, noting that fireworks injuries can have lifelong consequences.
Another danger: The National Fire Protection Association estimates that fire departments respond to more than 50,000 fires caused by fireworks each year.
Tubbs has supervised the public pools in Davenport since 1990 and believes that parents have a vested interest in the welfare of their children in the water.
"There is no one in the world who loves the child more than the parent," said Tubbs, facilities director for the Davenport Department of Parks and Recreation.
Putnam, the dietitian at the Hy-Vee Food Store in Silvis, explained that her family has a boat and likes to be outdoors, picnicking and camping, during the good weather months.
"But I'm not sure people like to camp with me," she said with a laugh. "I'm the 'food safety-crazy' person in the crowd, packing sanitizers, lots of water, ice and coolers."
Here are some Fourth of July safety tips from these and other experts:
- Young children should never play with fireworks. Sparklers, for example, can reach temperatures approaching 1,800 degrees Fahrenheit. If an older child is entrusted with a sparkler, parents need to supervise, ensure that it's used outside only and kept away from the faces of other children.
- Legal fireworks have a label with the manufacturer's name and directions; illegal fireworks are not labeled. Illegal fireworks go by names such as M-80, M100 or Blockbuster. These explosives were banned in 1966, but they are still the cause of fireworks injuries.
- Store fireworks in a cool, dry place.
- Never try to make your own fireworks.
- All fireworks should be used outdoors, with a bucket of water and a hose nearby in case of accidents.
- Keep fireworks that are being ignited away from others. They are known to go backwards or sideways.
- Keep fireworks away from homes as well as from brush, leaves and any flammable surfaces.
- Never relight a "dud." Soak all fireworks in a bucket of water before discarding them in the trash.
- Don't forget the pets. Housepets can be extremely frightened or stressed by fireworks.
- Wash your hands. Use soap and water if at all possible and portable sanitizers if not.
- Use a meat thermometer. "I tell people all the time to do this," said Putnam, the dietitian. She notes that grilled or barbecued food can appear done on the outside without being done on the inside. Hamburgers should be cooked to 160 degrees Fahrenheit, while large cuts of beef such as roasts and steaks should be cooked to 145 degrees for medium rare or 160 degrees for medium. Poultry must reach a temperature of 165 degrees. Fish should be opaque and flake easily to be considered done.
- Don't allow food to sit outside for more than two hours, or for one hour if the temperature is above 90 degrees Fahrenheit.
- When taking foods off the grill, do not put cooked food items back on the same plate that held raw food unless the plate has been washed first.
- Clean and disinfect all eating surfaces. "People might change diapers or clean fish on a picnic table," Putnam pointed out.
- A full cooler will maintain its cold temperature longer than one that is partially filled, so pack plenty of extra ice or freezer packs to ensure a constant temperature. Keep the cooler out of the direct sun. Keep drinks in a separate cooler from foods. That way, even though the beverage cooler is opened frequently, the food cooler stays cold from getting less use.
- Designate a responsible adult to watch the swimmers both in and around the water. "Kids can drown in very little water; it just happens so fast," Tubbs said. That person should be an adult who knows how to swim and preferably can perform cardio-pulmonary resuscitation, or CPR, if needed.
- Use the buddy system. Regardless of age, it is always best to swim with a companion.
- Look for lifeguards. Choose guarded swimming venues if at all possible.
- Heed drop-offs and hidden obstacles in natural water sites.
- Avoid alcohol before or during swimming, boating or water skiing. Don't drink while supervising children.
- Don't hyperventilate: Swimmers should never do this before entering the water or try to hold their breath for long periods of time. It could cause them to pass out — which is also called "shallow water blackout" — and drown.
— Sources: KidsHealth; the Partnership for Food Safety Education; the Centers for Disease Control and Prevention