With only a few weeks remaining in June, Iowa Medicaid patients and providers in the Quad-Cities are feeling the stress of approaching deadlines.
The source of their concern: No deal has been reached yet between Iowa Total Care and two major health providers in the Quad-Cities, Genesis Health System and UnityPoint Health. That leaves many Medicaid recipients worried about whether their care will still be covered come July.
Henry Marquard, government and community relations officer at Genesis, said negotiations are still ongoing. "We are currently still negotiating with Total Care, working toward getting a contract signed so that we would be a part of their network," he said, adding there were still a few "big hangups" to be resolved. "It is our hope that we will get those resolved hopefully soon." 
Bailey Sullivan, marketing and communications specialist at UnityPoint Health, said no update was available for UnityPoint's negotiations as of Thursday.  
Marquard said Genesis so far has gone through three rounds of negotiations, during which they've applied lessons from past negotiations with managed care organizations such as Iowa Total Care and IlliniCare. Those private organizations, which offer managed health care plans to patients, require vigilant negotiations about contracts, procedures and processing claims. 
"Anything that's not in there, we've got a very bad history of being burned with," Marquard said. "So we put those things in there so that it helps when we have to go and fight the MCOs later on."
IlliniCare is owned by Centene, which also owns Iowa Total Care. Marquard said Genesis' past experiences with Centene have not been positive. "I will say that they've been very difficult to work with in Illinois, even by MCO standards," he said. "Frankly, we've had significant problems with every single one of them."
Advocate skepticism
For those who receive or use Iowa Medicaid in their personal or professional lives, confusion has been a common theme since Iowa privatized Medicaid in 2016.
Matt Grillot, of DeWitt, who has C5-C6 paraplegia, has been a health care advocate since he was old enough to argue on behalf of others like himself. He was part of an advisory/consumer feedback committee during the planning stages of the Medicaid privatization, which he described as "smoke and mirrors." He believes those feedback meetings were held so the state could say it received input without having to incorporate it. His recommendation? Don't privatize.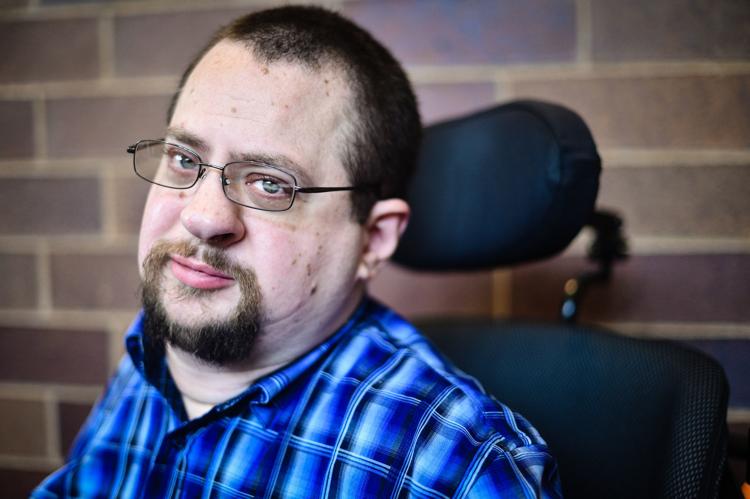 Grillot has been part of United Healthcare since Medicaid was privatized. Since 2016, he has had four case managers in three years, and described how UnitedHealthcare attempted to cut his services two years in a row. "Everything from housecleaning to dressing and transferring in and out of bed," Grillot said, adding that United Healthcare claimed some of his services weren't medically necessary.
After losing appeals, he took his case to a state fair hearing before an administrative law judge. A week before the hearing was scheduled, Grillot received a call from his case manager saying UnitedHealthcare had submitted a request for dismissal — essentially that United would not continue to try to cut his services. 
But in 2018, he said United again tried to cut his services. The two fights with the MCO, which he said took six months apiece, took a mental and emotional toll.
Grillot also has concerns about Iowa Total Care, pointing to a July 2018 Des Moines Register article that detailed the fines parent company Centene has incurred in other states, as well as the low scores it received from Iowa's own ranking system. 
While Iowa Medicaid has promised patients they'll receive a choice of health insurance providers, Grillot says he's switching to Amerigroup as a default because it contracts with local providers already. 
The Department of Human Services has said the transition will be smooth at the end of June, but Grillot's past experiences leave him with doubts. "I'll believe it when I see it," he said.
The long process
Catherine Hahn of Muscatine is the guardian of her adult son, Jeffrey. She's also a pediatric physical therapist with the Mississippi Bend Area Education Agency, so she sees the transition from two perspectives. 
For her personal experience with Iowa Medicaid, Hahn said she's had frustrations "like everybody else" from the beginning. "We were with AmeriHealth first, like most people who have severe disabilities, because they had a better understanding of the long-term service support system," she said. "And then they left after that first year when they asked the state for some additional money and the state said no." 
Now, with UnitedHealthcare, Hahn said they haven't had many problems getting things paid for and adjusted. But with United pulling out of Iowa Medicaid, "We're in flux again," she said. 
You have free articles remaining.
Register for more free articles
Stay logged in to skip the surveys
Hahn attended a May town hall in Davenport for that reason, saying she was trying to figure out where the state stood on Medicaid.
For now, she and Jeffrey are in a no-win situation: Amerigroup doesn't cover some of her son's durable medical equipment, such as a stander, but Amerigroup is the company that's contracting with local providers — unlike Iowa Total Care, as of Thursday.
"So it's kind of difficult to make a decision, where it's kind of a trade-off," Hahn said. "One's probably not going to pay for certain things, but at the same time we can't necessarily go with the other because we don't yet know for sure if they're going to sign." 
Another problem, she said, is that the right hand seemingly isn't communicating with the left hand. At the town hall, participants were told they would receive a letter detailing which MCO they had been assigned to before the open enrollment period; Hahn said she never received that letter. When she called Iowa Medicaid Enterprise, she was told she had been assigned to Iowa Total Care. She told them she wanted to be switched to Amerigroup.
"About six days later," she said, "I got a letter saying I was assigned to Iowa Total Care."
Hahn went back to IME to work out that miscommunication, but now she's waiting to see if she receives a letter that she's actually been assigned to Amerigroup. She praised the people at IME, saying they're "decent" and have been helpful in trying to figure out the switch. 
Another promise at the Davenport town hall came from Mike Randol, deputy director of the Department of Human Services, who told attendees that if they liked their case manager, they would be able to keep them after the transition.
Jeffrey's case manager at United is moving to Amerigroup, but when Hahn called IME on May 31, she was told IME doesn't dictate whether patients maintain their case managers. She then called the Iowa Department of Human Services and was transferred to the Scott County Department of Human Services before finally being told to call Amerigroup directly. When she did, she couldn't access the system without a case number — which Jeffrey didn't have since he hadn't switched to Amerigroup yet. 
"Basically, nobody truly knows what's going on," she said, noting that without an answer, Jeffrey is essentially without a case manager. 
As for her job as a pediatric physical therapist, Hahn said her biggest frustration is that that almost every letter she's written since MCOs took over in 2016 has been automatically denied the first time. "And then they'll send it back and ask all these questions, and all the questions are in the documentation that we send," she said. "That's probably the biggest frustration. I'd love to tell you I've forgotten how to write letters for medical necessity, but I've been doing it for 20 years."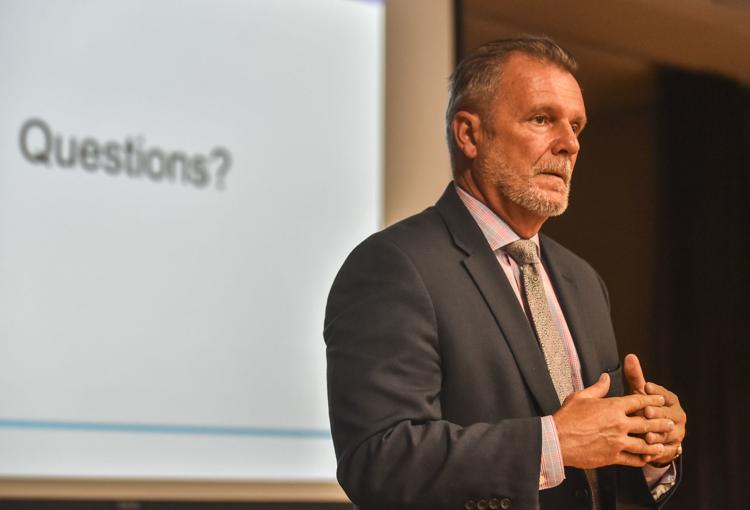 Difficult choices
Melinda Smith-Pace, of Bettendorf, a 2019 Elizabeth Dole Foundation fellow and mother of multiple children with disabilities, had a positive experience with UnitedHealthcare. 
"For the most part, UnitedHealthcare's been really helpful to us as our MCO, and it's been nice because they covered all of our physicians," she said.
But the June 30 deadline for United to pull out of Iowa Medicaid looms over the mother and military wife. 
Five members of Smith-Pace's family have disabilities, including her two children. Her youngest child has Ehlers-Danlos syndrome, which affects joints and requires intensive physical therapy. She also uses tools such as braces and a wheelchair that must be updated as her condition changes. Smith-Pace's middle child has autism and intellectual disabilities and requires a pacemaker. 
Smith-Pace is waiting to choose a new MCO in hopes of a contract being reached between Iowa Total Care and Genesis Health System and UnityPoint Health-Trinity, but said the family will choose Amerigroup if need be because it covers a physician the family likes. 
Preparing for the transition has been especially stressful for Smith-Pace because her family sees physicians from both Genesis and UnityPoint.
"That's a problem for us because I'm going to have to choose, essentially, which physician I like more and which specialist we think we need more than the other," she said.
Another source of concern for Smith-Pace is that different MCOs have different policies, which she didn't realize until recently. UnitedHealthcare, for example, allows unlimited physical therapy appointments for children younger than 18, while neither Amerigroup nor Iowa Total Care allow that. 
"They only approve a certain amount, and then you have to go get pre-authorized for each time you go back," she said, "which is difficult when you have a child who's going to be in physical therapy her entire life."