Palmer College of Chiropractic paid homage to the founder of the discipline Wednesday by unveiling a statue of Daniel David Palmer performing the first chiropractic adjustment.
The statue is located in Palmer College's West Hall Courtyard in Davenport. The bench where he worked on his first patient is empty, and visitors are invited to lay down and let Palmer appear to perform an adjustment on their spine.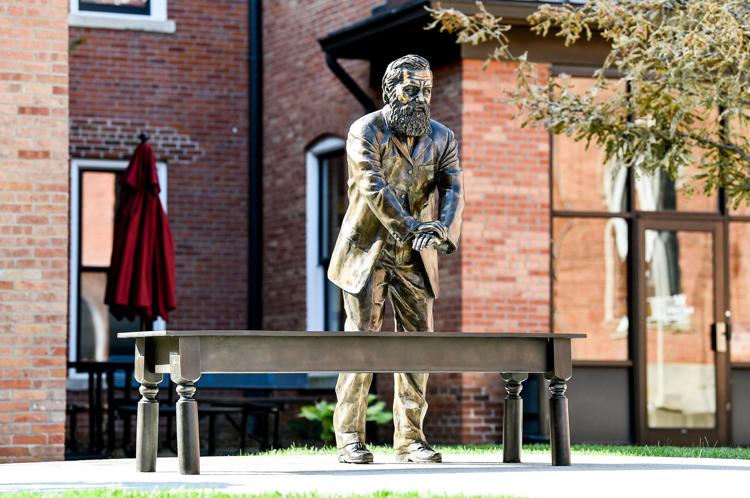 Juanita Thompson, wife of the late Homer Thompson, donated the money for the statue, along with funds to create the Homer Thompson Memorial Endowment Scholarship.
Homer Thompson fell in love with chiropractic in his childhood in Missouri, Palmer Chancellor and CEO Dennis Marchiori told a crowd Wednesday during a Founder's Day ceremony. 
"On occasion, he'd sit on the steps of the local chiropractor and wait for his family to finish up errands that they had in town,"  Marchiori said.
He'd watch patients go in to the office appearing to be in pain and come out looking healthier.
"Homer so was inspired by what he saw he said 'I want to be a chiropractor,'" Marchiori said.
Thompson graduated from Palmer College in 1968 and practiced chiropractic in Springfield, Missouri for over 50 years. After he died in 2016, Juanita decided to pay homage to his life and chiropractic by creating the scholarship and statue.
A quote from Thompson is etched in the pedestal near the statue: "You must have a passion and a desire to help others. You may have to work very hard, you may experience ups and downs in life, but try not to be discouraged, always look ahead and see where you want to be." 
Gino Tassara, part of Milwaukee-based art studio Inspired Artisans, created the statue, working with Palmer College Historian Roger Hynes to make it historically accurate, including the placement of Palmer's hands and the bench, which has one leg askew.
Palmer's great-granddaughter, Vicki Ann Palmer, also paid homage to her famous forebear. "My great-grandfather changed the face of healthcare and founded the chiropractic profession with the very first adjustment," she said. "His belief in and a commitment to spinal health laid the foundation for generations of chiropractors dedicated to the health and well being of others." 
Build your health & fitness knowledge
Sign up here to get the latest health & fitness updates in your inbox every week!