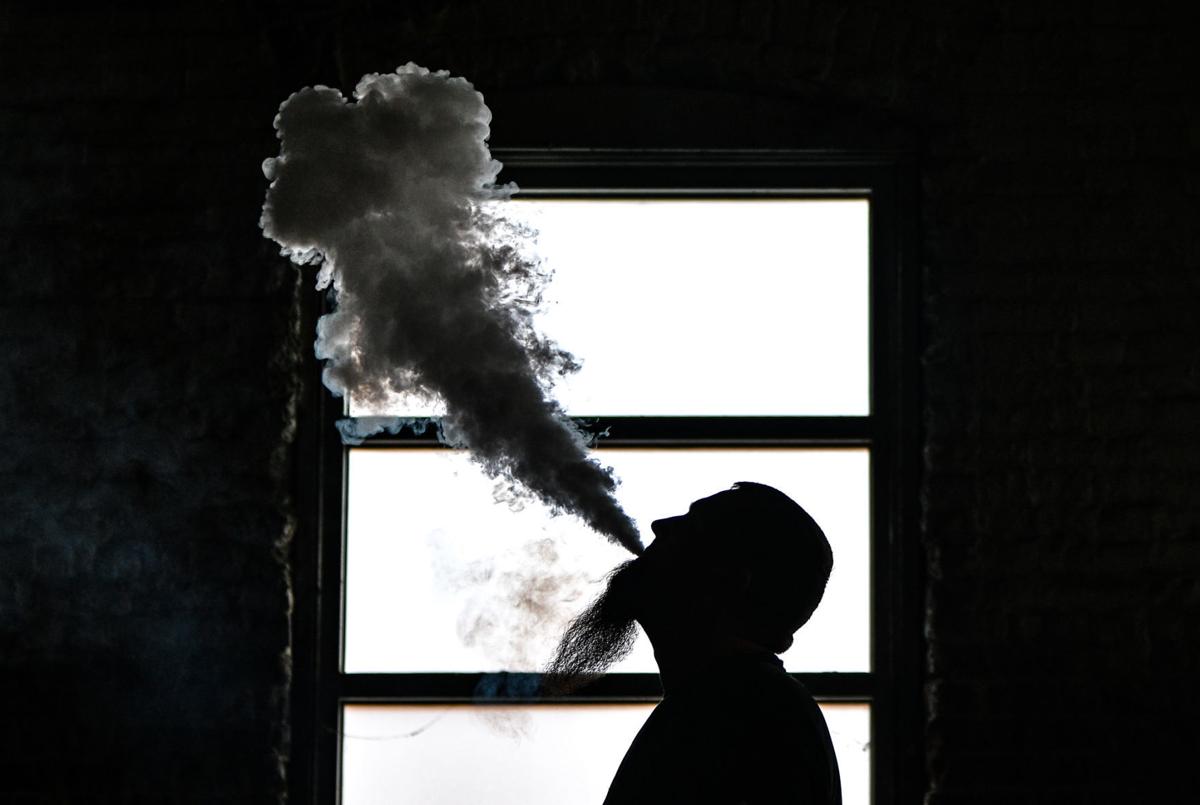 The prospect of a federal ban on flavored e-cigarettes sounded like a good idea to a number of area officials — and like a "way to destroy an industry" to the owner of five vape stores.
The reactions came after the Trump administration said it's preparing to ban non-tobacco-flavored e-cigarettes. Federal health officials called for restrictions to combat an outbreak of a mysterious lung disease that has sickened hundreds and killed at least six people. 
U.S. Health and Human Services Secretary Alex Azar told reporters of the plan Wednesday.
According to multiple news sources, the Food and Drug Administration is finalizing guidance to remove all non-tobacco flavors of e-cigarettes, including mint and menthol, from the market within 30 days.
Rock Island County Public Health Administrator Nita Ludwig said the ban "will be welcomed by health professionals."
"Especially in light of the respiratory illnesses and deaths we have seen, I think it's important to stop the sale," Ludwig said. "And it is clear there are a number of factors in play. First, there's the immediate public health concern. Then you have the issue of the products appealing to children."
Ludwig said the flavored vaping liquids could make their use more attractive to young people.
"And the last issue is the fact the e-cigarettes are marketed to people as a way to quit smoking tobacco," Ludwig said. "They are openly advertised as a better alternative, but there is little to no research to back that up."
Todd Smith opened his first Vaporosity Shop on Brady Street in Davenport in 2013. Today he has a pair of stores in Davenport, and as well as single stores in Rock Island and Aledo, Illinois, and Clinton, Iowa. He insisted responsible adults are, in fact, using e-cigarettes to move away from the more-harmful tobacco.
"That was why I started the business and that's the very thing I thought would make vape products a great business — it was a way for people to get off tobacco," he said. "I quit smoking by vaping. The last thing I wanted to do was taste tobacco when I vaped.
"Believe it or not, I love the gummi-bear flavors and fruit flavors. Those kinds of flavors appeal very much to adults."
You have free articles remaining.
Like Ludwig, Kim Mills raised the issue of vaping products aimed at capturing a younger market. The community tobacco consultant for the Scott County Health Department, Mills favors the ban.
"Unfortunately, we've seen that vaping is very popular among high schoolers and we've even seen some middle schoolers doing it," Mills said. "It is a concern for the damage it does to respiratory systems.
"That's a major concern. But a lot of people forget about the negative effects nicotine has on a developing brain. Vaping is something we are following very closely in all the schools."
The school districts in Rock Island, Davenport, Bettendorf and Pleasant Valley confirmed anti-smoking policies that include vaping.
"Vaping doesn't generally happen while the students are in school — I would say that is very rare," said Rock Island Schools Communication Director Holly Sparkman. "But I would say it's clear that about two years ago we became aware that a lot of kids were doing it."
Smith insisted responsible business owners have "no business" catering to teenage users.
"I think parents need to wake up. In fact, I think President Trump said something like this should be a wake-up call for parents," he said. "This is a product for adults to use. It's for adults to decide to use it and for adults to decide if it helps them quit smoking."
Smith said the media has "drug the flavored vape juice into a story about the misuse of what he called "black-market THC cartridges."
A local physician explained the possible link to vape illnesses and THC oil.
Genesis pulmonologist Dr. Humphrey Wong said the associations with the lung conditions have mostly been seen in vaping with THC oil added in. The biggest lung condition currently seen is pneumonitis; it appears like pneumonia without an infection, he said. It causes severe lung inflammation which causes them to be clogged, leading to difficulty in moving air and oxygen through the lungs.
Wong says the lung condition has been unique to vapes with THC oil and a Vitamin E base. However, he cautioned that they're not sure if it's because of the Vitamin E, the high temperatures that vaping causes or other chemicals that are mixing together. He recommends not vaping with a product that contains THC oil. "We don't know what the long-term conditions are, so why take the chance?"
One of the main reasons flavored e-cigarettes are popular are the flavoring itself, Dr. Wong said. The hope is that banning flavoring would make it less popular, and he says he's in favor of that ban.
Quad-City Times reporter Matt Enright contributed to this story