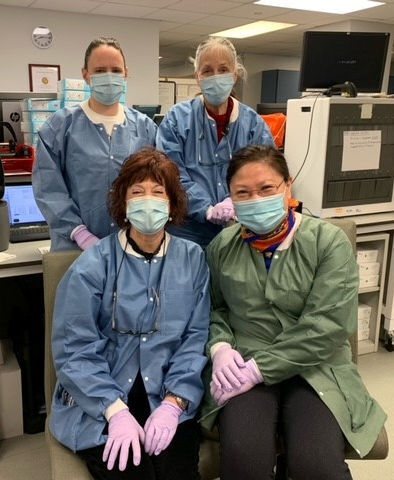 In the earliest days of the COVID-19 pandemic, as the front-line caregivers fought tirelessly to save lives and get people home safely, the battle was also being waged by hidden heroes.
Patients' health, possibly their lives, were determined by what medical laboratories across the country discovered from those millions of tests.
As the entire country scrambled to identify COVID-19-positive patients, health care lab personnel were inundated with test samples in addition to their regular responsibilities. Few hospitals and health system were prepared for the staggering numbers.
Two solutions were available; lab personnel had to work longer days and labs had to gear up with additional testing capacity.
Gear up to meet need
Some who were tested with those long swabs didn't learn the results for a week or longer. Throughout the pandemic, patients with severe COVID-19 symptoms have been hospitalized and received treatment as Patients Under Investigation (PUIs) prior to confirming a positive test.
Genesis Health System leadership recognized the problems created by long delays waiting for results. The solution was to invest in "in house'' testing to speed up the process.
LabCorp, the Genesis partner providing lab management for the health system and operator of one of the largest clinical networks in the world, gave Genesis two DiaSorin instruments specifically designed for COVID-19 testing. Genesis purchased a third instrument and converted a different piece of testing equipment as a fourth option.
"The Genesis partnership with LabCorp and the leadership of Genesis administration have gotten us through this crisis,'' said Angela Miene, director of Genesis Health System labs. "We geared up from doing zero tests to running 500 a day at capacity, 24/7.
"We started without the correct biological hood, without enough freezer space to store reagents and not enough trained staff. Looking at what we have accomplished as a team is amazing. The attitude of lab staff has been 'we're doing a really important work and we have to keep going.'"
Miene said laboratory staff treated each sample as if it originated from a family member or friend.
"Our staff looked at every test and thought 'this is someone's grandparent, mother, father, child,' and that kept them going,'' she said. "Laboratory techs are the hidden heroes of the pandemic. What they do day in and day out is important work in the background of the pandemic.''
More professionals needed
Miene said there were bad days early on when testing results were backlogged everywhere and again in November when cases reached the highest level thus far in the region.
"Our lab staff just dug in and kept going, working as a team and knowing we are all in this together. There were also a lot of good days when we were able to get results to a provider quickly so the patient could have needed surgery or treatment needed.''
Since the onset of the outbreak, the lab at Genesis Medical Center-Silvis has tested samples from nearly 44,000 patients. Nearly 9,000 of those tests have been for asymptomatic pre-operative patients, with only 0.7% positive among this group.
Like many other health care careers, there are many more openings than qualified applicants in the lab.
Medical Laboratory Professionals Week is April 18-24, a good week to discover the career.
Craig Cooper is senior communications specialist for Genesis Health System.