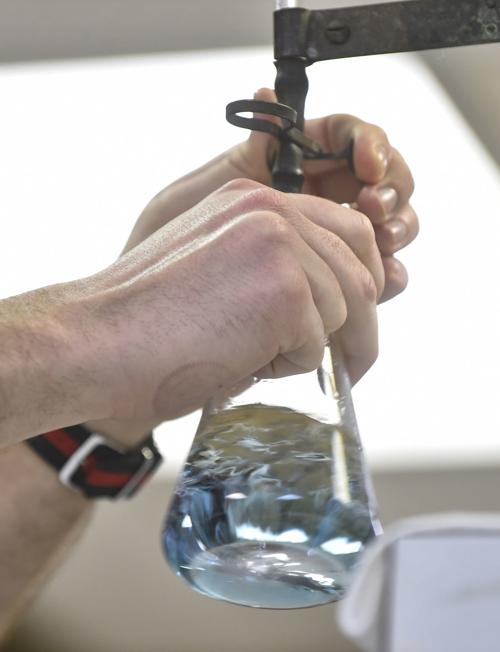 A study by an environmental group that works to create research and advocacy for clean drinking water has found a large concentration of toxic chemicals in the Davenport water supply.
The Environmental Working Group tested water across the country for 30 toxic fluorinated chemicals in the water supply. Its testing in Davenport, conducted in August 2019, found 109.8 PFAS parts per trillion, the second highest in the country behind only Brunswick County, North Carolina. Those numbers are from a combined amount of nine chemicals found in the water supply.
EWG Senior Scientist David Andrews said these chemicals are in the same family as Teflon and other non-stick chemicals. "We're just trying to get a better understanding of the occurrence of these contaminants across the country," he said. "It's a single snapshot, a single point in time, but I think it gives a better understanding of how widespread these contaminants are, really across the country."
Andrews said nine different PFAS chemicals were found in the Davenport area tested. The highest quantities of chemicals found were PFBA at 72 parts per trillion and PFPeA. He said the Environmental Protection Agency is undergoing a more detailed health assessment of what PFBA actually does, which is commonly used as a replacement for another toxic chemical, PFOS. 
In many cases, Andrews said these chemicals have been in the water supply for decades. "It's only now that we're really looking and understanding the full extent of the contamination," he said. What's important for consumers is understanding what may be in the drinking water and pushing for action at all levels. 
You have free articles remaining.
Information is sparse on what effect PFBA and PFPea have, Andrews said. The sample was taken in Davenport in the service area of Iowa American Water.
Ingrid Gronstal Anderson, Iowa Environmental Council water program director, said PFAS is what Iowa Department of Natural Resources and the federal Environmental Protection Agency would call an "emerging contaminant," something that has come onto people's radars more recently. "It's not been a major component of our program work, our big concern with water quality in Iowa tends to be nutrient pollution, nitrogen and phosphorus pollution," she said. 
Gronstal Anderson said there's no real state or federal regulatory limits on PFAS chemicals, and that nobody knows what the consequences are yet. Getting more data on what PFAS contaminants are present in water, at what levels and what the health effects of those are is important. "Then supporting regulations that make sense and are protective of drinking water and source water so we don't put all the onus on public water systems to treat these at the water plant," she said. 
Iowa American Water Manager of External Affairs Lisa Reisen said the water company is devoted to water quality in all the areas it services. The big takeaway, she said, is that the levels of two chemicals EPA has health advisories on — PFOA and PFOS — were well below the trigger for concern. The EWG study puts their combined amount at 5.6 parts per trillion; 70 parts per trillion would trigger a health advisory. A study by Iowa American Water in November 2019 found 4.4 parts per trillion. 
"American Water has invested time and effort on our own independent research, as well as engaging with other experts in the field to understand PFOA/PFAS occurrence, fate and transport in the environment," a statement on the water company's website reads. "We are also actively assessing treatment technologies that can effectively remove PFOA/PFAS from drinking water, because we believe that investment in research is critical for addressing this issue."
Roger Breuner, DNR water monitoring supervisor, said the department has been working on a PFAS draft document. Davenport has never exceeded the health advisory limit for either PFOS or PFOA, and current research indicates PFBA is several orders of magnitude less toxic than the chemicals with health advisories, he said.