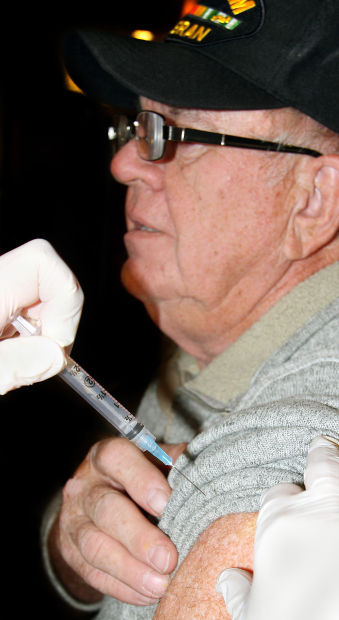 Adult patients tend to have a similar reaction when they get advice on vaccinations from Dr. Bindu Alla, a family physician in Moline: "They think that once they become an adult there are no more shots," she said.
To the contrary, vaccines are recommended for adults based on a person's age, prior vaccinations, health, lifestyle, occupation and travel habits, according to the Mayo Clinic website (mayoclinic.org).
Adults of any age can benefit from vaccines, but certain diseases, such as influenza or shingles, can be more serious for people older than 65 years.
"People over 65 are at high risk for complications from the flu," said Michele Cullen, the community health manager for Genesis Health System in Davenport.
Alla, who practices at the UnityPoint Health clinic in Moline, makes several recommendations for adults, starting with the TDaP vaccine. This shot is for tetanus, diphtheria and pertussis, commonly called whooping cough.
Before the vaccines were developed, the United States saw as many as 200,000 cases a year of diphtheria and whooping cough, plus hundreds of cases of tetanus. Since vaccination for them began, tetanus and diphtheria have dropped by about 99 percent and whooping cough by about 80 percent, according to the Centers for Disease Control and Prevention, or CDC.
Nonetheless, the number of whooping cough cases in the Quad-Cities is troubling, and Alla cites the CDC recommendation that adults get a booster shot. 
"Whooping cough not only affects older people, it may infect the children. If babies get whooping cough, they may die," she added.
Pregnant women should get the TDaP vaccine during pregnancy, which protects the mother as well as their newborn baby, the doctor said.
Other recommendations for adults include:
Two different vaccines are used for pneumonia, one called PCV 13 and another called PPSV23. Alla said PPSV23 is given routinely to adults, while PCV 13, is given to adults and babies as well. Medicare does not yet cover PCV 13, so Alla said she talks to her patients about their ability to afford that vaccine.
This is a very unpleasant disease that impacts adults who had chicken pox as youngsters. Alla said the vaccine for chicken pox has been around for years now, so she hasn't seen an actual case of that disease in a decade.
Shingles is a painful skin rash, often with blisters. It is also called herpes zoster, or just zoster. A shingles rash usually appears on one side of the face or body and lasts from two to four weeks.
Adults are at risk for shingles, and half of adults who live to be 85 years old will contract the disease, the CDC reports. It attacks about 1 million adults per year.
A single dose of the vaccine, Zostavax, is recommended for those older than 60 years.
Unlike some diseases that only strike once in a lifetime, a person who gets shingles can be stricken with it again. That's why Alla recommends a shingles vaccine for those who have had the disease and fully recovered from it.
The flu vaccine is recommended for everyone 6 months and older. And that certainly includes adults. Alla said a high-dose flu shot has been developed for older adults (those past 65 years) with chronic conditions such as heart disease and COPD.
Some adults will have missed the series of shots for hepatitis B as youngsters, and Alla recommends this vaccination for those in certain occupations.
Also, she said many people get the Hepatitis A vaccine before they travel internationally.