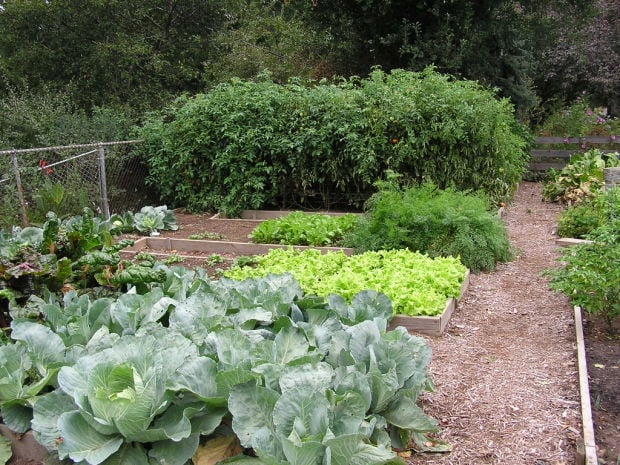 Gardens can be grown in the ground, or in a raised bed, which is basically a box filled with soil.
The advantage of a raised bed is that you can put in better soil than you might find in your yard and there's no prep of digging up your lawn.
How much space do you have? How many plants do you want or need to grow? We don't recommend any bed more than three or four feet across. This is for ease in reaching all parts of the bed.
If you want more garden than that, build more beds.
The directions below will give you a finished bed that will be 3 feet across, 6 feet long and 12 inches deep, which is a great starting point.
For the simplest beds, a hammer, nails, and a saw are all you'll need. A sturdier model will require a screwdriver as well, as screws tend to hold wood more securely than nails do.
Not good with a saw? Ask your local lumber yard if they can cut your boards to length for you. They may charge a small fee, but most are happy to help.
You'll also need a measuring tape, a pencil or pen, and a drill if you're using any harder materials. A level can be very useful to make sure your finished bed is level.
3. Purchase the materials
If you're building a standard wood bed, we recommend using 2-inch by 6- inch to 2-inch by 12-inch lumber depending on the depth of the bed that you want. This gives you a nice thickness that will stand up to lots of abuse without deteriorating or cracking.
While you can use 1-inch thick lumber, it's more prone to splitting or warping.
The depth of the bed should be based on what you are growing. Crops like lettuce, spinach, and herbs only need 6-inch depth, but tomatoes, broccoli, and squash need a deeper bed.
Let's say you want a 3-foot by 6-foot by 12-inch deep raised bed. For this project, you will need two pieces of 2-inch by 12-inch lumber that are cut to 6 feet in length, and two pieces of 2-inch by 12-inch lumber that are cut to 33 inches in length.
You'll also need four corner posts of 2-inch by 2-inch lumber cut to 16 inches long, which will provide a 4-inch deep "anchor" for your bed if positioned on the ground.
For most people, simple is the best way to start. This basic box style is most people's introduction to raised bed gardening.
On a flat surface, make a rectangle with the longer boards on the outside and the shorter boards between them. Set one of the 16-inch corner posts just inside this rectangle at each corner, flush with the top of the boards (the side facing down). Use screws or nails to secure the boards to the corner posts to keep them in place.
The corner posts should stick up 4 inches over the bed itself (before turning it right side up). These elongated corner posts will go into holes dug in the existing soil like pegs or anchors to secure the bed in place. If building a bed to sit on concrete, you can cut the posts flush with the edge of the boards, equal to the finished height.
This style of bed is infinitely customizable. If you want it deeper, just use two boards stacked atop each other on each side. You can create rectangles or squares of whatever size you need, just use some basic math to create your own. Or find patterns for purchase online.
5. Fill with good quality soil.
Sprout new ideas
With our home & garden newsletter!