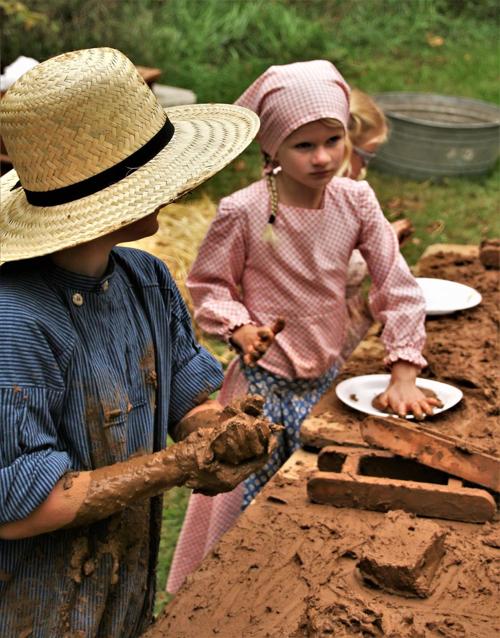 The annual, 19th century-style fall festival called "Jordbruksdagarna" (pronounced yord-brooks-DAH-ga-na) will be Saturday-Sunday, Sept. 28-29, in historic Bishop Hill, Illinois, with food, music, games and crafts.
In the village park both days:
• Artisans will make rope, process flax, carve wood and forge metal.
• Hammer and Pick will perform at noon and 2 p.m. and the Nordic Dancers at 1 p.m. and 3 p.m.
• A petting zoo will be set up from 10 a.m. to 4 p.m. and old-fashioned children's games will be conducted at 2 p.m.
Vendors will sell farm produce, pumpkins and pioneer popcorn from 10 a.m. to 5 p.m., and from noon to 4 p.m. there will be demonstrations on how to press and cook sorghum and bake hard tack at the Bjorklund Hotel. Visitors can try their hand at shelling corn, making bricks, pressing cider, and making a cornhusk doll.
Also: an art walk sale, photo booth, a display of antique tractors and implements and lots of food, including colony stew, rice pudding, Swedish hotdogs, pork burgers and ice cream, as well as numerous choices in area restaurants.
•. Historian and actor Brian "Fox" Ellis will portray Jonas Olson, one of the leaders of the Bishop Hill Colony at 11 a.m. in the park.
• Swedish singer and songwriter Johan Johansson will perform songs about Swedish history from noon to 1 p.m. between the Carpenter and Steeple buildings.
• Patt & Possum (Patt Plunkett and Charlie Walden) will perform a concert of traditional mid-western fiddle music from 1-3 p.m. between the Carpenter and Steeple buildings.
• A barn dance with the Sangamo Sternwinders and caller Martha Tyner will be from 4-6 p.m. at the Bishop Hill Creative Commons. The day will conclude around 7 p.. with a bonfire, lemonade and s'more supplies.
Jordbruksdagarna is sponsored by the Bishop Hill Heritage Association, Bishop Hill State Historic Site, Bishop Hill Arts Council, Old Settlers' Association. VASA National Archives, Bishop Hill Volunteer Fire Department and numerous local businesses, with the assistance of many volunteers.
Other funds come from the Illinois Art Council Agency, Nelson Farm Service, State Bank of Toulon, TerraForm Power, Bill and Susan Sherrard Foundation, Nature's Creations, and the Henry County Independent Insurance Agents Association.
Sprout new ideas
With our home & garden newsletter!