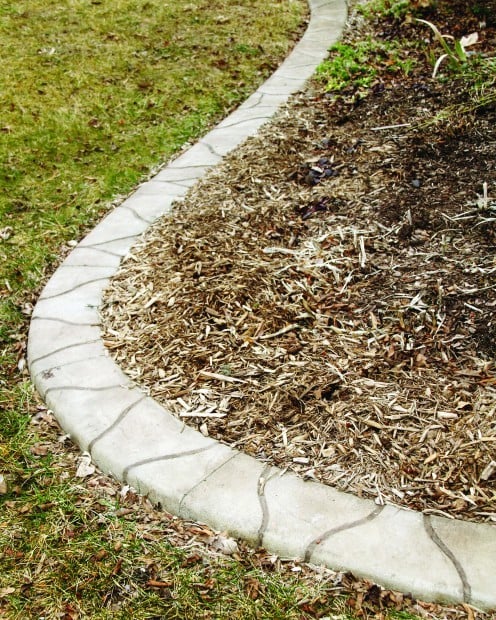 If you're looking for an attractive border for your landscape beds, Chad Hames of Long Grove has an answer: a solid, poured-concrete edging that can be shaped and colored to look like flagstone, brick or cobblestone.
His company is called Border Magic, a franchise business based in Rantoul, Ill.
Here's how it works: Hames' crew will remove the sod in the area where the border will go, tamp down the base, install 3- to 4-inch concrete "footers" every foot or so, then pour a strip of concrete 5 to 7 inches wide and 4 inches thick on top of the base. The strip of concrete will adhere to the footers, which will secure it to the ground, keeping it from heaving during freeze-thaw cycles.
Then, using molds and tools, and working on their hands and knees, Hames' crew of four or five will create the look of flagstone, brick or cobblestone in the poured concrete.
"People are shocked; they have no idea how labor-intensive it is," he said of his business.
Flagstone is the favorite look.
Because the edging is one continuous strip, weeds will not grow between the forms, and it is installed so a lawn mower deck will clear the top, eliminating the need for trimming.
"My goal is to have people throw their weed-eaters in the garbage," Hames said.
Although they are meant to be permanent, if a homeowner wants to change the shape of the bed, the edging can be cut and altered.
Standard jobs range from $500 to $1,200, Hames said.
Hames also operates a franchise called Boulder Design in which he installs faux boulders as either address/name markers or as pet memorials. The latter can be shaped like bones.