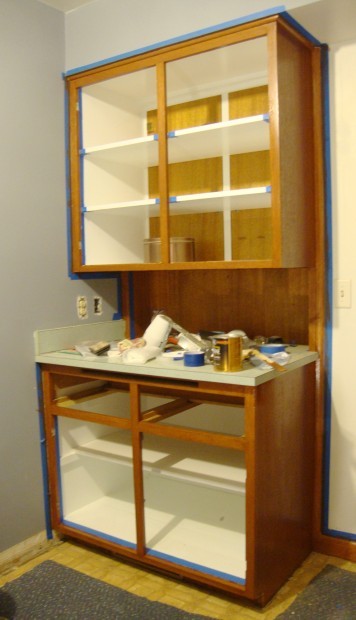 Last week, my husband and I went to a big-box store to order our kitchen countertops. We were very excited to finally replace the sea foam green ones that came with the house.
But then as the store staff began adding up the cost, I reached the painful realization that the store prices countertops by the square foot, not by the linear foot, which I had used in my estimate calculations.
The countertops, which were the second-cheapest model on display, were priced at three times the amount we had budgeted. And that didn't even include the cost to remove and haul away the existing ones. So we walked out of the store and still aren't anywhere close to ordering new countertops.
The main culprit in driving up the price is the built-in cabinet featuring a buffet that opens from the kitchen to the dining room. In theory, one could serve dishes through this opening, although we've never used it for that. But the countertop covering the cabinet is extra-deep and includes a few notches, so that piece alone accounted for about 40 percent of the cost.
You have free articles remaining.
So now we're looking into other countertop options, and, in the meantime, are undertaking an extreme spending diet, buying only the absolute essentials until we can save enough money to order the countertops.
Our next step is to check out area businesses that sell and install countertops to see whether their prices are lower than the big-box store we visited.
I also want to see whether any of them will just measure, cut and deliver countertops. I think we could save some money by installing them ourselves if they're already cut to size. But I definitely don't trust our ability to accurately measure and cut the countertops ourselves.
There's also an option to refinish our existing countertops with a type of veneer. But after we've spent four months working on the kitchen, I think I'd rather wait a little bit longer and get new ones.
I know I'm not the only one to start a project and then realize it's going to cost a lot more money than estimated. What projects have you blown up your budget on? What did you do to make the cost more affordable? Post your answers in the comment section of this blog or email them to me at sdepasquale@qctimes.com.