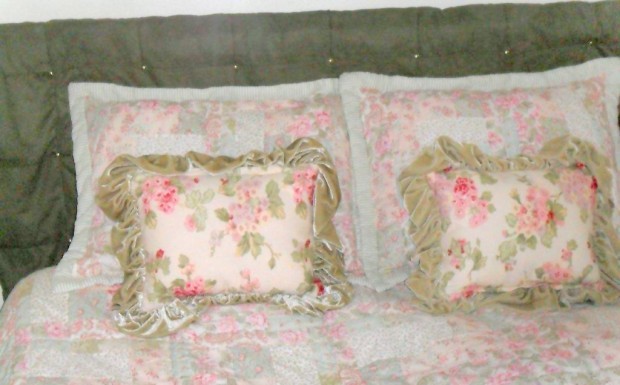 Last week I wrote about a few do-it-yourself projects I saw on the HGTV "Design on a Dime" show that have inspired me.
I've since heard from two of you who also were inspired by the cheap and easy projects and have already finished trying them in your own homes.
Judi Ryan of Bettendorf made a tufted headboard, but she found an even easier way than what I described from the show.
Instead of drilling holes for buttons, gluing foam to the medium-density fiberboard and covering that with quilt batting and fabric, she covered her board with a down alternative comforter and put gold-colored carpet tacks in the pre-sewn intersections of the comforter.
Since the comforter was already fluffy, Ryan said it was easy to create a tufted look with it. She used a green comforter to match her floral bedding. 
Vicki Lynn West tried another project. She added lace to her bedroom curtains to spruce them up. "It really looks cute," she writes. She's reorganizing the room as part of a spring cleaning project. Lynn has a bet with her husband that she'll finish cleaning up the bedroom by Wednesday, April 20. There's $50 riding on it.
You have free articles remaining.
Our DIY disaster has a happy ending
A few weeks ago, I wrote about how the sealer I used to keep the grout in the kitchen looking nice for years to come actually ended up turning the grout various shades of gray. It wouldn't have been so bad if the color change would have been universal, but there were really dark sections right next to very light ones. It looked awful.
I called the manufacturer and they thought the problem was an uneven application of the sealer and recommended a cleaning product to remove the excess. The cleaner contained some pretty serious chemicals, the kind you have to wear eye and skin protection against while using it. Considering that I use all-organic products for everything from dryer sheets to toilet bowl cleaner, I was not excited about putting chemicals all over the floor. But it looked so bad that I suited up and used them. And, thankfully, they worked.
The grout still has minor variations in color, but I'm probably the only one who will ever notice, so I'm happy with the results.
However, the next step in the kitchen renovation is to cover the floor back up to protect it from some more staining and painting that we want to get done before putting in new countertops.