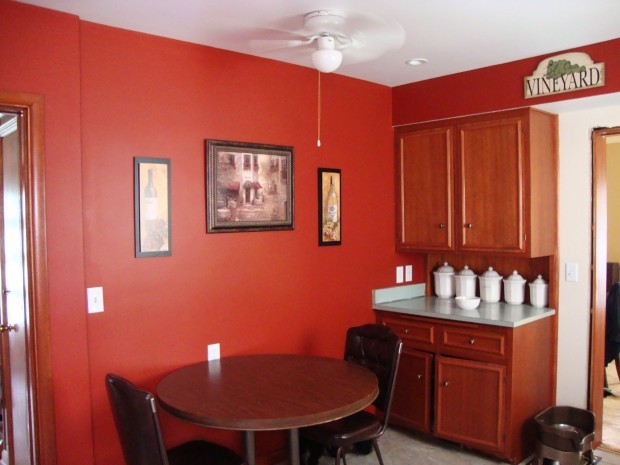 We made major inroads on the kitchen renovation last weekend, but, unfortunately, it still isn't finished.
The good news is the refrigerator, stove, table, dishwasher, and all of the pots, pans and dishes are back in the kitchen, so it is fully functional. So far, I've made pasta, a batch of chocolate chip cookies and pulled pork sandwiches, which is more than I cooked in the past four months combined. I know, I'm a bad wife, but I'm trying to be better now that we can use the kitchen again.
We still have a few pieces of trim to put back on the wall and one more pocket door to install, but we need my dad's nail gun and air compressor to accomplish those tasks, so the renovation is going to be put on hold until he can come back out to the Quad-Cities in a couple of weeks.
In the meantime, we have to keep saving to buy a kitchen sink, faucet and microwave. I had found a very large stainless-steel sink at Habitat ReStore Quad-Cities for a mere $25, but it needs clips to be attached to the counter properly. The only identifying marker on the sink is the phrase, "Made in Mexico," so finding the clips made for that specific sink will be next to impossible, meaning we have to buy a new one.
I will still be using that sink, though. Once we get this kitchen renovation done, I'm going to head to ReStore to find a cabinet that will work with a sink, buy a cheap piece of laminate countertop and install it with silicone as a utility sink in the basement.
Good news on the countertops
You have free articles remaining.
Thank you to everyone who emailed with advice on how to spruce up my countertops on a budget. I heard several different options, including placing a new laminate top over the current counters, covering them with tiles and consulting other stores to see whether they'd be willing to make the cuts and allow us install the countertops to save money.
The last option is the one we ended up going with. We found a store that will take our measurements, cut the counters, including the odd-shaped piece, to size and then hand them over for us to install. The total price is only $100 more than we originally budgeted for countertops, and the laminate finish is almost exactly the same as the original look I picked out.
When we picked out the deep rust-colored paint for the accent wall, we asked for tinted primer for that wall and were surprised to learn that the paint store recommended a gray primer for such a dark color.
I was a little nervous that the paint wouldn't cover our gray walls, but it not only covered the gray, we also achieved a rich, dark color with just one coat of paint. That meant we didn't even have to buy more paint. Our $5 sample was all we needed.
We also only needed the sample can to cover the remaining three walls in a light cream. And since I didn't use tape to cut it, we were able to paint our entire kitchen for about $20. So if you're looking to save money on your next painting job, make the investment in a good can of primer.