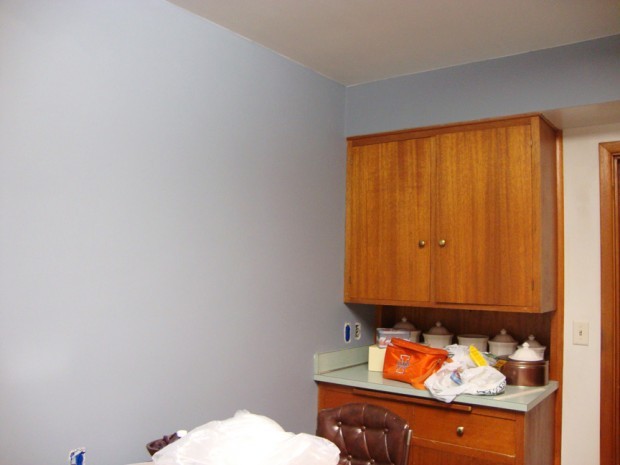 This past weekend, my daily telephone call with my mom went a little something like this ...
Mom: What did you do today?
Stephanie: Worked on the kitchen.
Mom: (excited) How is it looking?
Stephanie: (not at all excited) Terrible.
Mom: Well, you know, it usually looks worse before it gets better.
My mom, as usual, is right on that one. The kitchen is looking pretty drab right now. The accent wall and soffit are gray (yes, gray, but don't worry, it's not permanent), the carpet is dark blue, there are painting supplies all over the kitchen table and the refrigerator spent most of the week in the middle of the floor.
You have free articles remaining.
I think I just need to accept that my kitchen will be in various levels of disarray for the next month or two.
There's no way around it.
But back to my gray wall. It's kind of a medium gray that's actually primer.
Apparently, when you chose fire brick, a bold rusty brown color for your walls, you're supposed to use gray primer instead of tinted primer. While I am glad that at least the kitchen won't be pink for the next month or so while we complete the messy task of refinishing cabinets, the gray is pretty depressing.
Getting the wall ready to prime in the first place was an adventure on its own. There were about a million nail holes (OK, I'm exaggerating, a couple dozen) that have never been patched. Why whoever applied the wallpaper took the time to remove the baseboard and wallpaper behind it without patching half a century's worth of holes, nicks, gouges and other imperfections is beyond my comprehension, but we had to fill them.
After hours of patching, sanding, patching again because some nail holes were so wide that the compound fell in as it dried, sanding some more, washing and finally taping, we eventually had a mostly smooth wall that was ready to prime.
We will have to touch up a few areas after we're done staining because some will inevitably splash on the wall. I'm also waiting to patch some big holes until my dad can show us how. It didn't go so well the last time I tried to patch a large hole in the wall. The result was an incredibly lumpy wall and one big mess because I didn't realize the "20" in the compound name meant it dried in 20 minutes.
And on a side note about patching holes, Einstein, our slightly overweight but always-starving cocker spaniel, just couldn't understand why I was dipping an old dog food scoop into a paper bag that was about the shape of his dog food bag, but he wasn't allowed to eat the white powder that came out of it. The experience was very upsetting to him.