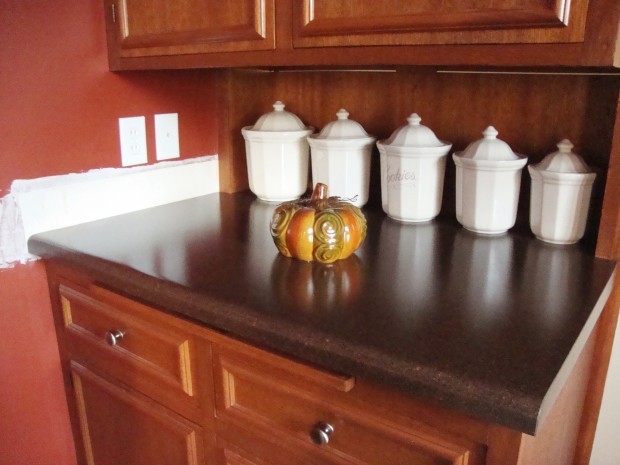 That was not what I expected, especially since we chose a dark brown laminate for the countertops, but the light from the window reflects off them, as well as the new stainless-steel sink and faucet, creating a warm glow throughout the kitchen.
They're beautiful, and with the exception of having to soak a Crock pot after I made chili, we've kept the kitchen clean every day since we installed the countertops. And trust me, that's a really big accomplishment. I have even made a new rule that after you finish doing the dishes, you also have to dry out the sink so we don't have water marks. It's all just too pretty to mess up.
My fears about taking our own measurements were soothed when we set the countertops in place and found that they all fit, almost perfectly. I say almost because the custom countertop we ordered sits against a wall that is not square. So my husband and father shaved a little off the side with a belt sander in order to make it fit.
You have free articles remaining.
The only problem we ran into was that the laminate countertops bowed a bit while they sat in our basement for a couple weeks between when we picked them up and installed them. We took every precaution against this by running a dehumidifier 24/7 and storing the countertops off the floor on a level surface. So the lesson learned here is not to order laminate countertops until you're ready to install them.
We were able to straighten them out during the installation process, though, by attaching a few extra screws and using clamps to hold the countertops in place. We don't have a long level, so we tested the counters by placing an egg on them to see whether it rolled off. The egg stayed in place each time, so we're good to go.
We still have a few things to finish up in the kitchen before it is totally done. First on the list is touching up the walls since the back and side splashes on the new cabinets sit lower on the wall than the sea foam green ones did. Then I've got to caulk around the countertops, do a little more work on the cabinets themselves, install a toe kick board and make curtains before the kitchen remodeling is complete, but we're almost there, which is very exciting.
And as far as our plumbing skills go, we now know how to take out and put in a sink and faucet, clean out a drain trap and replace washers. These are important skills considering that my hair is long enough to reach the middle of my back and can cause serious clogs. But our newfound skills mean that I just may try to talk my husband into replacing the bathroom faucet as part of our cheap revamp there if I can find an inexpensive faucet that I like better at Habitat ReStore.